OCT
1
2012
By Luci Manning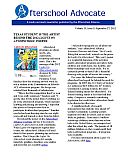 The latest issue of the Afterschool Advocate kicks off with Lights On Afterschool! Check out the story on Lights On poster contest winner, Felix from Pasadena, Texas! Felix said he "got the idea for the poster from everything we do in my afterschool program, which includes learning and playing and drawing." Be sure to read all about it and download the poster online.
In other art news, the Afterschool Alliance and announced the winners of the Torani art contest last month. The artwork of student artists from San Francisco and Bristol, New Hampshire, is on display in coffeehouses and kitchens throughout the country this fall! Torani's Sugar Free French Vanilla syrup label was designed by 16-year-old Elora Scimone from Newfound Regional High School's Art Club and the Raspberry syrup label was designed by 14-year-old Benny Tran.
In September the Afterschool Alliance and the National Writing Project hosted a Capitol Hill briefing on how afterschool programs and community partnerships work together to support student success. A panel of education experts, afterschool providers and community partners discussed how afterschool can help schools move beyond the constraints of the traditional school day and embrace the community.
The 2012-2013 class of Afterschool Ambassadors has been announced. Check out the new class and see if there's new Afterschool Ambassador in your state!
New research from Child Trends found that extending the school day or year and expanding learning opportunities during out-of-school time hours can be effective in improving educational outcomes for students – but, the report cautions that the evidence base is limited because much of the research is based on quasi-experimental studies that vary in quality. Check out the article in the Advocate and a recent Afterschool Snack blog post for more details.
In the September issue, we reported on findings from the Afterschool Alliance's Uncertain Times survey. This issue's Outreach section has a sample letter-to-the-editor that keys off the economy and the election and contains data from Uncertain Times.
And as in every issue, there are funding and award notices, news and conference announcements from groups and programs around the country, quotes from leaders on education issues and resources. Read the full issue online. And if you don't already receive the Afterschool Advocate, sign up now!