NOV
9
2012
By Luci Manning
The latest issue of the Afterschool Advocate features a recap of Lights On Afterschool 2012.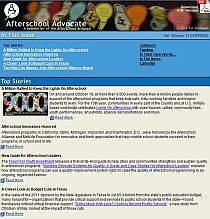 Read the full Lights On recap in the issue.
The Forum for Youth Investment released a first-of-its-kind guide to help cities and communities strengthen and sustain quality in afterschool programs. The new guide explains how afterschool programs can use a quality improvement system to raise the quality of afterschool programming in an ongoing, organized fashion. Read more here.
A new study from Children at Risk looked at the impact of $5.4 billion in cuts to Texas' public education budget in 2011. It found that many nonprofits—organizations that provide critical support and services to public school students in the state—found themselves without critical financial support.
Last month, the Afterschool Alliance welcomed Nashville, Tenn., Mayor Karl Dean and Fort Worth, Texas, Mayor Betsy Price to its board of directors. Read more about Mayor Dean and Mayor Price online.
Don't forget about thefunding and award notices, news and conference announcements on afterschool and education, and quotes on education issues. Read the full issue online. And if you don't already receive the Afterschool Advocate, sign up now!