The 2015 Lights On Afterschool poster has arrived!
by Rachel Clark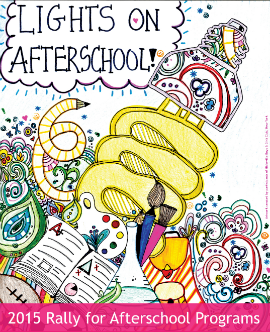 Read more about the winning artists in the Afterschool Storybook!
This spring, afterschool artists from zip codes across the country showed off their creativity by submitting impressive designs for the 2015 Lights On Afterschool poster contest. After reviewing thousands of creations with a round of staff voting and online feedback, we're excited to unveil the winner: a team of artists from the Hicksville Boys & Girls Club in New York!
These talented artists were inspired by the incredible range of activities offered by their afterschool program, where they're able to work on assignments for challenging Advanced Placement courses, take fun field trips to Long Island's beautiful beaches, and explore everything from the arts to sports to science.
The winning artwork will be printed on 50,000 posters and sent to all registered Lights On Afterschool events to help get the word out about the celebration. Register your event now to receive 10 free posters!
15-year-old Zainab Ansari and 10-year-old Berlyn Tirbaniesingh, who led the effort to create the winning design, said that their goal was to showcase the many different opportunities they have accessed through their afterschool program, and we think it does a wonderful job of highlighting the diversity of the afterschool field. Whether your program offers STEM, athletics, the arts or anything in between, this design is the perfect way to promote your event and let your community know how much afterschool can do for local kids!
Zainab and Berlyn were joined by Blake Blakewell (11), Jasmin Campos (15), Jonathan Campos (12), Tyler Delgado (14), Danny Joyce (12), Sean Joyce (14), Ryan Khan (12), Raghav Khurrana (15), Ryan Kingdon (14), Samantha Melish (15), Andres Rivera (16), Cassandra Russo (17), Christopher Russo (13), Kimberly Russo (11), Andrew Scarpaci (14), Jordan Schroeder (13), Brianna Squilace (12), and Kobe Thomas (13)—a great example of how afterschool programs encourage teamwork to achieve impressive results!
The talented winners will be celebrating their victory with a Torani syrup party—how will you be celebrating Lights On Afterschool on October 22? Be sure to register your event and let us know, and we'll make sure the Club's poster design lands on your doorstep soon!


© 2013 Afterschool Alliance