Snacks by Arielle Kahn
MAR
16
2018
By Arielle Kahn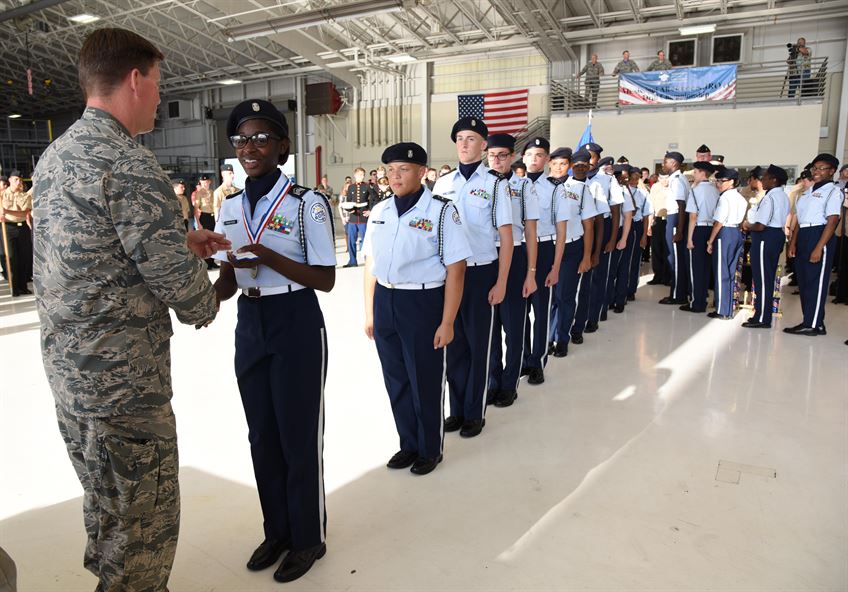 U.S. Air Force photo by Kemberly Groue
We have a looming national security emergency, and it may not be the one that first comes to mind. 71 percent of Americans between 17 and 24 years of age— or 24 million of the 34 million young people in our country—are ineligible to serve in the United States military. The Heritage Foundation recently came out with a report, "The Looming National Security Crisis: Young Americans Unable to Serve in the Military," outlining the causes of our military manpower shortage problem and demanding solutions. They point to health problems, lack of physical fitness, lack of education, drug use, and a criminal history as primary reasons for disqualification from the military.
One of the potential solutions noted in the report is for children to engage in out-of-school time programs. For instance, the report highlighted the Boys & Girls Club of America, describing the positive impact the program has had on students' academic achievement and physical activity; and Junior ROTC and the Boy Scouts and Girls Scouts, for their work promoting civic engagement and citizenship. Authors of the report also argue that involvement in afterschool programs can help students avoid risky behaviors, including committing crimes. The report includes afterschool programs America SCORES and the U.S. Soccer Foundation's Soccer for Success program, emphasizing the ability of programs to increase students' physical activity and health. America SCORES—an afterschool program empowering students through a mix of sports, writing, creative expression, and service learning—showcases afterschool programs' ability to provide a mix of physical activity, academic enrichment, and community engagement.
MAR
2
2018
By Arielle Kahn
Opioid addiction plagues our country, deeply impacting adults and children alike. We at the Afterschool Alliance believe that afterschool has a huge part to play in mitigating this crisis through preventative measures.
On Wednesday, February 27, the Boys & Girls Clubs of America (BGCA) hosted a briefing on Capitol Hill to discuss youth opioid prevention. The briefing was co-sponsored by Sens. Jeanne Shaheen (D-N.H.) and Shelly Moore Capito (R-W.V.), representing two of the states most impacted by the epidemic.
Sen. Capito gave opening remarks, emphasizing the need for an "all-hands-on-deck approach" to the opioid problem. Earlier that day, she, Sen. Rob Portman (R-Ohio), and Sen. Sheldon Whitehouse (D-R.I.), had introduced legislation called the Comprehensive Addiction and Recovery Act (CARA) 2.0. The bipartisan legislation would increase funding authorization levels for CARA programs created in 2016 as well as add new efforts to combat the opioid epidemic.
Additionally, Sen. Capito introduced and highlighted the preventative work going on in afterschool programs in her home state of West Virginia.
A model solution to the opioid crisis
One such program is the Boys & Girls Club of the Eastern Panhandle in Martinsburg, W.V. Stacey Rohn, CEO of the program, was the first panelist and spoke about the work that needed to be done in a county in which 1 in 4 kids live in poverty. Through local partnerships and a commitment to a holistic approach to nurturing strong families, this Boys & Girls Club has been able to charter new paths for these children. Stacey spoke of three big partnerships with the Club: college and community mentors, the county school system (many teachers donate their time and resources to the afterschool program), and the Martinsburg Police Department. The partnership with the police department has been especially impactful.
OCT
23
2017
By Arielle Kahn
The Afterschool Alliance is pleased to present this post as part of the Afterschool & Law Enforcement blog series.
22 years ago, in the back seat of a police car, an organization that would significantly reduce the juvenile crime rate in Dunn, North Carolina was born. A few officers perceived the need for a community policing initiative and sought a way to connect positively with youth in their area. In 1995, the Dunn Police Athletic and Activities League began offering a few sports programs and a handful of volunteers serving 10 children.
Today, Dunn PAL serves about 400 K-12 children per year in their afterschool program, mentoring program, and sports program. Dunn PAL is a Non-Profit 501(C)(3) organization under the Dunn Police Department that works to establish mutual trust between law enforcement, citizens, and youth.
I had the opportunity to interview Lieutenant Rodney Rowland, the Executive Director, and Stephanie Coxum, the Enrichment Instructor, about their program and their Lights On Afterschool event.
Both Lt. Rowland and Ms. Coxum emphasized the relationship-building that occurs between law enforcement and children. When kids see law enforcement officers on the street they are more likely to say "hey, what's up" than to run away in fear. And when law enforcement see children in precarious situations, they have the clout with them to have a conversation about their behavior and encourage children to think critically about their choices.
"We are unique because we actually have police officers in the city directly involved in the lives of kids, which directly affects their parents, their families, and the community as a whole. And in such a positive way," Lt. Rowland explained.
OCT
16
2017
By Arielle Kahn
Hello! My name is Arielle Kahn and I am the new Special Assistant to the Executive Director at the Afterschool Alliance. I am so excited to channel my passion for educational equity into my work here at the Alliance. I firmly believe that quality afterschool experiences can put children on a path to success. I know that in my own experience, afterschool and extracurricular activities were most formative to my development. I was fortunate to participate in a variety of afterschool programs that shaped who I am today.
I graduated from Duke University last May, where I majored in Psychology, minored in Education, and completed the Child Policy Research certificate. My passion lies at the intersection of these three fields as they relate to the pressing issue of equity in educational opportunities. This issue has been important to me since my first internship experience, when I taught ten underserved elementary age students through a summer learning program run by the Children's Defense Fund. The following summer I interned with the Alliance for a Healthier Generation in the Healthy Schools Program to combat childhood obesity as an impediment to academic success. A year later I interned at the U.S. Department of Education where I worked on President Obama's My Brother's Keeper Initiative to address opportunity gaps faced by boys and young men of color.
As Special Assistant, I will provide administrative and program support to the Executive Director, as well as work on special projects. I am enthusiastic about learning more about nonprofit management. Most of all, I believe in the work of the Alliance and am proud to work for an organization that works tirelessly to secure greater opportunities for children every day.