Recent Afterschool Snacks
NOV
14
2012
Results are in for the third year of the Investing in Innovation (i3) competition! The Department of Education announced its 20 highest-rated applications with projects addressing key issues in education. There were 844 applications submitted in three different grant categories:
Scale-up grants of up to $25 million are awarded to programs that demonstrate the capacity to scale-up to the national, regional or state level
Validation grants of up to $15 million are awarded to programs that could be scaled to a regional or state level
Development grants of up to $3 million are intended to support less-established programs with a high potential of scalability
To actually receive the i3 grant money, applicants must find matching funds from the private sector before Dec. 7, 2012. For Validation awards, the applicant must match 10 percent and for Development awards, the amount required is 5 percent. In FY2012, the Department of Education chose not to select any Scale-up applications to allow for a higher number of Validation and Development applications.
Applicants chose 1 of 6 categories—or "Absolute Priorities"— to define the core strategies of the project. Examples include effective teachers or principals, high quality standards and assessments, and STEM. Additionally, applicants could select "Competitive Preference Priorities"—such as technology and early learning— to gain additional points toward their final review score. This round, there were five projects among the 20 highest-rated that identified "Promoting Science, Technology, Engineering, and Mathematics (STEM) Education" as their priority. One project identified rural education as a priority, but was also STEM-focused.
One of the selected grantees, the Clark County School District in Las Vegas, NV, proposed a multi-strategy initiative to engage their students in STEM education throughout middle school and high school. Notably, their plan includes out-of-school time (OST) experiences as an integral component to improving student performance and interest in STEM.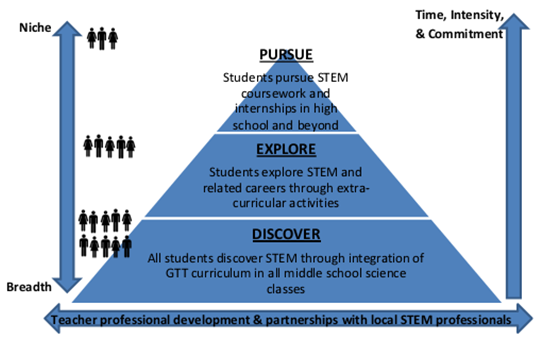 The Clark County School District's Pathways to STEM Initiative, conceptualizes its approach to STEM education through a "delivery pyramid" that introduces all students to project-based STEM learning in middle school ("Discover"), offers extra-curricular options—including afterschool and summer programs—to a smaller groups of interested students ("Explore"), and provides high school STEM courses and internships to a niche group of students ("Pursue").
The Clark County School District recognizes the importance of informal learning and sees it explicitly as a continuation of learning during the school day. Their project description states the goal of the OST opportunities is to "bridge concepts from the classroom to actual applications, and convey pre-requisites for pursuing STEM careers." These opportunities display some of the best practices for STEM afterschool and summer learning and represent a well-coordinated approach to incorporate OST as a tool in the school district's broader goals.
In weekly meetings after school, STEM professionals lead students in hands-on projects that build on the topics covered during the school day. They further connect to STEM careers by taking tours of laboratories at the local university. Another weekly afterschool club is led by teachers, again with hands-on projects connected to the school day. Both the STEM professionals and teachers working in the afterschool space are trained through ongoing professional development programs that address informal teaching and youth development principles. Additionally, a summer camp with mentorship from older students and STEM professionals features exhibitions of projects and team competitions.
In the table below, click on the project title to read the application narrative. The Curriculum Matters blog on Education Week has a list of brief descriptions for each of the STEM applicants. On the i3 website you can look at the official press release, read the FAQ's, and view the reviewer's scores and comments. The Department of Education will announce the final i3 grantees by Dec. 31, 2012.
Applicant
Project Title
Competition
Amount Requested

Citizen Schools

Boston, MA

Closing Inspiration and Achievement Gaps in STEM with Volunteer-Led Apprenticeships
Development
$3,000,000

Clark County School District

Las Vegas, NV

Clark County School District's Pathways to STEM Initiative
Development
$2,976,824

LEED Sacramento

Sacramento, CA

Project Lead the Way
Validation
$5,082,915

Virginia Advanced Study Strategies, Inc.

South Boston, VA

The Rural Math Excel Partnership (RMEP) Project
Development

$2,703,881

West Ed

San Francisco, CA

Internet-based Reading Apprenticeship Improving Science Education (iRAISE)
Development

$2,487,333

West Ed

San Francisco, CA

Validation of the Effectiveness of an Innovative Early Mathematics Intervention for High-Need Students
Validation

$15,000,000