Recent Afterschool Snacks
SEP
28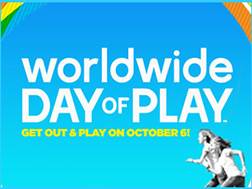 Looking for something fun to do after school? This Saturday, October 6,Nickelodeon will host the 9th annual Worldwide Day of Play (WWDOP)—a whole day dedicated to teaching kids the importance of leading a healthy and active lifestyle! To celebrate, Nickelodeon will go off the air to help kids get out and get active. Thousands of schools, towns, and organizations are hosting their own WWDOP events. To register a local event, visit pro-social.nick.com. To help you get started, Nickelodeon has created a Playbook, which includes a fun activity guide with steps to help you plan your activity.
And while you're at it, register your Day of Play activity as a Lights On Afterschool event, too! Afterschool programs are a great way to help kids get active and learn healthy habits for life.
You also have the opportunity to enter The Big Help I Wanna Play Sweepstakes to win a $100,000 custom Nick playground or $10,000 to support a play project. In partnership with the President's Challenge, the premier program of the President's Council on Fitness, Sports & Nutrition, Nickelodeon is also encouraging all participants to earn their Presidential Active Lifestyle Award (PALA+). PALA+ isgreat way to jumpstart and maintain a healthy lifestyle through regular physical activity and good nutrition. Sign up today at www.presidentschallenge.org!