Recent Afterschool Snacks
DEC
9
2015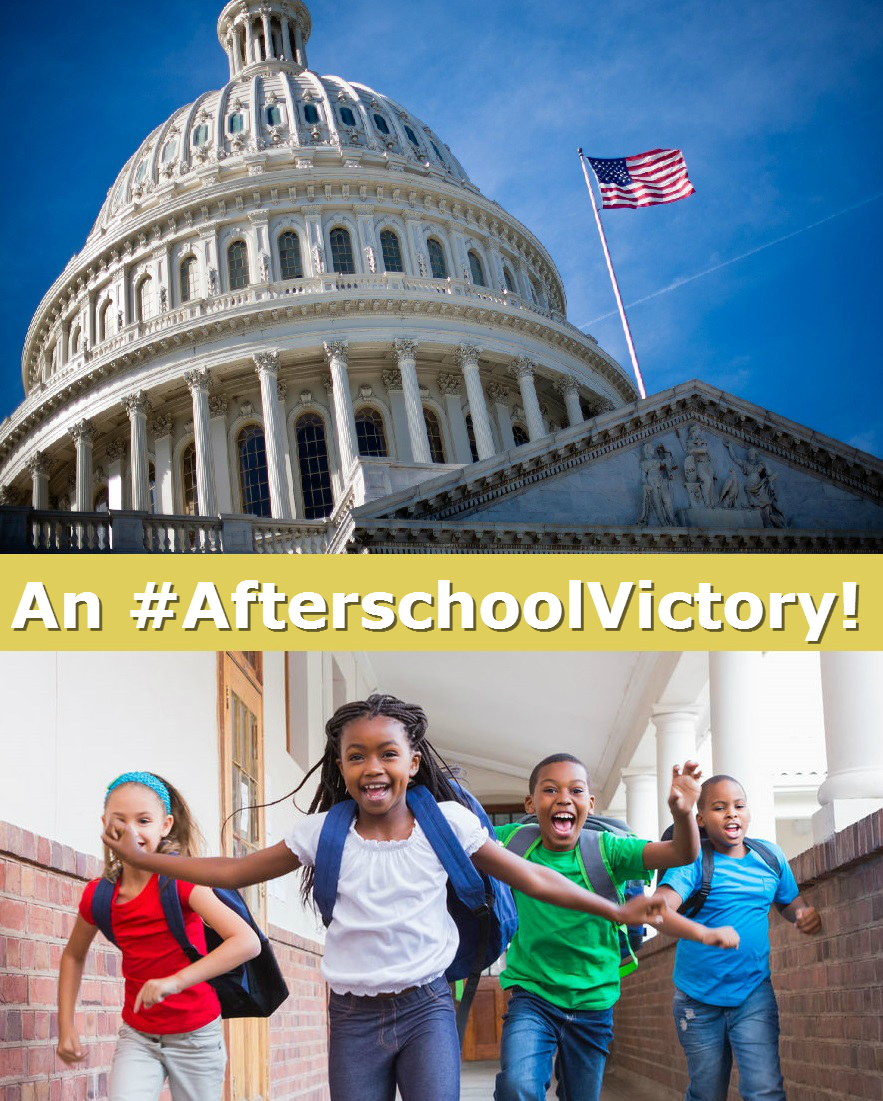 By a strong bipartisan vote of 85 to 12, the US Senate cleared the second to last hurdle for the reauthorization of the Elementary and Secondary Education Act (ESEA) sending the measure, which will now be called the Every Student Succeeds Act (ESSA), to the President's desk to be signed into law, with reports indicating that the signing will occur tomorrow, Dec. 10. The long delayed reauthorization of ESEA includes multiple provisions strengthening and supporting student access to quality afterschool and summer learning programs, including an update to the 21st Century Community Learning Centers (21st CCLC) initiative.
As described by Afterschool Alliance Executive Director Jodi Grant in a letter to the field last week, there were multiple challenges to the inclusion of 21st CCLC in the final ESEA bill including efforts to eliminate the program. However 21st CCLC was preserved in the final compromise bill as a result of the strong evidence base of 21st CCLC, well-reasoned advocacy on the part of afterschool supporters and more than 670 allied organizations, and tremendous champions in Congress including Senators Barbara Boxer (D-CA), Lisa Murkowski (R-AK), Patty Murray (D-WA), Al Franken (D-MN), Bernie Sanders (I-VT), Susan Collins (R-ME), Tammy Baldwin (D-WI) and Bill Cassidy (R-LA) and in the House of Representatives by Representatives Lou Barletta (R-PA), Dan Kildee (D-MI), David Cicilline (D-RI), Rosa DeLauro (D-CT), Bobby Scott (D-VA), Susan Brooks (R-IN), Don Young (R-AK) and Nita Lowey (D-NY).
Among the key provisions in the Every Student Succeeds Act that support afterschool and summer learning programs for K through 12th grade students are the following:
21st Century Community Learning Centers (21st CCLC)
The 21st CCLC language in the Every Student Succeeds Act (ESSA) is largely based on the Afterschool for America's Children Act amendment that was developed by Senators Boxer and Murkowski with input from the afterschool field over the past several years. The new langauge:
Strengthens school-community partnerships to include sharing of data and resources, the ability to better leverage relationships within the community and provide an intentional alignment with the school day.
Encourages innovative new ways to engage students in learning that looks different from a traditional school day, with an emphasis on hands-on, experiential learning; science, technology, engineering, and math (STEM); financial literacy, workforce development, environmental literacy; and physical activity and nutrition education. Supports approaches that focus on individualized learning that provide a variety of ways for students to master core skills and knowledge.
Provides accountability measures that are connected to college- and career-readiness goals and shows student progress over time towards meeting indicators of student success including school attendance, grades and on-time grade level advancement.
Increases quality and accountability through parent engagement, better alignment with state learning objectives and coordination between federal, state and local agencies.
Gives additional flexibility to state education agencies to dedicate more resources to training, professional development and quality improvement for programs and program staff. Also allows states to work with external organizations to provide training and support to grantees.
Includes language that would allow 21st CCLC funds to be used for specific 'afterschool-like' activities as part of expanded learning programs in cases where at least 300 hours are added during the year; schools work with community partners; and activities do not supplant existing programs.
Does not prioritize any one model of expanded learning opportunities over another.
Maintains formula grants to states that then distribute funds to local school-community partnerships through a competitive grant process.
Authorizes the program at $1 billion for FY2017, and $1.1 billion for FY2018 through FY2020 however exact funding levels will be determined by Appropriations Committees.
STEM afterschool
In Part A of Title IV of the bill a new $1.65 billion formula grant program would provide funding to each state, with local school district recipients of the funding being required to spend at least 20 percent of their funding on "well-rounded" educational activities, which include a priority focus on STEM-education specific activities, specifically including afterschool STEM. In order to receive these funds, local school districts will conduct a needs assessment to examine the specific areas in need of improvement in order to provide a well-rounded education to all students. The provision highlights the ability to partner with established afterschool and STEM networks to provide technical assistance to afterschool programs to improve their practice.
Community schools
The Full-Service Community Schools model is included in the Every Student Succeeds Act through the Community Support for School Success program which authorizes at least 10 grants, if not more, annually for the Full-Service Community Schools [FSCS] program. These grants will provide assistance to FSCS programs to improve the coordination and integration, accessibility, and effectiveness of services for children and families. Each new Full-Service Community School grant will provide a minimum of $75,000 each year (up to five years, with a possible two year extension) to help FSCS programs strengthen their network of social services that help students succeed in school.
Title I community partnerships
The bill includes provisions based on legislation by Rep. Cicilline and Sen. Whitehouse (D-RI) introduced earlier this year that strengthens afterschool programs through community partnerships. The bill encourages school districts and community-based organizations to work together to improve the availability and quality of afterschool programming for students.
Youth Promise plans
This language helps states and school districts reduce the overuse of exclusionary discipline practices by allowing funding to be used for Youth PROMISE plans. Youth PROMISE plans are comprehensive, evidence-based plans that are designed to address neighborhoods with significant crime, teen pregnancy, and other problems and are designed to reinvest savings generated by those plans to keep them working in the future.
Literacy and Family Engagement
Both literacy and family engagement grants programs in ESSA include afterschool programs as places to engage families in activities to improve their children's academic outcomes as well as providing evidenced-based literacy instruction for struggling students in reading and writing.
Many details around regulations and implementation of the soon-to-become law are still uncertain and the Department of Education is charged with drafting, proposing and finalizing rules and guidance over the coming years. However, the new law would keep the Department's No Child Left Behind waivers in effect until August 31, 2016, with competitive grants in the new law going into effect on October 1st, 2016, and non-competitive grants going into effect on July 1, 2016. The Afterschool Alliance is planning a series of blogs later this month and webinars in early 2016 on the afterschool components of the new law, their implications and the transition from current law to ESSA.
Thank your members of Congress for their support of afterschool and summer learning in ESEA and call on them to support the FY2016 spending bill being considered in Congress this month to ensure 21st CCLC is funded this school year.