Recent Afterschool Snacks
AUG
24
By Jen Rinehart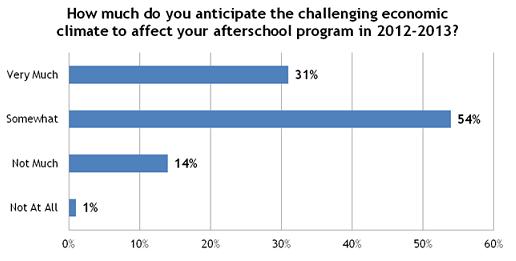 Two surveys, one of afterschool providers and one of the American public, were released earlier this week. Together, these surveys—the 44th annual Phi Delta Kappa/Gallup Poll of the Public's Attitudes Toward the Public Schools and Uncertain Times 2012—highlight the ongoing, and even growing, concerns regarding funding for public schools and afterschool programs.
The report of findings from the Phi Delta Kappa/Gallup poll, titled A Nation Divided: Americans' Views of Public Education in the United States, finds that Americans view a "lack of financial support" as the largest issue facing schools in their communities. This is especially true among parents of public school students and is consistent with the last few years of PDK/Gallup polling.
In Uncertain Times, afterschool providers echo Americans' concerns about financial support—with 3 in 5 programs reporting that their funding is down from three years ago and more than 8 in 10 anticipating the challenging economic climate to affect their program in 2012-2013. I feel confident that had PDK/Gallup asked about the largest issue facing afterschool programs in their communities, they would have found that Americans, and especially parents, answered "lack of financial support.
While A Nation Divided offers numerous instances of how Americans' viewpoints differ, it also points to the issues they overwhelming agree on: the importance of education and investing in our youth. Nearly 9 in 10 Americans agree that it is important to close the achievement gap and 6 out of 10 are willing to pay more in taxes to provide funds to improve the quality of the nation's urban public schools.
These findings are remarkably similar to previous public polling that we have conducted with Lake Research Associates and The Tarrance Group. Over years of polling, we have found that voters see a key role for afterschool programs in supporting academic achievement and nearly 9 in 10 American voters say afterschool programs are important. Additionally, more than 6 in 10 voters also want to see public funding for afterschool programs increased.
Despite these clear signals that Americans are concerned about education and afterschool, recognize the need for additional resources, and believe that greater public resources must be invested, the future is still very uncertain. Threats like sequestration loom large and will have a heavy impact on the nation's schools and afterschool programs and on the children and families who benefit from them. It's time we move past being a nation divided and find a way to provide more certainty for schools, afterschool programs, kids and families.