Recent Afterschool Snacks
MAR
4
2014
Lisa Mielke, a former zookeeper, is the Science Manager at TASC (The After-School Corporation). She leads STEM training and professional development for directors and front-line staff at out-of-school-time programs throughout New York City. One of the ways TASC supports schools and community partners to expand learning opportunities is to build the capacity of staff members to lead STEM inquiry.
This post originally appeared on TASC's blog on Feb. 27, 2014.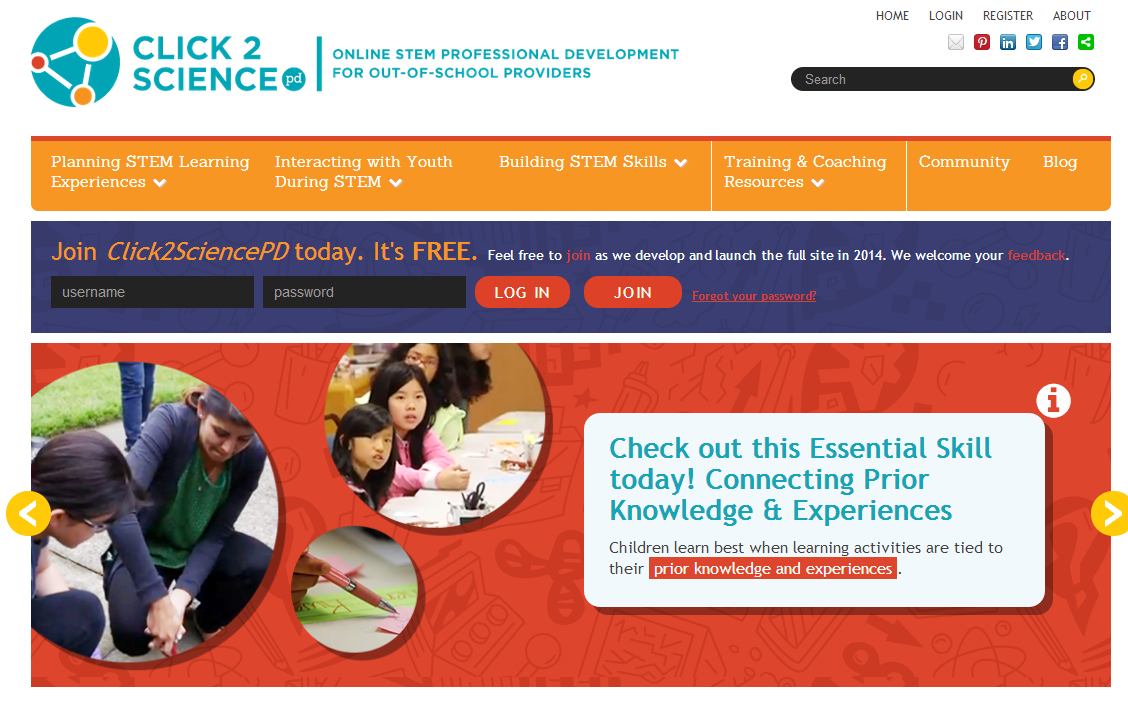 As someone who trains hundreds of New York City out-of-school-time program directors and frontline staff every year, I'm excited about the best resource I've seen in ages for supporting more and better STEM learning. It's a new, interactive professional development website called Click2Science.
You won't find out how to build a spaceship here, or why the sky is blue. But you will find much of what you need to get past any hesitation regarding whether you or your afterschool staff is ready to lead kids in life-changing science activities.
The folks behind the site (University of Nebraska-Lincoln and the Noyce Foundation) identified 20 essential skills you need to lead great science inquiry. I believe that if program leaders develop these 20 skills, they'll be able to convert any day and any activity into a science session, just by having the confidence to coach kids to observe, ask questions and experiment.
The 20 essential skills fall into three categories:
How to plan STEM activities
How to interact with kids doing STEM
How to build STEM skills
In each category, Click2Science supplies you with learning modules that take you step-by-step through a process that might include watching an overview video; paying special attention to aspects of what the leader and students are doing; posting responses to questions about what you saw; then following up with discussion questions at your program.
There are more varieties of resources here than I can cover in a blog post. Dig around and share your feedback with the site developers, who are still in building mode.
I can tell you what excites me most as a STEM coach: I can use this site to extend training well beyond anything I could convey in an in-person coaching session or site visit. If I model a skill in a training session, I can send trainees to multiple videos here that reinforce that skill. If I visit a program and observe that staff members need to strengthen specific skills, I can send them to relevant learning modules. And because it's Web-based, I can continue the discussion with them.
Or, I could give trainees an assignment in advance of a coaching session: Watch this video, answer these questions, and we'll build from there. Think how much more ground we'll be able to cover.
As I well know, not everyone can come to TASC to get STEM training. This site answers a demand I hear constantly from program directors for high-quality trainings they can lead themselves, wherever and whenever they can bring their staff together. Click2Science has great potential for schools and programs that are scattered over broad geographical areas, and need to conduct trainings through webinars or virtual discussions—explore the site today!