Recent Afterschool Snacks
FEB
18
2016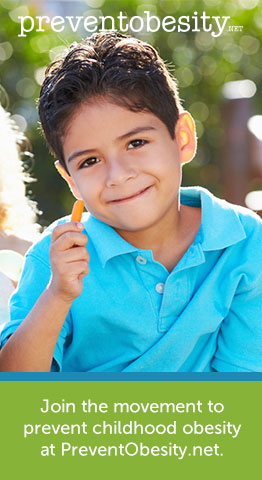 Did you hear? The Afterschool Alliance is working with Voices for Healthy Kids®, an initiative of the American Heart Association and Robert Wood Johnson Foundation, to build a consortium around increasing physical activity and healthy nutrition habits in early childhood care and out-of-school time settings! See the full announcement.
An integral part of our Voices for Healthy Kids early childhood and out-of-school time consortium is continual support of our afterschool and early child care leaders' efforts in the field. To ensure that practitioners stay abreast of the latest and greatest research, resources and strategies to create healthier environments, the American Heart Association has launched PreventObesity.net. This site was designed to support you: the people who are working every day to ensure children everywhere become more physically active and consume nutritious meals. PreventObesity.net offers free tools and services, and is the only online national network of people solely dedicated to reversing the childhood obesity epidemic.
How do you become a part of this network?
It's as simple as signing up to become a Prevent Obesity.Net Leader.
Who is considered a Leader?
Anyone who is actively working in his or her community to change policies and environments toward reversing childhood obesity. See additional Leader requirements.
What are the benefits of becoming a Leader?
As a Leader, you will have complete access to all of the tools and services provided by PreventObesity.net, including the exclusive database of activists and more than 3,500 fellow Leaders working to prevent childhood obesity around the country. See a full list of Leader benefits.
Helpful tips to keep in mind when signing up to become a PreventObesity.net Leader:
Make sure to designate Afterschool Alliance as your referral source by using this unique link.
Once you have completed registration, you will receive an initial confirmation. However, it will take approximately 1-3 business days for your Leader account to be approved. So please be sure to check your email for final confirmation.
Don't delay! Join the Prevent Obesity network to get the latest tools and resources that are specifically designed to support your efforts to keep our nation's children healthy.