Recent Afterschool Snacks
SEP
20
2016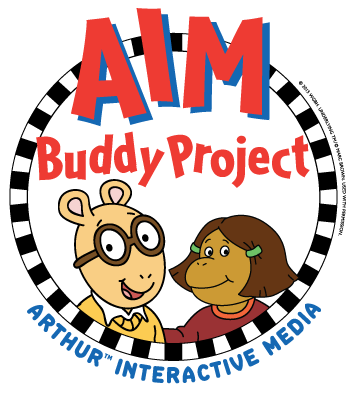 Written by Anne Beatty, Outreach Project Director for the AIM Buddy Project at WGBH
For two decades, millions of children and their families have tuned in to PBS's children's series Arthur for funny and authentic portrayals of childhood life. Children see themselves in the characters and identify with them as they learn to navigate the daily challenges of childhood with kindness, empathy, and respect for self and others.
This year, Arthur is celebrating its 20th year on public television! With more than 200 animated stories, WGBH, the Boston-based public broadcaster and producer of this award-winning series, continues to use Arthur and the power of storytelling to carefully guide children through a wide variety of topics—from everyday issues such as losing a tooth to more difficult topics such dealing with bullying behaviors.
Over the years, Arthur has been modeling prosocial behaviors for kids and emphasizing the importance of communication. The Arthur Interactive Media (AIM) Buddy Project is WGBH's latest initiative to help children build social, emotional, and character skills and attitudes and help educators, caregivers, and children deal with the ongoing problem of bullying behaviors. With a generous grant from the John Templeton Foundation, WGBH partnered with a research team from Tufts University to develop and test the AIM Buddy Project.
The AIM Buddy Project leverages the universal appeal of the Arthur characters, a cross-age buddy format, and a solid research base in character development and adds a unique component—interactive media—to encourage thoughtful discussions between older and younger pairs around five topics—empathy, honesty, forgiveness, generosity and learning from others. Exposure to and practice with these five topics helps children build the skills and attitudes they need to empathize with others and build positive relationships that result in safer, more caring learning environments.
The AIM Buddy Project can offer afterschool and out-of-school-time programs support in helping children build the skills and attitudes they need to succeed in life. Join our upcoming webinar "New Digital Tools from Arthur to Help Promote Prosocial Skills and Reduce Bullying" to learn how the AIM Buddy Project online comics and games, cross-age buddy framework, and other resources can be used in afterschool and out-of-school time programs to reinforce "anytime, anywhere learning" (including home connections); encourage positive peer relationships; bridge the technology gap; reinforce conventional classroom learning; and extend social and emotional learning beyond the conventional classroom. AIM Buddy Project lets kids have fun while learning!
---
© 2016 WGBH. Underlying TM/© Marc Brown. All third party trademarks are the property of their respective owners. Used with permission. AIM was developed by WGBH Educational Foundation and Tufts University and was made possible through the support of a grant from the John Templeton Foundation (JTF). The opinions expressed here are those of the author(s) and do not necessarily reflect the views of the JTF.