Recent Afterschool Snacks
OCT
20
2017
"Power is the ability to write and author the American story… and that requires ambition to be nurtured; it requires the administration of an infrastructure that can do this."
These words come from Dr. Kamau Bobb of Georgia Institute of Technology, explaining how institutes of higher education are, can, and should be supporting the effort to get computer science education to ALL of the Nation's students. Dr. Bobb spoke on a panel during the CSforAll summit, addressing how the computing initiative is at the forefront of what equity in the coming century will ultimately be and offering a salient framing for why more than 400 cross-sector advocated gathered in St. Louis to celebrate successes and design for action toward achieving CSforAll. More than 170 organizations, including the Afterschool Alliance, committed to various activities and supports to bring high quality computer science to all students.
Throughout the day of celebration on October 17, advocates shared resources, policies, and coalitions that have been vital to the ongoing success of the CSforALL movement. Many hammered home how reaching CSforALL will require utilizing the complete learning ecosystem, and reaching kids in all of the places they learn. Some highlights are described below; check out the recording for more!
OCT
3
2017
On September 25, the White House released a Presidential Memorandum for the Secretary of Education acknowledging that too many of our kids lack access to high-quality science, technology, engineering, and math (STEM) education, including computer science (CS).
Pointing to the alarming truth that 40 percent of high schools do not offer physics and 60 percent do not offer computer science1,2—a lack of access that is exacerbated in rural, low income, and minority communities—the memo directs the Department of Education to prioritize STEM education efforts in the federal grant making, with particular emphasis on CS. Specifically, the Secretary of Education is directed to reallocate at least $200 million of existing funds each year toward CS and STEM education and teacher recruitment and training, beginning in FY18. The memo was signed in the presence of students from Boys and Girls Clubs in Maryland.
On the heels of this memorandum came loud support from the tech industry. On September 26, representatives from the private sector gathered in Detroit, Mich., and together pledged an additional $300 million over five years in money, technology, and volunteers to support K-12 CS learning. This commitment, championed by Ivanka Trump, is fueled by several tech giants including Facebook, Microsoft, Google, and Salesforce, to name a few. The afterschool voice was well represented, with both Namrata Gupta (executive director of After-School All-Stars Bay Area) and Michael Beckerman (president and CEO of the Internet Association and board member for the national After-School All-Stars) in attendance. While the exact recipients of this commitment are not known at this time, some companies, like Microsoft and Salesforce, will continue supporting their ongoing CS investments in programs and organizations such as TEALS, code.org, and others.
SEP
5
2017
Girls Who Code, a national nonprofit working to close the gender gap in tech, wants to work with you! Through their afterschool Clubs Program, 6th-12th grade girls use computer science to impact their community and join a sisterhood of supportive peers and role models. Clubs can be hosted by many kinds of youth-serving organizations, including schools, community centers, faith-based organizations, universities, libraries, and other nonprofits.
All materials from Girls Who Code are provided for free, including:
120+ hours of curriculum, activity sets, and an online learning management system
Recruitment materials, including student, and volunteer flyers
Program management support, including field trip and grant opportunities
Facilitator trainings, resources, and real-time support
AUG
28
2017
In 2016, we set out to learn more about computer science in afterschool programs. What did we find? Afterschool programs really want to provide computer science to their students! A full 97 percent of programs that had offered computing in the past said they were "extremely likely" or "likely" to offer it again, and 89 percent of programs that had never offered computing education rated their interest in offering such programming as "high" or "medium."
However, there are common obstacles that get in the way. First of all, computer science can be intimidating — especially for educators without a background in the computing field — and finding knowledgeable staff can be difficult. Beyond that, finding a quality and affordable curriculum can be a challenge, especially for programs that have never offered computer science before.
In the past few years there has been a lot of progress in creating computer science resources for afterschool and summer programs to make it easier for providers to offer computer science options to their students, but there is still a long way to go. So, we took the first steps and compiled a guide to get you started. Here is a sneak peak of some of the tips and resources:
JUL
6
2017
By Luci Manning
Young Inventors: Students Learn STEM Skills in Summer School Class (Logansport Pharos-Tribune, Indiana)
Sixty-five students from Lewis Cass and other area high schools are dismantling VCRs, building catapults and learning about how to grow vegetation on other planets as part of a STEM-focused summer program. The classes give kids a chance to create inventions using household items and increase their independence and creativity. "STEM is good for every kid," program organizer Cindy LeDuc told the Pharos-Tribune.
Annual Summer Meals Program Kicks off in Philly (CBS Philly, Pennsylvania)
South Philadelphia's Aquinas Center kicked off its annual Summer Meals program last week. "The city of Philadelphia is looking to provide activities and encourage active healthy lifestyles and educational opportunities as part of the fun, safe, Philly summer and out of school time initiatives," Mayor Jim Kenney said. More than 1,000 free food centers throughout the city will offer summer meals to all kids under the age of 18, regardless of household income or other factors, according to CBS Philly.
Circuit Boards, Web Development and Summer Fun (Castle Rock News-Press, Colorado)
The University of Colorado South Denver has partnered with Coding with Kids to bring coding and STEM instruction to Denver students between the ages of 5 and 16 this summer. Kids learn everything from the basic concepts of coding to game development, robotics and web development. "Not only are these skills transferable in other aspects of their lives, but they also give these kids something to be passionate about," Coding with Kids regional director Hardy Bora told the Castle Rock News-Press. "We want to share our passion for coding and lifelong learning with these kids. We want to teach them how to learn, not what to learn."
New Albany Students Blend Classroom and Kitchen (Northeast Mississippi Daily Journal, Mississippi)
A unique program at New Albany Middle School is blending math and cooking for about 30 students this summer. Kids in Integrating Math Through Cooking, part of the 21st Century Community Learning Center program, learned how fractions and proportions can be applied outside the classroom by analyzing recipes and multiplying portions four mornings a week this June. They also learned basic kitchen skills. "It's amazing to see how much the children learned that they'll use for the rest of their lives," program director Maia Miller told the Northeast Mississippi Daily Journal. "I can see we have some budding chefs in the making."

JUN
28
2017
By Luci Manning
Schools Let Students Take Laptops Home to Stop the 'Summer Slide' (NPR)
Topeka Public Schools has joined many other school districts in the country by allowing children to take home school-issued computers over summer break, with the hope that access to the devices will reduce disparities between higher- and lower-income students. Some see the laptops as a way to offer learning opportunities to students who may not have the resources to go to summer camps or family vacations like some of their peers. "It has opened up a huge educational resource to our kids who may not have access otherwise," principal Kelli Hoffman told NPR.
Peacebuilders Camp Focuses on Human Rights, Relationships (Youth Today)
Each summer, kids ages 11 to 14 spend a week on a farm in Georgia learning about the Universal Declaration of Human Rights, participating in lively discussions about the morality of hunting, serving in the military and more. Peacebuilders camp will host three week-long sessions this summer, with each day of the session focused on a different article from the Universal Declaration. "What we go for is openness and discussion and finding how to be in a relationship even when we disagree," co-founder and curriculum director Marilyn McGinnis told Youth Today.
Local Girl Scout Shares Her Love of Math via Summer Learning Program (Newark Advocate, Ohio)
Girl Scout and math aficionado Ava Wandersleben decided to earn her Girl Scouts' Silver Award – an honor that requires 50 hours of community service work – by creating a summer math program for elementary schoolers. Each Wednesday, she leads youths in kindergarten through fifth grade in math-themed games meant to improve their math skills and learn to enjoy a subject many of them find uninteresting. "Her idea for giving back was getting kids to like math," Ava's mother, Christina, told the Newark Advocate. "That way they could do well on their math tests in the fall."
A Week of Touring for Local Students to Help Their Careers (Daily Nonpareil, Iowa)
A group of 22 high school students got a firsthand look at potential future careers as part of a summer program sponsored by a 21st Century Community Learning Centers grant. Students attended different career seminars at the University of Nebraska at Omaha each day of the program, then toured a representative workplace in the afternoon, according to the Daily Nonpareil. "The purpose is to showcase different opportunities students can have," 21st Century Community Learning Center site facilitator Julia Hartnett said. "It's to [pique] interest in a field that maybe they never considered."
MAY
26
2017
By Jodi Grant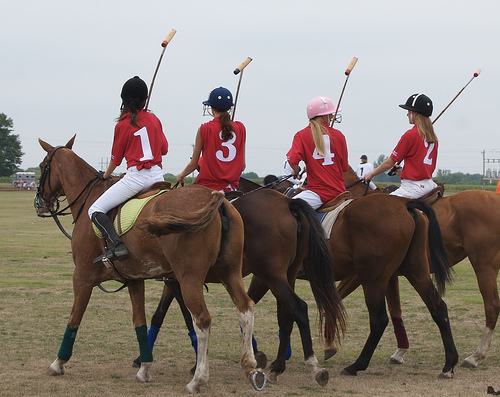 Photo by Pete Markham
Despite a wealth of research showing the importance of afterschool and widespread popularity with parents, students, teachers and community leaders, programs have never been more threatened. This week the president decided to double down on his call to eliminate afterschool funding in his 2018 budget proposal, leaving 1.6 million kids' with no where to go after school. It's a serious matter with implications for Americans across the country. The cut has caught the attention of major national media, local media across the country, and late night comedians and Saturday Night Live.
The Afterschool Alliance isn't exempt from the heightened publicity. On Monday, we had our first mention in The Onion, which wrote a satirical piece on the Secretary of Education's new plan to replace 21st Century Community Learning Centers with afterschool polo programs across the country.
I was flattered to be mentioned, but as in all great satire, the piece contained a lot of truth. If the Secretary of Education did call me, I'd be thrilled to tell her about pretty amazing afterschool programs. I haven't heard of afterschool polo yet, but given the creativity and ingenuity local communities across the nation have developed, I would not be surprised. Afterschool programs keep kids safe, boost student success, and help working families – and quite often, they also blow your mind.