Recent Afterschool Snacks
JUL
6
2017
By Luci Manning
Young Inventors: Students Learn STEM Skills in Summer School Class (Logansport Pharos-Tribune, Indiana)
Sixty-five students from Lewis Cass and other area high schools are dismantling VCRs, building catapults and learning about how to grow vegetation on other planets as part of a STEM-focused summer program. The classes give kids a chance to create inventions using household items and increase their independence and creativity. "STEM is good for every kid," program organizer Cindy LeDuc told the Pharos-Tribune.
Annual Summer Meals Program Kicks off in Philly (CBS Philly, Pennsylvania)
South Philadelphia's Aquinas Center kicked off its annual Summer Meals program last week. "The city of Philadelphia is looking to provide activities and encourage active healthy lifestyles and educational opportunities as part of the fun, safe, Philly summer and out of school time initiatives," Mayor Jim Kenney said. More than 1,000 free food centers throughout the city will offer summer meals to all kids under the age of 18, regardless of household income or other factors, according to CBS Philly.
Circuit Boards, Web Development and Summer Fun (Castle Rock News-Press, Colorado)
The University of Colorado South Denver has partnered with Coding with Kids to bring coding and STEM instruction to Denver students between the ages of 5 and 16 this summer. Kids learn everything from the basic concepts of coding to game development, robotics and web development. "Not only are these skills transferable in other aspects of their lives, but they also give these kids something to be passionate about," Coding with Kids regional director Hardy Bora told the Castle Rock News-Press. "We want to share our passion for coding and lifelong learning with these kids. We want to teach them how to learn, not what to learn."
New Albany Students Blend Classroom and Kitchen (Northeast Mississippi Daily Journal, Mississippi)
A unique program at New Albany Middle School is blending math and cooking for about 30 students this summer. Kids in Integrating Math Through Cooking, part of the 21st Century Community Learning Center program, learned how fractions and proportions can be applied outside the classroom by analyzing recipes and multiplying portions four mornings a week this June. They also learned basic kitchen skills. "It's amazing to see how much the children learned that they'll use for the rest of their lives," program director Maia Miller told the Northeast Mississippi Daily Journal. "I can see we have some budding chefs in the making."

JUN
28
2017
By Luci Manning
Schools Let Students Take Laptops Home to Stop the 'Summer Slide' (NPR)
Topeka Public Schools has joined many other school districts in the country by allowing children to take home school-issued computers over summer break, with the hope that access to the devices will reduce disparities between higher- and lower-income students. Some see the laptops as a way to offer learning opportunities to students who may not have the resources to go to summer camps or family vacations like some of their peers. "It has opened up a huge educational resource to our kids who may not have access otherwise," principal Kelli Hoffman told NPR.
Peacebuilders Camp Focuses on Human Rights, Relationships (Youth Today)
Each summer, kids ages 11 to 14 spend a week on a farm in Georgia learning about the Universal Declaration of Human Rights, participating in lively discussions about the morality of hunting, serving in the military and more. Peacebuilders camp will host three week-long sessions this summer, with each day of the session focused on a different article from the Universal Declaration. "What we go for is openness and discussion and finding how to be in a relationship even when we disagree," co-founder and curriculum director Marilyn McGinnis told Youth Today.
Local Girl Scout Shares Her Love of Math via Summer Learning Program (Newark Advocate, Ohio)
Girl Scout and math aficionado Ava Wandersleben decided to earn her Girl Scouts' Silver Award – an honor that requires 50 hours of community service work – by creating a summer math program for elementary schoolers. Each Wednesday, she leads youths in kindergarten through fifth grade in math-themed games meant to improve their math skills and learn to enjoy a subject many of them find uninteresting. "Her idea for giving back was getting kids to like math," Ava's mother, Christina, told the Newark Advocate. "That way they could do well on their math tests in the fall."
A Week of Touring for Local Students to Help Their Careers (Daily Nonpareil, Iowa)
A group of 22 high school students got a firsthand look at potential future careers as part of a summer program sponsored by a 21st Century Community Learning Centers grant. Students attended different career seminars at the University of Nebraska at Omaha each day of the program, then toured a representative workplace in the afternoon, according to the Daily Nonpareil. "The purpose is to showcase different opportunities students can have," 21st Century Community Learning Center site facilitator Julia Hartnett said. "It's to [pique] interest in a field that maybe they never considered."
MAY
26
2017
By Jodi Grant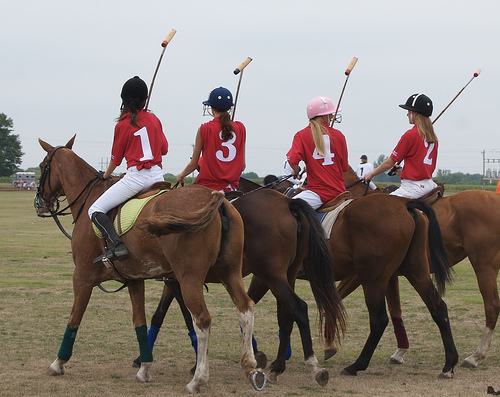 Photo by Pete Markham
Despite a wealth of research showing the importance of afterschool and widespread popularity with parents, students, teachers and community leaders, programs have never been more threatened. This week the president decided to double down on his call to eliminate afterschool funding in his 2018 budget proposal, leaving 1.6 million kids' with no where to go after school. It's a serious matter with implications for Americans across the country. The cut has caught the attention of major national media, local media across the country, and late night comedians and Saturday Night Live.
The Afterschool Alliance isn't exempt from the heightened publicity. On Monday, we had our first mention in The Onion, which wrote a satirical piece on the Secretary of Education's new plan to replace 21st Century Community Learning Centers with afterschool polo programs across the country.
I was flattered to be mentioned, but as in all great satire, the piece contained a lot of truth. If the Secretary of Education did call me, I'd be thrilled to tell her about pretty amazing afterschool programs. I haven't heard of afterschool polo yet, but given the creativity and ingenuity local communities across the nation have developed, I would not be surprised. Afterschool programs keep kids safe, boost student success, and help working families – and quite often, they also blow your mind.