Recent Afterschool Snacks
FEB
28
2018
By Luci Manning
Kevin Durant Donates $10 Million to Prince George's Co. Students (WTOP, District of Columbia)
NBA star Kevin Durant has donated $10 million to help underprivileged students from his hometown go to college, according to WTOP. His donation will help start the College Track afterschool program in Prince George's County, which will offer tutoring, test preparation, financial aid information and other college readiness services to local students. "I want to do my part, whatever it is," Durant said. "If College Track students want to be the next Steve Jobs or the next influencer or the next tastemakers, they can get there."
Lincoln Students' Hearts Go Out to Florida (KOLN/KGIN, Nebraska)
Lincoln Southeast High School's Knight House afterschool program participants have sent hundreds of notes of support to students at Stoneman Douglas High School, the site of the recent school shooting that took the lives of 17 students and teachers. Knight House students crafted more than 200 paper hearts with messages of love and encouragement and sent them to Florida, where they will decorate the halls of Stoneman Douglas as students return to class. "It feels amazing to know that I could help people feel so much better with how they're dealing with this," Lincoln Southeast student Maggi Oziah told KOLN/KGIN.
Kids to Dabble in Science and Technology This Weekend at Discovery Festival (Durango Herald, Colorado)
More than 1,000 students flocked to Fort Lewis College this weekend for the annual Colorado Discovery Festival. Big Brothers Big Sisters of Southwest Colorado holds the event each year to introduce students to STEM careers by giving them a chance to learn about robotics, forensics, rocket propulsion, neurology and more, according to the Durango Herald. The festival hosted 18 exhibitors, ranging from health care centers to science institutes. "There is a world of opportunity out there, and it's theirs to explore and go for," executive director Anita Carpenter said.
How This Penn Tutoring Group Is Rethinking How to Teach 'Traditional Black History Month' (Daily Pennsylvanian, Pennsylvania)
A dozen Philadelphia students are exploring Black History Month with a specific focus on the continent of Africa with the afterschool African Community Learning Program. Through ACLP, youths from immigrant families work on homework, play games and learn about Africa with University of Pennsylvania undergraduate and graduate students. The students are celebrating Black History Month by each choosing an influential African to research and give a presentation on. "I remember how it was trying to adjust to a new environment and a new culture," medical student and Cote d'Ivoire native Aminata Traore told the Daily Pennsylvanian. "I like having the opportunity to help kids manage some of the situations that I went through when I came to the United States."
FEB
21
2018
By Luci Manning
For Camden Teens, 'Black Panther' Lives Up to the Hype (Courier Post, New Jersey)
Some 100 students from Camden area schools and afterschool programs were treated to an advance screening of the new 'Black Panther' film thanks to Campbell Soup Company's Black Resource Group. "Giving kids here experiences they might not otherwise have, whether it's a movie screening or a field trip outside Camden or within it, that's part of our duty as citizens of Camden," Campbell Soup's director of community affairs Kim Fortunato told the Courier Post. "Highlighting success stories – for people of all backgrounds – reinforces the notion that any of us can succeed."
North Heights Elementary Students Hone Their Fibbing Skills (Rome News-Tribune, Georgia)
For the past several months, 20 girls at North Heights Elementary School have been perfecting the fine art of storytelling in the ASPIRE afterschool program. The students will have a chance to show off their work in the Debby Brown Young Tales Storytelling and Writing Program at the 2018 Big Fibbers Storytelling festival. Telling their stories, which are all based on students' real-life experiences, helps the girls develop their self-confidence public speaking skills. "I like this program because the kids get very involved," North Heights teacher Felicia Hall told the Rome News-Tribune. "Lots of times, they don't get to tell their stories and this gives them a chance."
Living Life the Douglass Way (South Coast Today, Massachusetts)
In honor of African American History Month, the YMCA's School Age Afterschool Program has been teaching its students about abolitionist icon Frederick Douglass through activities, presentations and discussions. The YMCA has collaborated with the New Bedford Historical Society to lead sessions on Douglass, in hopes that learning about his life and work, with a focus on literacy and communication, will inspire students to volunteer and lead in their communities, according to South Coast Today.
Flagler Students Learn the Importance of Handwashing (Daytona Beach News Journal, Florida)
A team from the education department at Florida Hospital Flagler visited Bunnell, Rymfire and Wadsworth elementary afterschool students recently to teach the youths about the importance of handwashing. During this particularly bad flu season, hospital staff believe that reaching out to students in the 21st Century Community Learning Center afterschool programs can help reduce the spread of germs and prevent respiratory infections and diarrhea-related sicknesses, according to the Daytona Beach News Journal.
FEB
16
2018
"If you're passionate about anything, there really is no limit to what you can do," says Lemond Brown, president and CEO of Swaliga Foundation. "That passion is contagious. People want to know 'Well, why are they so passionate about that? How can I have that same thing?'"
"Swaliga," meaning "passion," comes from the island of St. Martin. It's the watchword for an innovative afterschool program in Washington, D.C., that connects youth with innovative education opportunities by uniting a love of music and arts with science, math, engineering, and technology (STEM) learning.
Since opening at the Boys & Girls Club of Greater Washington in 2012, Swaliga Foundation has served more than 6,000 youth worldwide. In the next five years, they're looking to connect with 1 million young people worldwide – a goal Brown and his team are passionate about.
"Our mission is to become the world's premiere source for innovative youth education."
How do you innovate youth education in the age of the iPhone? Swaliga Foundation aims to change the way young people use technology by making technology producers out of technology consumers. They teach the technological skills necessary to effect that transformation by tying them to the interests students already have—their passions for sound-mixing, composing music, shooting videos, and beyond.
FEB
15
2018
Last week I attended a Title I Conference in Philadelphia. The "Title I" name may be as generic as they come, but it is one of the most important Titles in education policy.
The purpose of Title I, which was recently reauthorized in 2015 in the Every Student Succeeds Act (ESSA), is "to provide all children significant opportunity to receive a fair, equitable, and high quality education and to close educational achievement gaps." To meet this goal the law includes federal funding that gets distributed to support lower income students and schools. Title I funding can be and is used effectively in schools and districts for quality afterschool programs as well as other efforts.
"The best antidote to oppression is education."
Dr. John B. King, former U.S. Secretary of Education, and currently the president of The Education Trust served as the keynote on the conference's first night. King remarked that education in the United States is in fact making progress. For example, scores on a nationwide standardized test (NAEP) continue to trend upward and graduation rates are increasing hitting a nation-wide high of 84% last year. However, he cautioned, we must be mindful of the gaps – such as those in which our higher income students achieve academically, graduate high school and complete college at much greater rates than our lower income students.
The same gaps are seen between white students and students of color, marking an especially salient fact in light of February being Black History Month. These academic gaps, Dr. King noted, are really a function of opportunity gaps.
King takes a dual approach to problem solving when confronting the opportunity gap. The first is to provide equitable resources in schools; for example, helping to incentivize the strongest teachers where they are most needed, investing in initiatives that have been shown to work to close gaps such as early education and Pre-K, and placing school counselors and advanced academic options in schools where they are limited. While not mentioned by King directly, access to high quality afterschool programs are another essential piece of this puzzle.
JAN
11
2018
By Kaleb Robertson.
Kaleb is a senior at Green Bay West High School and was recently named a Youth Afterschool Ambassador for 2016-17 by the Afterschool Alliance. He has been attending the Boys & Girls Club of Greater Green Bay afterschool program for more than five years. This letter outlines his experiences in this program and how they have influenced his path and future successes.
I originally came to the Boys and Girls Club because I had friends who attended. While I initially thought it was just a place to hang out, I quickly learned that the Club had a lot more to offer afterschool and in the summer. Caring staff who serve as mentors, leadership development opportunities, and future planning are just a few of the benefits I have been able to experience. None of these things would have been possible for me if not for my afterschool program.
One of the first programs I joined was the Be Great: Graduate program. 'Be Great' is a program that matches a teen with a staff member or 'graduation coach'. My coach, Greg, has made sure that I have kept good grades and stay safe. He's someone I know I can talk to, even though he is my formal mentor. And there are lots of other Club staff who have helped me along the way. I am comfortable knowing that whenever I come to the Club, there is always someone I can go to for guidance, support, and advice.
The Club also has great leadership opportunities, including the Keystone Club. Keystone is a program that gives teens an opportunity to learn about and practice leadership and community service. Keystone members complete and document service hours, organize fundraisers, and serve as leaders within the Club, even helping to make decisions that impact other kids. I became involved with Keystone since I started coming to Club, and have served as the Keystone President. I even got to attend the National Keystone Conference in 2016!
Besides being a leader, the Club has also helped realize and plan my future. Ms. Tori, the Club's Graduation Specialist, has helped me stay on track and get my college applications done. Along with helping me plan financially how to stay afloat with my money and pointing me towards many scholarship opportunities, she has also coordinated several campus visits so I have a better idea of what I'm looking for in a college.
For my Youth Ambassador project, I wanted to create something that I could give to people that shared the power and impact my afterschool program has had on me. I will be taking pictures of programs around the Club and turning them into a photo storybook. This way I will not only be able to tell my story to people, but also leave a copy of it behind for them to share with others.
My afterschool experience has been nothing short of transformational. It has helped me stay on track to graduate and also helped me to realize what my future can look like. Every kid should be able to access the same opportunities that I have. Afterschool programs make a difference!
DEC
19
2017
By Kevin Hamilton, vice president for communications at the Student Conservation Association.
Welcome to the first post in our new blog series about the vital role that out-of-school time programs play in the social, emotional, and character development that youth need to navigate a complex, interconnected world. This series is made possible through generous support from the S.D. Bechtel, Jr. Foundation.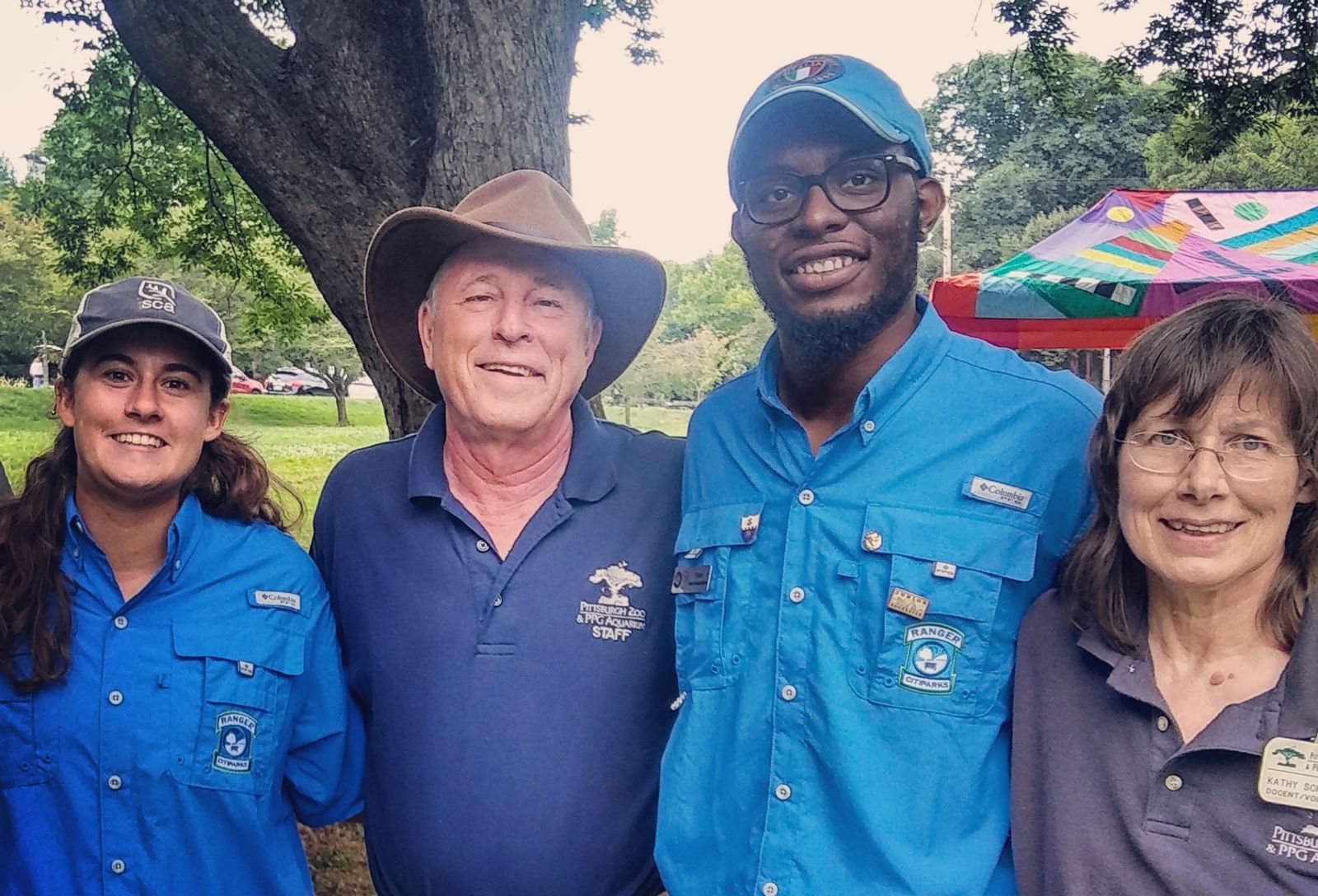 Ranger Rece and colleauges at the Pittsburgh Parks & Recreation Department
It was about this time last year, at the height of the holiday season, that AmaRece Davis' email popped up on my screen.
"I just want to thank SCA again," he wrote, "and let you know that I'm living the dream."
Few would have predicted that outcome just a few years ago. AmaRece, however, never had a doubt.
Rece, as he's known, grew up in the Homewood section of Pittsburgh. It's a tough neighborhood. Lots of poverty, lots of crime. By the time Rece was 15, his two older brothers were in prison and, he admits, he was headed in that same direction. Things took a turn that summer, however, when Rece joined the Student Conservation Association (SCA)'s local crew program. SCA, an organization perhaps best known for placing teen and young adult volunteers in places like Yellowstone and Yosemite, also provides opportunities to participate in environmental-focused programs for urban youth in America's leading cities.
JUL
11
2017
By Aaron Short, assistant head of staff at 21st Cranston Community Learning Center Bain +2/Kidventure Afterschool Program. Aaron attended the Youth Session of the 2017 Afterschool for All Challenge and spoke to his members of Congress about the impact of afterschool on his life.
From the start of my life, I was taught a few things from living in the ghetto of Cranston, Rhode Island: I didn't have a chance in life outside there; it was okay to join a gang when your family loses everything; and the ghetto will be my life no matter how hard I try. If you asked me where these ideas were picked up, I couldn't tell you, but it was inescapable. By the time I was eight, my ex-friends were talking about how much they've stolen from grocery stores. Although I didn't know it at the time, in the fifth grade I saw future gang members starting their careers at the tender age of 10.
My mother worked her hardest to give me a better life, but the mounting costs of daycare and the needs of my newly-born sister kept moving us lower and lower towards poverty. I still remember a point when we were being threatened with eviction because we couldn't afford to live in our small apartment. My school's schedule didn't help the situation, as my mother having to take her lunch break to drop me off at school and had to leave in the middle of the work day to pick me up. And anyone who starts a job with few credentials and leaves halfway through the year can't hold that job for very long. The choice was simple: I could be safe after school, or we could have dinner.