Girlstart's mission is to increase girls' interest and engagement in STEM through innovative, nationally-recognized informal STEM education programs. Girlstart develops and implements a range of research- and standards-based education and mentorship programs designed to promote girls' early engagement and academic success in STEM, encourage their aspirations and persistence in STEM education and careers, and incubate a talented and diverse STEM workforce.
Girlstart After School is an intensive intervention providing free STEM programming every week throughout the school year at partner schools. The program also provides wraparound services to support STEM in the partner school and to support participants' families and communities.
POPULATION SERVED
Girlstart After School reached 875 girls in the 2012-2013 school year through 39 afterschool clubs hosted at 38 schools in ten districts in Central Texas as well as in Dallas, McAllen, San Antonio, and Waco, Texas. In 2013-2014, the program is expected to continue growing, to reach more than 1,000 high-need girls each week.
100% of participants are girls ages 8-13.

60% are Latina, 9% African-American, 20% Caucasian, 5% Asian/Pacific Islander, and 5% identify as multiracial.

70% are considered at-risk, and 55% are first-generation college aspirants.
PROGRAM FEATURES
A program leader meets a club of more than 20 girls weekly for an hour of hands-on, informal STEM after school programs—aligned with state and national standards—at each school.

In Spring 2013, Girlstart recruited and trained 34 preservice teachers as STEM CREW members, who in turn led our after school programs as well as Girlstart's other out-of-school time programming.

All interns gain intensive and sequential training and immersion in informal and inquiry-based (5E) classroom strategies and curriculum that are

not available through their certification programs

.

In Fall 2012, Girlstart recruited and trained 21 preservice teachers as STEM CREW members, who in turn led our after school programs as well as Girlstart's other out-of-school time programming.

Each session begins with an icebreaker, followed by 1 to 2 hands-on activities. At the end of each session, girls reflect on their experiences, share each team's different findings, and what they have learned and how that relates to different STEM careers.

Activities build on each other as the girls explore a single topic over the course of the semester. Examples include engineering, earth science, and video game development.

Showcases of activities and lessons are held at the end of each semester.
Support to Families, Partner Schools, and Communities: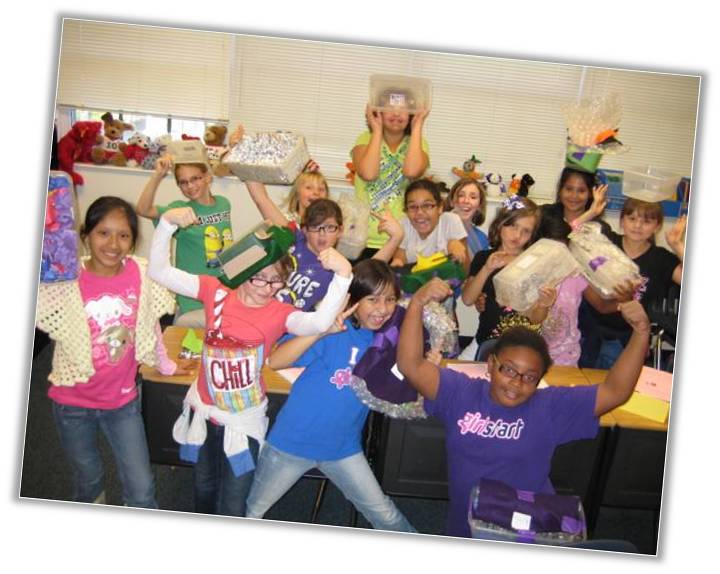 Monthly (bi- or multi-lingual) parent association meetings.

These meetings are multilingual and held in the early evenings.

Content ranges from the activities being conducted in Girlstart After School to higher education and STEM career options.

Newsletters for parents and school communities.

Science and Math nights at each partner school.

Science Extravaganzas - free, family-friendly community wide science festivals.

Pedagogic, curricular, and strategic support to STEM teaching efforts at partner schools.

Intensive internship program to prepare and train pre-service STEM teachers.
Additional Benefits to Participants:
Free registration--with transportation provided if possible-- to attend Girlstart's annual

Girls in STEM Conference

at Univeristy of Texas - Austin.

Scholarships to attend Girlstart's intensive

STEM Summer Camps

.
FUNDING
Corporations and foundations provide the main source of support to Girlstart. Individuals and governments (federal and municipal) also provide important support to their programs. A full list of funders is listed here. A partnership with NASA through their Competitive Program for Science Museums, Planetariums, and NASA Visitor Centers Plus Other Opportunities (CP4SMP+) program is allowing them to expand Girlstart After School.
OUTCOMES
A few results from the 2012-2013 Girlstart After School program, based around three core goals:
Goal 1: Increase participants' competency in and mastery of the scientific method and facility in STEM knowledge and skills.
95% of participants demonstrated that they understand elements of critical thinking necessary for mastery of the scientific method.

Participants reported to Girlstart staff that some of the questions they encountered on the state of Texas standardized test were related to activities they had done in Girlstart After School; they even reported that the Girlstart activities helped them feel more confident taking the test.
Goal 2: Increase the number of girls interested in selecting STEM in high school and college.
84% reported interest in taking further STEM classes in middle or high school.

97% of participants expressed intent to attend college after high school (note that 55% of participants are first generation college aspirants).
Goal 3: Increase the number of girls interested in pursuing STEM careers.
92% of participants demonstrated an awareness that success in STEM in high school or college is likely to broaden their career options.

82% reported that after participating in Girlstart STEM careers seem more interesting.
ADVICE FOR SUCCESS
What challenges did the program face in its early stages?
In fall 2009, Girlstart After School was conducting four afterschool programs. We had just experienced a leadership transition and there was limited esteem for the afterschool program, primarily because the staff hadn't been given the opportunity to nurture the programs in the way they felt was adequate.
Since that time, additional care has been applied to Girlstart After School, and the program has blossomed. When we realized how rewarding and relatively simple it was for us to scale, and when we worked specifically on making the program scale, it became very meaningful not only for our partner schools, but also for our staff. Now, Girlstart sees how the afterschool component complements its Summer Camp and other programs and that it is a vital part of the work we do.
What advice would you have for afterschool programs that want to integrate STEM?
Most of it is about creating and sustaining partnerships and by being open to new ways of solving problems. If you're a school or a generalist afterschool program, partner with a community resource that cares about STEM—because STEM is everywhere, you'll find something or somebody. Primarily, don't be afraid to try new things, and don't be intimidated by a perceived lack of acumen. Just because you don't have a terminal degree in a STEM field doesn't mean that you aren't qualified to explore STEM. The main thing is to be open, explore, learn along with your after school participants, and foster a culture of inquiry and curiosity.
What advice do you have about building partnerships in your community?
It again depends on who you are. As a nonprofit who does not charge for our programs, we have the luxury of making our partnerships non-transactional. Because we have removed fees from this relationship we have been fortunate in being known among our partner schools As PARTNERS, which is really hard for many school communities to do and maintain.
Strong and collaborative school leadership is key to strong relationships. If you can't (as an afterschool program) build relationships with schools and their leadership, you can't be an effective—or sustainable—afterschool program. Find ways to build relationships that last, as that is the key to building an afterschool program that lasts. Even if there is some sort of transaction associated with your program, if you're seen as valuable to school leadership, you'll be able to build a sustainable relationship.
What have been some valuable resources that have helped your program?
The most valuable resource to us is the trust and investment that our donors make in supporting STEM education. They know that STEM education is an important key to transforming America. They see, as we do, how an increase in STEM majors will change our world. Their belief in our work—however informal it may be—allows us to strive more, and do more. With their esteem, our drive grows. It's an infectious cycle that is always fun and engaging. And it ensures that our programs are as well!
Visit the Girlstart website for more information.