The mission of Techbridge is to empower girls to realize their dreams through science, technology and engineering. Techbridge provides multi-faceted programs for girls and supporting resources for teachers, role models, families and partners.
POPULATION SERVED
Techbridge provides programs to 400 girls in three elementary, eight middle, and three high schools in three Bay Area school districts (Oakland, San Lorenzo and San Jose). The programs predominately serve girls who are underrepresented in science, technology, engineering and math (STEM) and who are from under-resourced communities. Support from the National Science Foundation will help Techbridge impact significantly more girls and communities nationwide with expansion into three new cities and 24 school sites over the next five years.
PROGRAM FEATURES
Techbridge offers afterschool and summer programs with hands-on projects and career exploration to inspire girls in science, technology and engineering. Curricula are developed with girls in mind, and designed to spark and sustain an interest in these fields as well as to make a connection with STEM careers. Our curriculum promotes student inquiry, providing girls with an opportunity to learn new concepts through challenges and self-guided activities.
Afterschool programs are run once a week for two hours at the school site throughout the academic school year.
Summer programs are all day for one week at the start of the summer.
Opportunities for students to engage in career exploration are facilitated through role model visits by volunteers and field trips to local engineering and technology companies.
Family engagement is fostered through Family Nights hosted by each individual program twice a year. Here students are able to showcase their skills by completing activities with family members as well as share what they have learned with family members.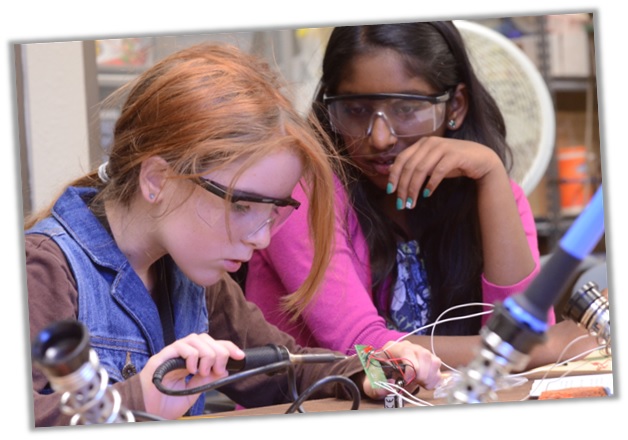 What does a typical day look like in afterschool?
A program is hosted at the school site by a teacher and a Techbridge program coordinator. Programs start with a snack and then lead into a short icebreaker. Icebreakers play an important role in the success of each program. They have multiple goals and allow girls to practice teambuilding skills, learn relevant science content needed for the main activity, and practice public speaking skills.
The remaining time is spent on a hands-on activity that is focused on STEM topics, problems or issues. Curriculum is broken down into several units, each with a different science, technology or engineering focus. Examples of some activities within each unit include soldering a solar night light, creating algorithms and making lip balm. The last part of the program is a time for the girls to reflect on what they have done—they write individually in journals and share with a large group discussion, in pairs, or in small groups. These opportunities help them become more confident with public speaking.
Other Techbridge initiatives:
Techbridge offers training for all volunteer role models prior to visiting programs and engaging with participants. During these trainings Techbridge staff share best practices on how to engage youth, the value and influence of role models, and testimonials from impactful visits. These trainings often include participating in a hands-on activity to familiarize volunteer role models with our curriculum.
Through a partnership with 17 Girl Scout councils, Techbridge has developed five Girls Go Techbridge programs-in-a-box. The programs-in-a-box are a convenient, easy-to-use method of introducing girls to science and engineering concepts. The topics include Make It Green, Design Time, Power It Up, Engineers to the Rescue and ThrillBuilders. While engaging with the engineering design process girls learn about circuitry, soldering, potential and kinetic energy, and much more.
FUNDING
Major sources of funding come from foundations and corporate partners including the Gordon and Betty Moore Foundation, Stephen Bechtel Fund, Chevron, National Science Foundation, Amgen Foundation, Cisco Foundation, SanDisk Foundation, Google, and Paul Scammell Foundation.
OUTCOMES
Thirteen consecutive years of evaluations and a three-year longitudinal study from 2006-08 commissioned by the Gordon and Betty Moore Foundation have demonstrated the impact and success of Techbridge on increasing girls' skills, confidence and career interest in science, technology and engineering. Last year, 92 percent believe they work hard to try new things, 97 percent believe teamwork is good for solving problems, 94 percent believed that engineering is a good career for women, 94 percent knew more about different kinds of jobs, and 80 percent plan to take advanced math or science courses. Evaluation is conducted with pre- and post-program surveys, interviews, focus groups and observations with girls, teachers, role model visits and work site visits. A comparison group surveying girls not participating in Techbridge is also utilized. Techbridge's outside evaluator collects and analyzes data, synthesizes findings and makes recommendations. Techbridge staff also conduct regular observations of programs for formative evaluations. All of this ensures that there is continuous and lasting impact on the girls that participate in their programs.
Advice for Success
What is a current challenge your program faces?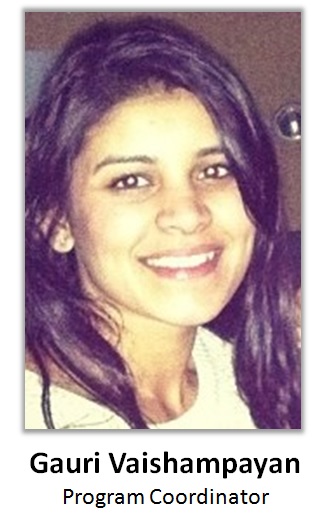 Our high schools girls have many competing commitments including part-time jobs, study groups for AP classes, prep classes for SAT exams, sports and family obligations. In light of this, we are working on a number of strategies to ensure that our high school programs recruit and retain effectively. We are reviewing the literature and studying other programs for older youth to ensure that our program model is relevant and best suited to their interests and needs. In addition, we are enlisting a group of high school girls to give their input to refresh the program at our high schools. We are also working closely with our teachers to develop recruitment action plans including working with current Techbridge students to advertise the program and bringing on teachers who have a broader reach to students at the school. Finally, we expect that creating a challenging high school curriculum that allows for our students to take on leadership roles will attract more students.
In order to sustain the impact of Techbridge, we are leveraging the partnerships and resources we have with our alumnae and serving as a resource when the girls are faced with decisions and challenges. We have developed a Salesforce database that will help us more effectively remain in contact and share resources with our alumnae, as well as facilitate networking across the girls so that they can support one another.
What advice would you have for afterschool programs that want to integrate STEM?
You should be sure to use a well-vetted and age-appropriate curriculum. Academic and social growth changes within student populations each year. Facilitators should adapt to meet the needs of this growth to maintain rigor, and provide students a fun and challenging environment. Also, make sure that the staff leading the STEM programming has the appropriate training and knowledge to be effective. Useful topics for staff training include career exploration, family engagement, equity, youth engagement, inquiry and questioning strategies. Each of these training areas serves a purposeful role within STEM programs by allowing participants to receive an all-encompassing education in STEM. Facilitators should seek feedback from students after planning each of these elements into the curriculum before it is delivered to participants.
What advice do you have about building partnerships in your community?
Partnerships are a great way to expand reach and disseminate resources. We have partnered with several organizations to expand efforts and disseminate resources. Techbridge has demonstrated its ability to cultivate strong partnerships and build upon them to leverage synergies and expand impact. Partnerships work best when all parties are aware of what each brings to the table and what each hopes to gain. Everyone should contribute to a common vision and goals. Clear expectations and communication norms are also essential to maintaining effective partnerships. Lastly, flexibility and open-mindedness are critical to ensuring that all needs are met.
One partnership we'd like to highlight is our Science Learning Community partnership with the Oakland Unified School District (OUSD). With funding from The After-School Corporation, Techbridge developed a successful STEM professional development model for afterschool line staff that is being extended to other school districts and informal programs, including summer programs. Techbridge is leveraging the promising practices and lessons learned from the Oakland Science Learning Community to launch similar efforts in other communities through partnerships with organizations such as Partnership for Children & Youth, San Francisco Department of Children, Youth & Their Families, California AfterSchool Network, California STEM Learning Network, and Growth Sector. These partnerships are helping instill more consistent, high-quality science instruction in afterschool programs across the region and state.
What have been some valuable resources that have helped your program?
Learning from other like-minded organizations has been helpful, including partnerships with organizations such as Society of Women Engineers, Girl Scout councils, Oakland Afterschool Programs, corporate partners, schools and museums. It is important that we are able to collaborate and trouble shoot with organizations that have similar desired outcomes. These partnerships provide Techbridge with some insight into how to better our programs by obtaining a deeper understanding of the community we serve, strategies to strengthen and differentiate our curriculum, and opportunities to network and leverage each other's work.
Visit the Techbridge website for more information.