The EVOLUTIONS After School Program (Evoking Learning and Understanding Through Investigations in the Natural Sciences) is housed at the Yale Peabody Museum of Natural History in New Haven, CT. The Museum's mission is to serve Yale University by advancing our understanding of earth's history through a) geological, biological and anthropological research; and b) communicating the results of this research to the widest possible audience through publication, exhibition and educational programs. The EVOLUTIONS program aligns with the institution's mission through its goals to:
Promote scientific literacy
Prepare participants for college
Increase awareness of STEM careers
Develop transferable workplace skills
POPULATION SERVED
The EVOLUTIONS After School Program serves approximately 115 students each year from New Haven and West Haven Public High Schools. Students may enroll beginning in Grade 9 and are encouraged to remain in the program through graduation. Afterschool classes take place in the museum from October through May (one class each weekday), and the employment program runs on weekends and throughout the summer. Currently, 86 EVOLUTIONS students are female; 28 students self-identify as Black, 26 as Latino, 8 as Asian; 65 qualify for free/reduced lunch; and more than half will be first in their families to go to college.
PROGRAM FEATURES
All 115 participants (grades 9-12) enrolled in EVOLUTIONS attend a science and college-focused afterschool class one day per week. Ninth- and tenth-grade classes of 20-25 students do science trivia, develop museum exhibitions and learn about careers in science. Eleventh- & twelfth-graders learn about scientific research, leadership and the college application process.
After one year, EVOLUTIONS participants become eligible to apply to the Sci.CORPS program (Science Career Orientation and Readiness Program for Students). After volunteering for 75 hours and earning a series of museum competency badges, participants move into paid positions as museum interpreters. 35 students are currently working in Sci.CORPS. They typically work 15-20 hours per month.
Advanced Juniors and Seniors may also apply for the EVOLUTIONS Lab Internship program (ELI) where they work alongside undergraduate mentors in the laboratories of Yale science faculty. These paid, 100 hour internships are offered to approximately 15 students each year.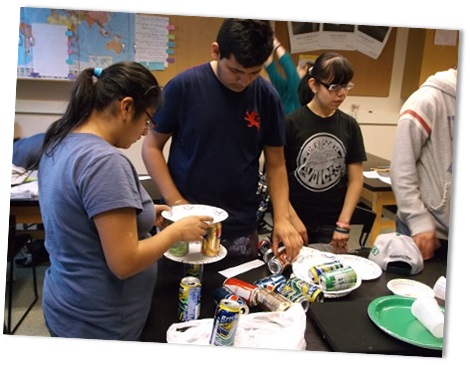 CURRICULUM
The program bridges all four years of high school. As freshmen or sophomores, youth participate in weekly afterschool classes focused on exploration of STEM careers, particularly in environmental and geosciences, through tours, hands-on activities and field trips led by Yale undergraduate students and faculty. The year culminates in the research and production of an exhibition that is displayed in the museum for one year. The current exhibition, Extreme Weather, focuses on the social, economic and environmental impacts of changes in regional weather patterns. Next year's project will focus on food justice and sustainability in the region. Topics and curricula are developed in-house by the program director and other museum staff.
Juniors and seniors focus their class time on developing scientific literacy skills, like analyzing data and reading scientific publications, as well as preparing for and applying to college.
This year, EVOLUTIONS introduced two new specialized strands for a select group of juniors and seniors. The Bay & Paul Environmental Leadership Program and the Engineering Exploration Program offer a group of six high school juniors the chance to meet regularly with an undergraduate mentor who also works as a classroom instructor. Each week, they interact with Yale faculty to develop an implement a project of their own over the course of 18 months.
EVOLUTIONS also hosts monthly social events, an annual three-day college campus tour and a four-day "college prep boot camp" over the summer for high school juniors and their parents.
PARTNERSHIPS
EVOLUTIONS works with the New Haven and West Haven public school systems to offer students school credit for their successful participation in the program, and volunteer hours count toward school community service requirements. EVOLUTIONS is part of Yale's Pathways to Science Project, which grants access to a network of other youth STEM opportunities around campus. The program has established relationships with the Louis Stokes Alliance for Minority Participation at the University of Connecticut and the geology department at Southern Connecticut State University. College students at these two colleges host workshops, campus tours and info sessions for EVOLUTIONS students a few times per year and offer advice about the college application process. College students also work alongside EVOLUTIONS lab interns, bridging the gap between faculty researchers and high school students.
FUNDING
All program funding and salaries come through grant and foundation support. Major funders for Evolutions includes the Institute for Museum and Library Services (IMLS) Museums for America, The Bay & Paul Foundations, the Peter and Carmen Lucia Buck Foundation, and the New Haven Community Foundation.
OUTCOMES
For evaluation purposes, EVOLUTIONS contracts with SageFox Consulting group, led by Drs. Kenneth Rath and Andrew Habana Hafner. SageFox has extensive evaluation experience in the areas of informal and K-12 education, including the EVOLUTIONS program and various teacher professional development programs funded through the Peabody Museum, along with other teacher professional development and GK-12 programs. SageFox has worked with EVOLUTIONS for the past four years and conducts site visits several times per year to offer feedback and advice on the development of program activities. The evaluation plan consists of:
Pre- and Post Student Surveys measure attitudes toward math, science and the environment, and increases in ability to carry out a variety of workplace and communication skills. Open ended items measure changes in understanding of the nature of science, and satisfaction with their experiences.
Student and Staff Focus Groups provide the opportunities for participants to reflect on their experiences and offer suggestions for future years.
Parent Surveys measure both quantitatively and qualitatively, the impact that Evolutions has on their children's academic success, interest in higher education, and social development.
Recent evaluation reports suggest that EVOLUTIONS increases participants' interest in a variety of science fields, while giving them the opportunity to increase their depth of knowledge in their favorite topics. Participants see science as fun and accessible and develop an understanding of the rigorous requirements for earning a science degree. They also cultivate valuable social relationships with likeminded teens and undergrads, who are similarly academically motivated and college-oriented.
Advice for Success
What feature of your program do you think has been most crucial for success?
In EVOLUTIONS, we focus on youth not only as recipients, but also as producers of knowledge. The exhibition project is one example of this; youth feel a tremendous sense of pride when they see their work displayed in a prestigious museum. Similarly, museum interpreters have regularly created opportunities to share their knowledge of science with museum visitors, and lab interns get to contribute to data for authentic scientific research. It is crucial that youth develop a sense of agency and ownership over their experiences, and that they have an opportunity to contribute to the discourses within the institution.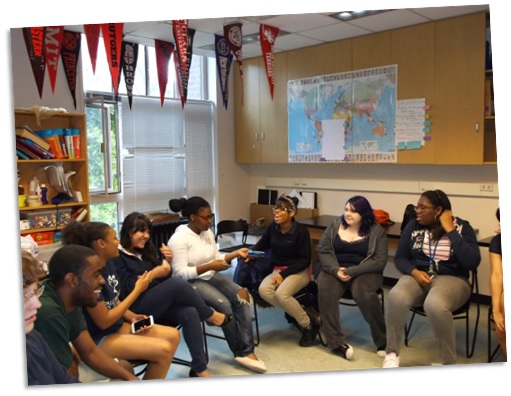 What were some of the challenges the program faced in its early stages?
Of course, buy-in is always a challenge, particularly in an institution that traditionally caters to the intellectually elite and depends heavily on well-educated adults for program implementation. The shift to using local youth took some adjustments. In addition, human resource issues have been a challenge. Youth jobs do not fit into the standard job descriptions of protocols of the university, so entirely new job categories had to be created to accommodate them.
What advice would you have for programs that want to integrate STEM?
Create opportunities for authentic experiences. Hands-on workshops are fun, but real learning happens when you can contribute to the construction of new ideas and make things that matter to others. Encourage social interactions with scientifically-minded people. Lectures and workshops can provide knowledge, but can also reinforce stereotypes. Youth need to learn that scientists are regular people who also watch TV and eat ice cream and wear jeans.
Are there any missteps that the program has made?
One mistake we made was believing that we, as an institution, had important things to offer the community, without recognizing that the community could in turn contribute skills, knowledge and power to improve the institution. I think that the most successful programs do not try to change youth so that they fit into the norms of the institution, but rather are willing to adjust the norms of the institution to recognize the talents and skills that youth already possess.
For more information, please contact:
Andrea Motto, After School Program Director