For more than 110 years, Woodland Park Zoo has served as a cherished community resource and a unique urban oasis. Today, our mission is to "save animals and their habitats through conservation leadership and engaging experiences, inspiring people to learn, care, and act." We fulfill our mission through three main areas of activity: excellent animal care, investment in field conservation, and education programs on grounds and in the community. With more than 1 million visitors each year, Woodland Park Zoo has tremendous capacity to engage the community in our mission.
ZooCrew is a middle school outreach program from the Woodland Park Zoo that empowers middle school youth to become conservation and community leaders by providing engaging experiences that inspire them to learn, care and act.
POPULATION SERVED
Approximately 180 middle school students at five sites participate in ZooCrew each year. ZooCrew serves middle school students from underserved communities who are underrepresented in STEM careers. To serve these students, the zoo has partnered with out-of-school service providers selected based on their established record working with low-income and minority students.
For example, at Aki Kurose Middle School, one of our ZooCrew sites, 83 percent of students qualify for the federal free and reduced-price lunch program, 20 percent are English language learners, and 64 percent achieved less than 60 percent proficiency in Measure of Student Progress (MSP) in science.
PROGRAM FEATURES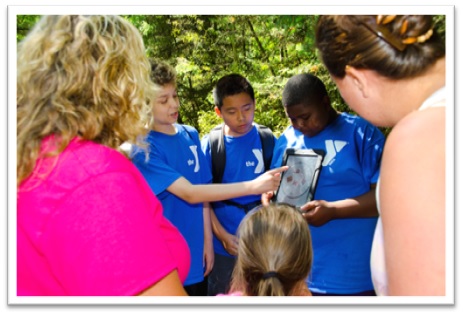 Middle School students use iPads to present their conservation projects to Zoo visitors.
Our summer program currently serves more than 60 7th and 8th graders through daily interactive science lessons in a six week academic and enrichment program in partnership with the YMCA. We are currently developing an intensive month-long STEM and conservation summer learning experience, which we hope to pilot in 2014 with middle school students from our school year program.
During the school year we currently run the program at five middle schools in the Seattle area, serving 10 to 15 middle school students per site, through weekly two-hour programs. Programs are 9-11 weeks long and there are three programs offered each year at each site, fall, winter and spring quarters.
CURRICULUM
The ZooCrew model uses a three-tiered educational approach to support skill development in problem-solving and science inquiry.
Discover: Youth explore the local environment through engaging experiences such as field trips, animal encounters and science projects.
Create: Youth design and create projects and multimedia presentations that address a specific conservation topic, such as climate change.
Share: Youth communicate what they have learned through blog posts, presentations to zoo visitors, or school and community events.
Activities build on each other over the course of the quarter and culminate in a visit to the zoo and an end of quarter event at the school. ZooCrew participants receive free zoo passes at the end of each quarter so that they can bring family or friends to the zoo and share what they have learned.
PARTNERS
Through ZooCrew, Woodland Park Zoo partners with out-of-school program providers to engage low-income and minority middle school students in hands-on STEM learning. Our current partners include YMCA's Community Learning Center's at Madison middle school; Seattle Parks and Recreation at Mercer, Washington, and Eckstein middle schools; and the Highline School District STEM Department and Community Schools Collaboration at Chinook Middle School. Partners were selected due to their alignment with target audiences (low-income, minority), their desire and commitment to partner with the zoo, and their interest in integrating STEM and/or conservation elements into their programming.
FUNDING
Major funding sources include the Dean Witter Foundation, Raikes Foundation, the RealNetworks Foundation, and the City of Seattle's Families and Education Levy.
OUTCOMES
Our program goals are as follows:
Participating students demonstrate increased science literacy and skills in topics covered by program activities.
Students demonstrate increased awareness and interest in STEM and conservation careers.
Students demonstrate increased awareness of conservation issues and increased self-confidence in communicating science to others.
Woodland Park Zoo is one of only a hand full of zoos with full time professional evaluators on staff. The zoo's Audience Research Supervisor and Coordinator have worked closely with the Youth Programs team to develop and implement an assessment plan for the ZooCrew program. Our evaluation plan includes a variety of formal and informal assessment methods designed specifically for this program to address the diverse learning styles and language skills of program participants.
Advice for Success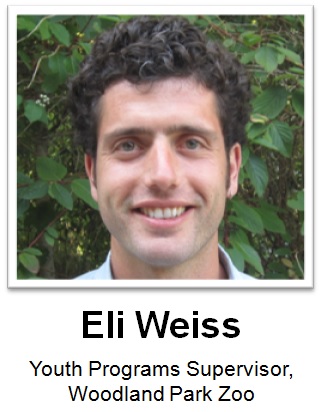 What feature of your program do you think has been most crucial for success?
The ZooCrew program model is founded on the idea that every student should have opportunities to become empowered community leaders. ZooCrew blends the interrelated domains of science, technology, engineering and math in the form of project-based learning. This allows youth to approach real-world problems through informed decision making—crucial skills for success in the 21st century.
Mentorship is also a strong component of the ZooCrew program. As youth carry out their projects, they are matched with zoo staff who can give them professional guidance. These relationships underscore the importance of STEM subjects in many careers, replacing the image of a white-coated scientist with that of a veterinarian, zookeeper, conservation biologist, events planner, photographer or Web designer.
What were some of the challenges the program faced in its early stages?
ZooCrew is an active partnership between Woodland Park Zoo and out-of-school providers. New partnerships can be a challenge, and in the pilot year we worked with three very distinct partners on this project, each of whom had different needs. We learned the value of clear and on-going communication, and the importance of selecting partners with adequate internal capacity.
We have also identified that in order to successfully run an afterschool program in partnership with other youth and community organizations that there needs to be time set aside for staff to have weekly contact with partner staff beyond the allotted time at each program site.
What advice would you have for programs that want to integrate STEM?
Have clear outcomes that are communicated with community partners and youth participants.
Focus program on a specific STEM theme, in our case this is conservation.
Make sure the program activities are relevant and engaging for your target audience.
Utilize partners in the community who can help bring STEM to life through interacting with professionals and experts in the field.
Our students have enjoyed the use of iPads and getting to become more proficient in using specific apps for relevant tasks and skills.
For more information contact Eli Weiss, Youth Programs Supervisor, at eli.weiss@zoo.org.