The SHINE (Schools and Homes in Education) afterschool program is the result of a 2002 grassroots community plan from the Carbon County Partners for Progress "to build a seamless network of educational services". SHINE is modeled on best practices, with the mission to link schools and homes in education to build a strong academic and social foundation for kids. Lehigh Carbon Community College is the administrator of the program.
POPULATION SERVED
SHINE serves children in seven school districts across rural northeast Pennsylvania, spanning more than 700 square miles, and touching the lives of 600 pre-K –12th grade students and their families. All elementary students in SHINE are referred to the program based on academic need by classroom teachers or guidance counselors. 79 percent of the students are low income, 29 percent are minorities and 30 percent have special needs.
PROGRAM FEATURES
The SHINE elementary and middle school program operates during the school year for three hours a day, four days a week. Transportation and food services are provided to children along with 1-2 hours of STEM, tutoring and homework help, and recreational and cultural activities that are coordinated with regular classroom instruction. Afterschool sites are staffed by two teachers and two college education majors from the local community college—an 8 to 1 ratio is maintained in the elementary program and 12 to 1 ratio in the middle school programs.
CURRICULUM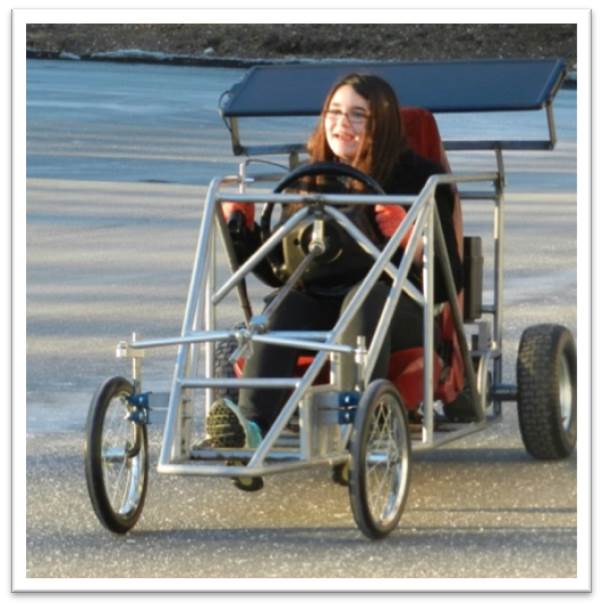 Driving a solar car engineered by SHINE afterschool students.
Elementary students in grades 4 and 5 take part in a 32-week STEM curriculum based on high priority occupations like engineering, health sciences and green energy. The curriculum places an emphasis on developing critical thinking and problem solving skills, global awareness, and effective communication. Example topics include solar cars and houses, Rube Goldberg machines, and hydroponics.
The elementary STEM program lays the foundation for 6th through 8th students to engage in high-lever learning. More than 90% of students continue from elementary onto the Middle School Career Academy. The Academy takes place at the Carbon Career & Technology Institute, a partnership that provides access to teachers with technical expertise, along with tools and equipment within state of the art laboratories. Students take part in six 6-week projects based on high priority STEM careers. In one project, the "Car of the Future", students designed a life-sized derby car using CAD (Computer Aided Drafting) and then built it with precision machined parts.
Recently, both elementary and middle school students were introduced to advanced manufacturing and 3D printing through a grant from the Pennsylvania State System of Higher Education and the Department of Economic Development. Elementary students used CAD to design a dollhouse, then constructed the house and wired it for electricity. Using a 3D printer, they also made furniture for the dollhouse. Middle school students designed a 3D model of a human heart and pacemaker.
PARTNERS
Partnerships with Carbon Career & Technical Institute and Lehigh Carbon Community College are key to providing the Middle School Career Academy. Several local businesses partner to donate time and money to support specific projects. Businesses also offer field trips that expose students to STEM-related industries. STEM professionals provide demonstrations, serve as guest speakers, and contribute to curriculum development.
Relationships have been developed with UGI Gas Company, KME-Kovatch Inc. (a global manufacturer of fire trucks), the Green Energy Industry Partnership, and Blue Mountain Manufacturing. The Kovatch Corporation, the Carbon Career & Technical Institute, local police departments, and the County DUI Task Force are currently supporting a project for students to engineer a DUI Checkpoint Vehicle.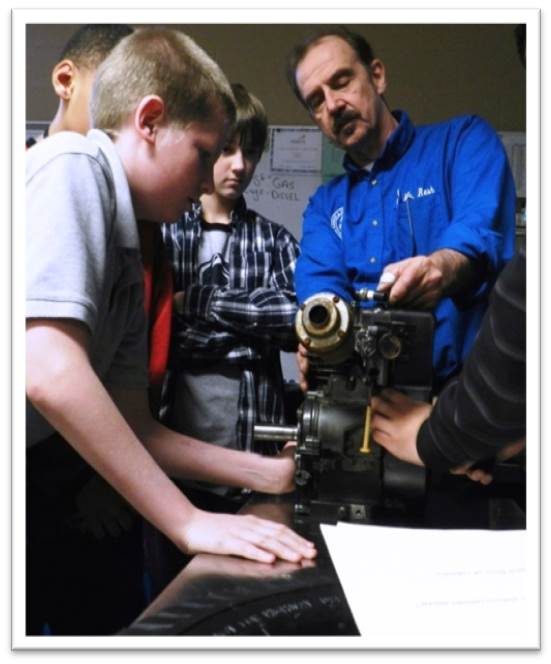 Middle School Career Academy students learn from a Tech teacher.
FUNDING
Funding comes from several sources which include:
Pennsylvania state funding
UGI Gas Company
Department of Economic Development
Schuylkill Community Action
Local banks
Local foundations
Lehigh Carbon Community College Work Study Program
Pennsylvania State System of Higher Education
OUTCOMES
From 2007 to 2012, more than 1,600 1st through 5th grade students participated in SHINE. During this period:
79 percent improved in academic performance
65 percent improved in classroom behavior
96 percent were promoted to the next grade
92 percent had exceptionally good or satisfactory school attendance
92 percent had satisfactory or above grades in science
Through participation in SHINE's STEM program, 97 percent of students indicated they like to discover and invent new things, 97 percent understand what an engineer does, and the number of students who said they would like to study math or science in college increased by 14 percent.
Of students in the Middle School Career Academy, 97 percent were excited about STEM activities through participation in the program, 77 percent indicated they became familiar with careers that require engineering and electronics, 85 percent said they enjoyed using CAD, and 89 percent said science and math would help them be more successful. Parents of middle school students believed their children grew in several ways—84 percent improved their teamwork and problem solving skills, 86 percent improved in technology, 68 percent improved their attitude toward school and 83 percent felt their children demonstrated increased career awareness.
Building a STEM pipeline
One of the most exciting aspects of SHINE is that 56 percent of students stay in the program for at least 2.5 years. Many students stay longer than this—several students and families who entered SHINE in 1st grade and are now in 7th and 8th grade. In 2013, 100 percent of 5th grade students enrolled in the Middle School Career Academy. Students from the academy are now enrolling in the 9th grade STEM Career and Technical Institute. The next step is for older students to gain credits through Lehigh Carbon Community College STEM programs. SHINE is working to build a STEM pipeline from kindergarten to career!
Advice for Success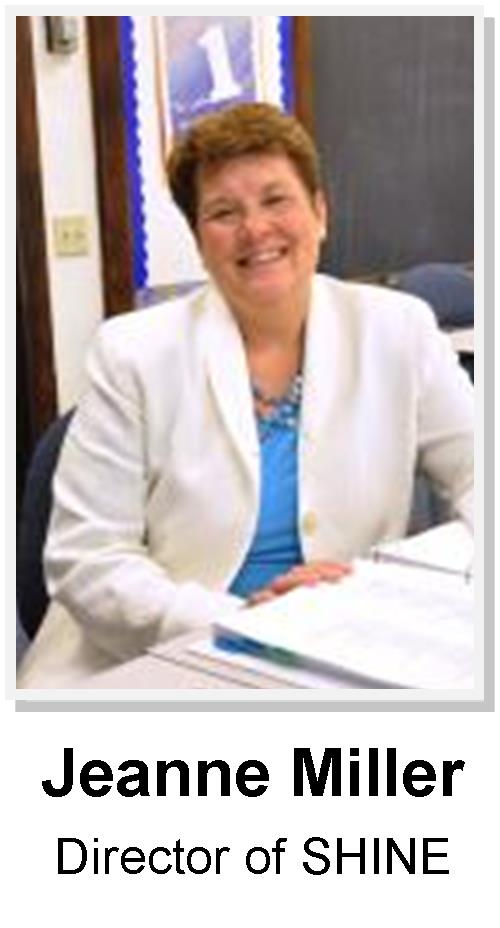 What feature of your program do you think has been most crucial for success?
I feel there are two features that have been critical to the success of the SHINE program:
Utilizing an external evaluator provides accountability, especially in tough times. Schools, businesses and policy makers want to see a return on investment and SHINE can show a significant amount of supporting data and outcomes to these partners due to its commitment to rigorous evaluations.
Providing assessment-driven instruction to all of its students. SHINE achieves this by creating an instructional plan for each student based on numerous assessment tools that demonstrate strengths and weaknesses in reading, math and science. The instructional plan is a living document that changes with the needs of the students. Teachers focus on academic areas that utilize motivating, assessment-driven STEM activities.
What were some of the challenges the program faced in its early stages?
We were very fortunate the SHINE afterschool program was part of a large community grassroots plan—the support from the collaborating partners provided a strong foundation. It is critical at the inception of an afterschool program that you get buy-in from the local school districts and community partners.
What advice would you have for programs that want to integrate STEM?
Instructor buy-in and training is the key to successfully integrating STEM into an afterschool program. Providing practical professional development opportunities in STEM helps them acquire the confidence they need to invest in STEM. SHINE instructors, which include SHINE staff, school-day teachers and interns from the local college, develop a yearly professional development plan that includes training in project-based learning focused on the STEM fields and the integration of reading, writing, business, and art. A total of 40 hours of intensive training are provided each year. Within monthly training sessions, instructors reflect on successes and challenges, and share data and outcomes.
What has made SHINE afterschool program sustainable?
Successful afterschool programs take an incredible amount of planning, creativity, assessment and evaluation. There are six components of our sustainability plan: (1) publicity; (2) marketing; (3) community collaboration; (4) legislative support; (5) creative funding and use of in-kind support; and (6) future possibilities. These components position us to sustain and expand a quality afterschool program in difficult times.
Additionally, we realize that sustainability for afterschool programs begins with inception and continues to evolve as we create, implement, and evaluate measurable outcomes. Afterschool programs that produce positive results cannot be charted on a flat line, but are in constant motion. The ability to keep the cycle of success moving forward will not only help the children and families in your centers reap the benefits of increased educational success, but will also help keep your afterschool program alive.
For more information, visit http://shineafterschool.com.