The Digital Harbor Foundation fosters innovation, technology advancement, and entrepreneurship by helping youth develop digital-age skills through maker activities and technology workforce development.
POPULATION SERVED
In the past six months, more than 325 individuals have taken part in programs at the Digital Harbor Foundation Tech Center. Participants in our afterschool programs range from first through twelfth grade. We also offer community evening workshops that bring in whole families to work together with technology. The vast majority of youth in our programs are minority students from Baltimore's inner city who qualify for free and reduced price meals at their school.
PROGRAM FEATURES
Our main program offering for high school youth is called Maker Foundations, an entry level program with no experience required. It is squarely focused on better preparing participants for high-quality technology careers by exposing them to a wide variety of opportunities and learning methods. A twelve-week course is run in a blended learning environment where students develop both technical skills and "soft skills". Topics include:
3D Design & Printing
Game Development
Web Development
Circuits & Electronics
Blogging
Podcasting
Personal Branding
Graphic Design
For elementary school youth, our "maker programs" run in partnership with FutureMakers, and engage participants in such things as drilling, cutting and joining tools to create inventions with cardboard, wood, plastics and foam. These are mixed with circuits and electronic components such as MaKey MaKey's, sensors and all things that conduct.
Programs run daily at the Tech Center from 3 to 6 p.m. with hot meals provided. Youth might participate up to three or more times per week and average class sizes are around 15 students per session.
CURRICULM
Our programs are a part of the "maker" movement, which bridges the STEM spectrum and has a specific emphasis on technology. We teach youth how to develop websites, program mobile apps, build and use 3D printers and make micro-controller based creations. We strive for "structured autonomy" where we allow individual passions and interests to drive youth projects. As projects are undertaken, youth document artifacts and processes through online portfolio tools. Youth also earn digital badges for their work that are transferable through the Mozilla Open Badges platform.
Recently, a number of students spoke about their work at the TEDxYouth@Baltimore event. Presentations included:
Work done by youth in our program has also been featured in media, with recent articles in publications such as Make Magazine, Technically Baltimore and Amplify:
Below, a student explains how he made an interactive chess game using a computer and MaKey Makey circuitry:
PARTNERSHIPS
While there are many partners who make the work at the Digital Harbor Foundation Tech Center a success, of particular note include FutureMakers, Baltimore City Public Schools, the Maryland Out of School Time Network, Economic Alliance of Greater Baltimore, Maker Education Initiative and DLA Piper.
The list of supporters is extensive and includes Warnock Foundation, M&T Bank, the Deutsch Foundation, Annie E. Casey Foundation, Abell Foundation, and a host of technology companies in and around Baltimore.
FUNDING
Foundations
Technology Companies and Business Institutions

David Warnock Foundation

Robert W. Deutsch Foundation

Venable Foundation

Abell Foundation

Annie E. Casey Foundation

Baltimore Community Foundation

Economic Alliance of Greater Baltimore

Humanim

Tata Consultancy Services

Maryland Institute College of Art

Emerging Technology Center

PayPal

Cynergy

SmartLogic

PrintrBot

Northrop Grumman

M&T Bank

BTS Software Solutions

AOL/Advertising.com
OUTCOMES
The primary, long-term outcome or measure of success is successful entry into a technology career or career using technology by an alum of our programs. Our key indicators of successful progress toward achieving that goal include: interest hours logged at the Tech Center, badges earned through our online curriculum, portfolio pieces and artifacts created, internships and job placement.
Advice for Success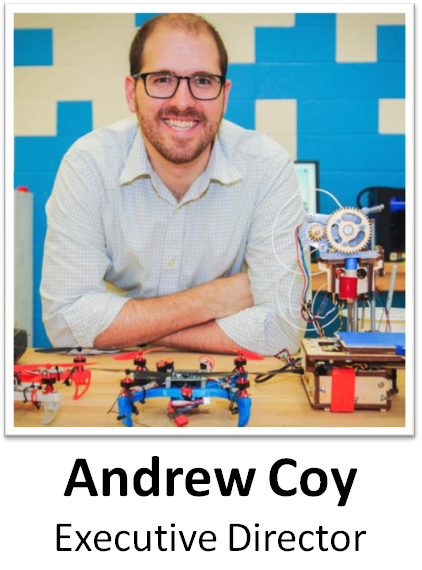 What feature of your program do you think has been most crucial for success?
Fundamental to our rapid growth and success as an organization (we are only two-years old, and only a year ago received keys to the space we transformed into the Tech Center), has been the effective development of key partnerships. Partnerships take time to develop and it is essential that overlapping interests are aligned with complementary strengths. As an example, we would not have been able to accomplish the work of saving the closing-down South Baltimore Recreation Center and converting that into the Tech Center without a partnership with Baltimore City Public Schools (BCPS). The building was actually turned over by the Parks and Recreation department to BCPS, who in turn have given us full rights to the space. BCPS, however, covers major maintenance, utilities, rent and even some insurance for the space. Similarly, a key partnership with Maker Education Initiative, the Maryland Out of School Time Network and the Economic Alliance of Greater Baltimore has allowed us to extend our reach and expand our capacity in ways a small team could not have done in so short of a time in any other way.
What were some of the challenges the program faced in its early stages?
In the beginning of any new program or organization, there is an important first step of learning through experience what essential unmet role and value-add the program or organization provides to the larger community. As we went through rapid cycles of iteration and development, as can be expected, there were numerous changes, refinements and design improvements that were required. Learning how to communicate clearly—both internally to staff and participants as well as externally to partners, funders, and the general community—was of the utmost importance. The transparency of communicating one's design process iterations is not a natural or easy trait to develop and it required time to build that capacity and understanding.
What advice would you have for programs that want to integrate STEM?
From my point of view, the most important aspect of any successful STEM program is the integration of real-world outcomes into the project. A multiple choice test has no lasting value and does not contribute in any truly meaningful way to one's community or society in general. Creating a website for a local non-profit in need, making a 3D printed object as a gift to a family or friend, coding a mobile app to teach Japanese, or taking photos that tell a story—all of these activities have real-world benefits and encourage youth participants to contribute to the world around them. STEM learning is a process of discovery, constant improvement and continual iteration. Standardized tests in their current state do not support or capture any of those qualities, nor do they inspire youth to pursue passions and careers in the high-demand growth-sector jobs this country needs. STEM-integration, in my opinion, is best accomplished through projects that connect youth to the world around them and encourage them to be producers, not consumers. The "maker" movement captures this distinction very effectively and I believe will be instrumental to inspire the next generation of STEM professionals.
Tell us more about the development of the Tech Center.
Two years ago when the South Baltimore Recreation Center was slated to close down, I spent a lot of time thinking about the history of recreation centers, why there had been such a drop in the number and quality of programs and what the future held for these important community assets. I concluded that the underlying problem was a complete transformation of the workforce needs from a factory-based economy to a knowledge-based innovation economy. Recreation centers used to fill a very important role in helping build community while simultaneously filling an economic imperative to develop a healthy, physically capable workforce and providing extended day-care options for parents and families working second shifts in factories. When the factories shut down and closed, the economics behind community recreation centers shifted from being an investment by the city to an expense. This shift was imperceptible at first but ultimately resulted in closings, such as the recent closing of nearly half of Baltimore's recreation centers. I believe, however, that by transforming these spaces into Tech Centers we can re-imagine the role this community space can play in the 21st century economy—creating an economic engine that will play a vital role in developing the skill sets which are in such short supply currently. I believe the transformation of recreation centers into Tech Centers can provide a scalable model of wide-spread innovation and STEM programs for youth, specifically in high-need and under-represented communities, and do so in a faster and more efficient manner than any other method. We at the Digital Harbor Foundation are dedicated to solving the problems we face both as a country and as communities to create a "digital workforce" and end poverty.