The mission of the Thinkery is to provide innovative learning experiences for children and families that equip and inspire the next generation of creative problem solvers. The Thinkery is an evolution of Austin Children's Museum, which was founded in 1983 by a grassroots group of parents and educators looking to expand children's educational and cultural opportunities. The Thinkery exists today as the region's premier STEAM (science, technology, engineering, art and math) hub for children and families delivering exciting exhibits, innovative outreach programs and educational programs to more than 200,000 visitors each year.
POPULATION SERVED
The Tech Reach program serves over 150 students annually. The program operates as an afterschool program presented by the museum in coordination with local Title I schools and community housing sites. Over 95% of students are from low-income families, and over 75% of children in our program identify as Latino/Hispanic. Participation in the program is open to students in 3rd, 4th and 5th grade at our partner sites.
PROGRAM FEATURES
Tech Reach typically has 12-15 students attending each session, during a 90 minute or 120 minute class each week for a semester. The museum brings our educators, and provides training to support teachers and educators at each site. Tech Reach provides 1:1 access to technology and a 1:3 staff to participant ratio. Classes are typically formatted with a warm-up, an intro circle which sets the tone for the class, presentation of new content, a technology activity, and finally a reflection piece to conclude class.
Thinkery staff provides technology training to staff at partnering schools and organizations; often these educators utilize what they learn from our staff in the school day or with other students. Tech Reach students and their families are presented with scholarship opportunities to the museum's programs (including summer and spring break camps), and an "open door" invitation to come to the Thinkery for free.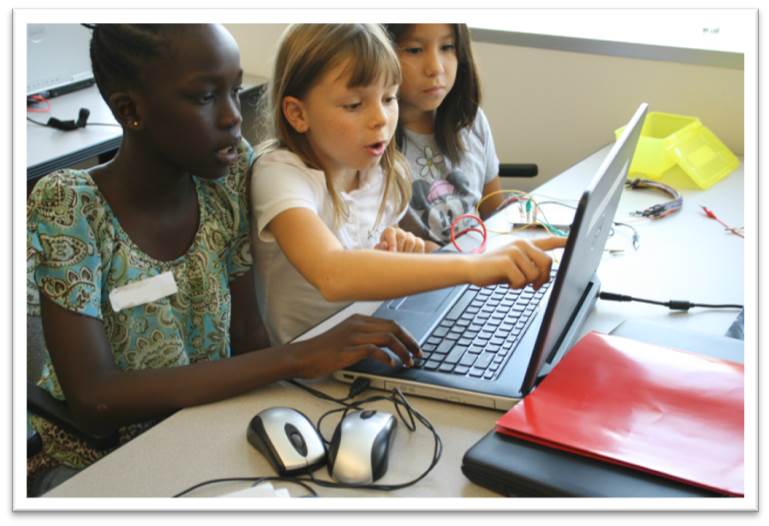 Tech Reach students program design and program animations.
CURRICULUM
Tech Reach includes all aspects of STEAM –primarily through a technology program, children learn math (like Cartesian coordinates), engineer and design robots, participate in creative computing activities like programming individual computer games, and experience science through narrative curriculum. Each week, curriculum builds on previous lessons, all of which focus on building 21st century skills through hands-on projects. The warm-up can also serve as a refresher for content that needs to be reviewed. There is a student showcase at the end of the semester where children can present their games to their families and friends.
PARTNERS
The Thinkery is permitted to develop and deliver programs to schools in Austin Independent School District (AISD). Through Tech Reach, the museum staff develops curriculum, provides training for staff and educators, provides all materials, leads the program and contracts with an external evaluator. Partner sites provide student participants and use of facilities.
FUNDING
Tech Reach has historically relied on grants from corporate foundations, family foundations and grants from the City of Austin's technology opportunity program.
OUTCOMES
The Tech Reach program evaluation plan is designed in consultation with lead program staff and carried out by an external program evaluator. Program results consistently affirm students' statistically significant improvements in technical knowledge (either programming computers or robots), skill development (information communication and technology skills), and attitudes towards STEM. Moreover, 100% of students successfully code and program working computer games and robots in Tech Reach.
Our external evaluator designs pre-and post-program assessments, embedded assessments, and surveys for students to measure attitudes towards STEM and the program. Additionally she convenes focus groups for teachers who participate in the program. Feedback from these focus groups helps determine its strengths including program design and implementation, as well as room for improvements.
Advice for Success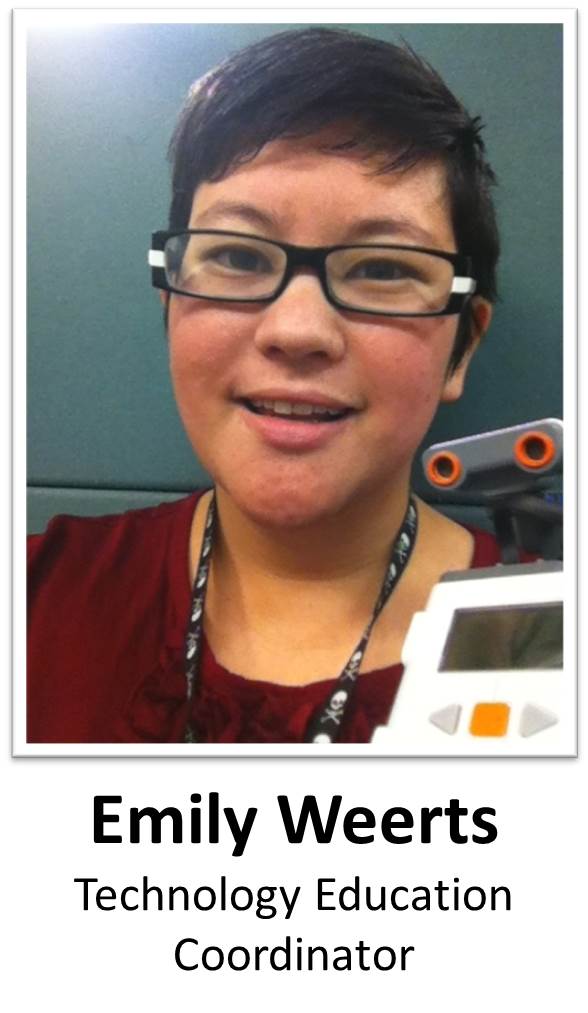 What feature of your program do you think has been most crucial for success?
The high teacher to student ratio has been key to our success. Having a big staff of trained technology educators allow us to develop and implement curriculum, support students as they creatively problem solve, and provide an experience that is unique from the typical school day. There is high demand for our program because there is high need for in-depth technology education opportunities for the population we serve.
In order to keep our program sustainable, we have looked for a variety of funding sources, including corporations, foundations, civic grants, and offering revenue generating versions of our program.
What were some of the challenges the program faced in its early stages?
Tech Reach began as a pilot program in 2006 operating at one site and served 12 students in its first year. This pilot phase served to address key challenges: demonstrating feasibility, showing interest and demand, and developing plans around the model. The program has proven to be successful largely because it started small and went through rigorous planning before scaling up.
What advice would you have for programs that want to integrate STEM?
A key to Tech Reach's success integrating STEM has been our emphasis on presenting STEM content in relevant and practical contexts. We train all of our staff to encourage students to explore new concepts and make connections to their every day experiences. Technology is an effective medium to integrate STEM – teachers can integrate content from science lessons, engineering concepts and math principles by using technology-centered programs. Recognizing technology to be a content knowledge area and a teaching tool, while staying flexible in designing the program has increased Tech Reach's successes.
For more information visit www.thinkeryaustin.org/tech-reach.