16-year-old Ashley Parker from the Blended Zine afterschool program at the Farmington Public Library in New Mexico drew the winning design for the 15th annual Lights On Afterschool poster contest. Ashley's artwork was chosen from thousands of entries submitted by afterschool students from around the country and will be displayed at Lights On Afterschool events from coast to coast.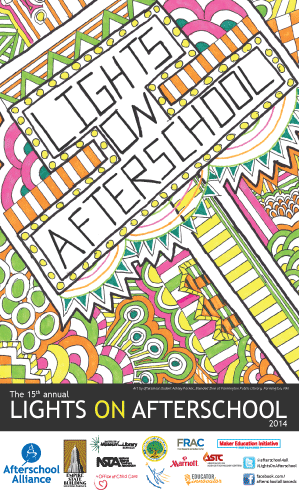 My name is Ashley Parker. I am 16 and I love art. I have been drawing since I was a small child. I have an art class that meets once a week. A friend in my art class told me about the Blended Zine afterschool program at our library.
The Blended Zine is a student-produced magazine. Students from across the county submit art or poems, while the production team is in charge of layout, design, and promotion of the Blended Zine. The Blended Zine has given me real life experience with my art. The first year I submitted to the Blended Zine, none of my artwork was selected. The second year, two of my drawings were selected and one of them won the Teens Choice Award. This year, I am going to be joining the production team.
I found out about the Lights On Afterschool poster contest from a flyer one of the Blended Zine leaders was handing out. My idea for the poster was to draw a Broadway-style sign with lots of color and doodled patterns around it. I was super excited when I found out that I had won the contest. I am glad I decided to submit my picture.