Snacks by Stephanie Rodriguez
FEB
22
2018
On February 12, the White House released its FY19 budget request. As expected, it reiterated much of the FY18 request, including deep cuts to and elimination of many discretionary programs. This year's request was made more confusing due to the congressional budget deal reached just days before the WH FY19 budget request. Because that budget deal included a significant increase to both defense and non-defense budget caps, the administration released a budget addendum, which added back funds to many programs slated for reductions or eliminations before the deal was reached. While this addendum seems to benefit some science sectors, science, technology, engineering, and math (STEM) education is still a casualty of the FY19 budget request.
Money talks. Here's what it says.
Not only is the sole dedicated federal funding stream for afterschool and summer learning proposed for elimination: the president's request once again eliminates funding for grant programs in the Every Student Succeeds Act's Title IV-A (Student Support and Academic Enrichment) and Title II (Preparing, Training, and Recruiting High-Quality Teachers, Principals, or Other School Leaders).
Together, these eliminations continue an assault on teaching and the development of well-rounded students. These cuts are particularly harmful to STEM learning, as these funds are often used to recruit and train educators in high-need fields and provide students experiential learning opportunities critical for active STEM engagement. How can we expect to effectively improve STEM and computer science education, which are stated administration priorities, while eliminating investments in teacher training and related support programs?
JAN
26
2018
Updated March 2 to include a quote from Overdeck Family Foundation Program Officier Brian Carter.
Advancing supportive afterschool policies, regardless of the focus area, requires a collaborative, multi-pronged approach. As such, we are delighted to continue our partnership with Overdeck Family Foundation to advance afterschool science, technology, engineering, and math (STEM) education policy in states around the nation. We will collaborate with the statewide afterschool networks and the STEM Education Coalition to amplify state networks' ongoing efforts to grow afterschool STEM learning opportunities in their states.
The increased support from Overdeck Family Foundation and continued collaboration with the STEM Education Coalition show that this approach—connecting the STEM-rich community with afterschool experts, and braiding grassroots and grasstops advocacy to elevate their collective voice and influence federal, state, and local policy—has the power to make high-quality afterschool STEM learning accessible to students in communities across the nation.
"Last year, with support from Overdeck Family Foundation and collaboration with the STEM Education Coalition, we saw great gains in funding and support for afterschool STEM at the state level," said Jodi Grant, executive director of the Afterschool Alliance. "This year we look forward to continuing to educate policymakers on the value of afterschool STEM, and working to increase opportunities for young people to access quality STEM experiences when school is out."
DEC
15
2017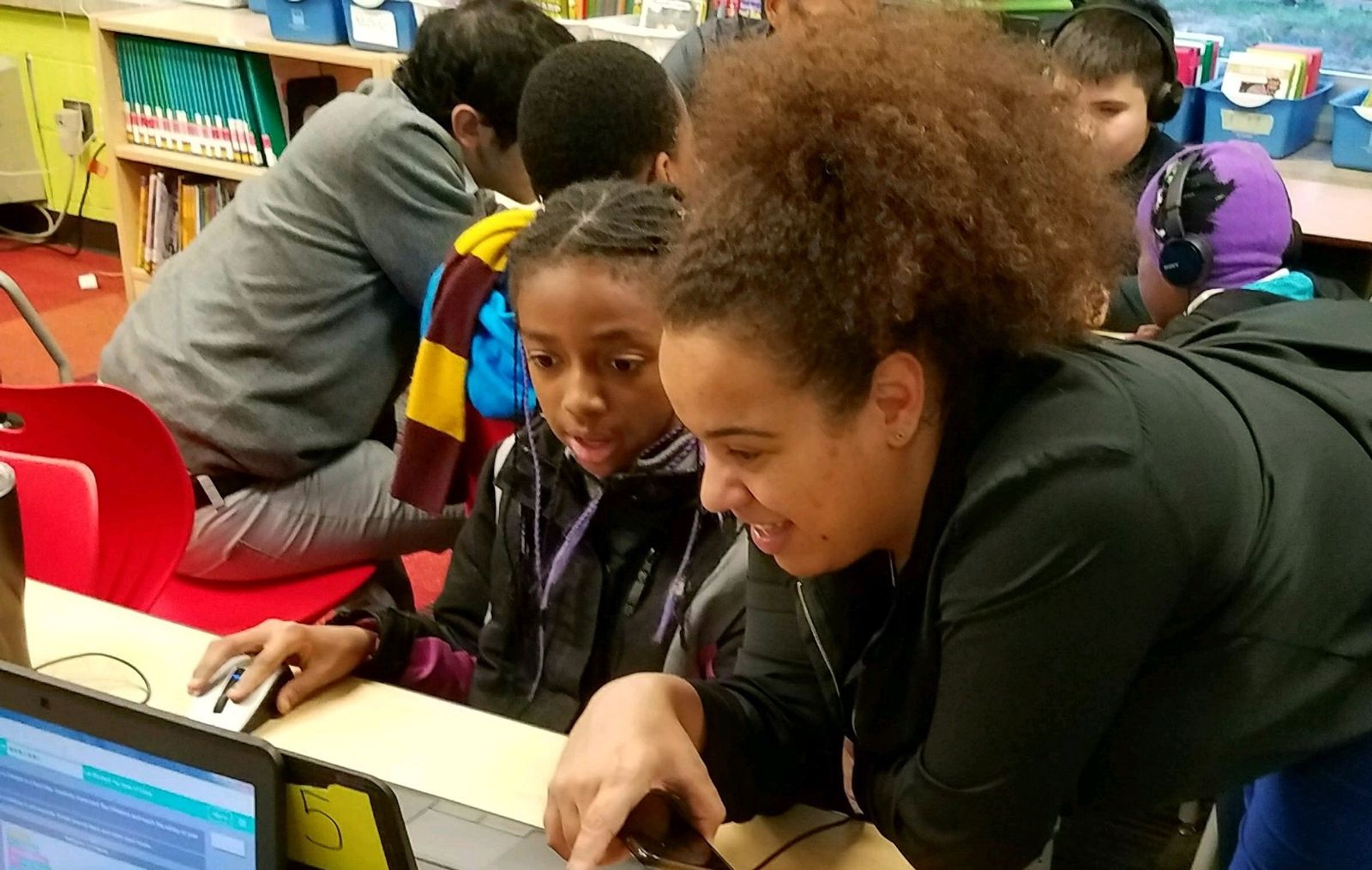 Stephanie Rodriguez and a student at Tubman Elementary participate in the Hour of Code on December 6
Computer Science Education Week (CS Ed Week) 2017 was an exciting time for the Afterschool Alliance and the CS education community at large. The Afterschool Alliance shared key resources for afterschool computer science throughout the week, including:
Here's a look at a few highlights from the week!
Launch event with corporate partners on December 4
Code.org kicked of CS Ed Week with a launch event that featured female technology powerhouses, including Melinda Gates and Sheryl Sandberg, offering words of wisdom and inspiration for all kids to pursue opportunities in computing. In celebration of the 2017 CS Ed Week, Code.org and the Computer Science Teachers Association (CSTA) announced their inaugural Champions for Computer Science. We were thrilled to see that the value of afterschool CS was recognized within the winners of their "organization" category! Alexandra Liggins, co-founder of South Bend Code School, accepted the award, which recognized the great work their out-of-school time program does in bringing computer science learning to students age 7 to 18 across Indiana.
OCT
20
2017
"Power is the ability to write and author the American story… and that requires ambition to be nurtured; it requires the administration of an infrastructure that can do this."
These words come from Dr. Kamau Bobb of Georgia Institute of Technology, explaining how institutes of higher education are, can, and should be supporting the effort to get computer science education to ALL of the Nation's students. Dr. Bobb spoke on a panel during the CSforAll summit, addressing how the computing initiative is at the forefront of what equity in the coming century will ultimately be and offering a salient framing for why more than 400 cross-sector advocated gathered in St. Louis to celebrate successes and design for action toward achieving CSforAll. More than 170 organizations, including the Afterschool Alliance, committed to various activities and supports to bring high quality computer science to all students.
Throughout the day of celebration on October 17, advocates shared resources, policies, and coalitions that have been vital to the ongoing success of the CSforALL movement. Many hammered home how reaching CSforALL will require utilizing the complete learning ecosystem, and reaching kids in all of the places they learn. Some highlights are described below; check out the recording for more!
OCT
3
2017
On September 25, the White House released a Presidential Memorandum for the Secretary of Education acknowledging that too many of our kids lack access to high-quality science, technology, engineering, and math (STEM) education, including computer science (CS).
Pointing to the alarming truth that 40 percent of high schools do not offer physics and 60 percent do not offer computer science1,2—a lack of access that is exacerbated in rural, low income, and minority communities—the memo directs the Department of Education to prioritize STEM education efforts in the federal grant making, with particular emphasis on CS. Specifically, the Secretary of Education is directed to reallocate at least $200 million of existing funds each year toward CS and STEM education and teacher recruitment and training, beginning in FY18. The memo was signed in the presence of students from Boys and Girls Clubs in Maryland.
On the heels of this memorandum came loud support from the tech industry. On September 26, representatives from the private sector gathered in Detroit, Mich., and together pledged an additional $300 million over five years in money, technology, and volunteers to support K-12 CS learning. This commitment, championed by Ivanka Trump, is fueled by several tech giants including Facebook, Microsoft, Google, and Salesforce, to name a few. The afterschool voice was well represented, with both Namrata Gupta (executive director of After-School All-Stars Bay Area) and Michael Beckerman (president and CEO of the Internet Association and board member for the national After-School All-Stars) in attendance. While the exact recipients of this commitment are not known at this time, some companies, like Microsoft and Salesforce, will continue supporting their ongoing CS investments in programs and organizations such as TEALS, code.org, and others.
JUL
24
2017
Hi! Stephanie Rodriguez here, the new Director of STEM Policy at the Afterschool Alliance. I'm incredibly excited to advocate for the importance of out-of-school time STEM learning and its role in encouraging students to engage in and pursue activities and careers in STEM fields. My personal, lived experience with informal STEM learning experiences fuels my passion for afterschool STEM and brought me to the Afterschool Alliance, where I will work to impact policies that support opportunities for all youth to engage with STEM learning.
I join the Afterschool Alliance fresh off my tenure as an AAAS Science & Technology Policy Fellow at the National Science Foundation, where I worked on efforts to broaden participation in computer science and other STEM fields. Prior to the fellowship, I completed my PhD in immunology at Washington University in St. Louis where I studied the T-cell development process and devised innovative strategies to watch this phenomenon in live animals in real time using advanced microscopy techniques. While at WashU I also directed the Young Scientist Program, a 25-year-old program that engages St. Louis public school teachers and students in hands-on STEM experiences while providing critical resources to a community in need.
My own path to becoming a scientist was 100% paved by STEM experiences external to the classroom. In high school, I was part of an authentic research experience working at a Ball State University biochemistry lab through a program aimed at getting girls and underrepresented groups into STEM fields. The experience got me hooked on STEM, built my resume, connected me with mentors, and expanded my human capital and network. If not for that invaluable experience, I would not have been exposed to the STEM research enterprise nor had the confidence and interest to consider a career in a STEM field.
Afterschool STEM engagement is an opportunity all students should have access to and I am eager to jump into my new role and support policies that will make that happen!