Recent Afterschool Snacks
JUN
29
2012
By Luci Manning
Summer learning at a glance:

This issue kicks off with—what else—summer! Last week we released a small part of our upcoming Uncertain Times survey in conjunction with Summer Learning Day. The survey affirms what afterschool program providers and staff working in the field already know: summer learning programs for kids are facing growing enrollment and tighter budgets. Nearly a fifth of summer programs (17 percent) reported reducing their services last summer due to budget pressures, while more than half (54 percent) said they expect increased enrollment this summer. Check out the article here. This issue's Outreach section has text for a letter-to-the-editor or blog post on the importance of summer learning and includes stats from the new data.
The Advocate contains happier budget news out of New York City. Thanks to the tireless work of the Campaign for Children, afterschool providers, parents and youth in New York City, Mayor Michael Bloomberg and City Council Speaker Christine Quinn have announced that they will restore $150 million for child care and afterschool programs to the city's budget. Read more.
If you haven't already started planning for Lights On Afterschool 2012, this issue has tips on ways to get started! Be sure to download the Afterschool Alliance's Lights On Afterschool Event Planning Kit and ensure that your program is ready to join the more than 7,500 communities and one million Americans who will celebrate afterschool programs on October 18. Read more about getting a jump start on Lights On 2012.
Sadly, it's not all good news. In a move that caused deep concern for afterschool advocates and for families that rely on afterschool programs, the Senate Appropriations Committee passed legislation that would provide level funding, $1.15 billion, for 21st Century Community Learning Centers in the 2013 fiscal year budget —but would also let states divert 21st CCLC funds from afterschool and summer learning programs. Read Afterschool Alliance Executive Director Jodi Grant's take on it here.
MAY
25
2012
By Luci Manning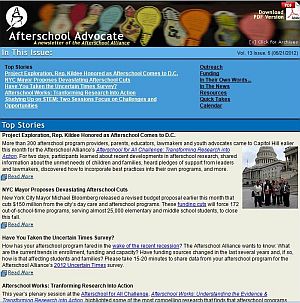 The most recent issue of the Afterschool Advocate has a wealth of information for afterschool providers and advocates who weren't able to make the trip to Washington, D.C. for the Afterschool for All Challenge earlier this month. The issue's lead story reports on: this year's award winners; remarks by actor, afterschool champion and emcee Kevin Sorbo at the "Breakfast of Champions;" messages from members of Congress who attended the Breakfast; and a report on the youth advocates who performed and shared their experiences in afterschool programs. The issue also has highlights from the plenary session on research, two sessions on STEM and the workshop on physical activity in afterschool. This issue's Outreach section offers messages and tips to help advocates keep the momentum going as well as encouragement and advice from supporters in Congress.
The Afterschool Advocate is following the budget cuts affecting many of New York City's afterschool programs. New York City Mayor Michael Bloomberg released a revised budget proposal earlier this month that would cut $150 million from the city's day care and afterschool programs. These funding cuts will force 172 out-of-school-time programs, serving almost 25,000 elementary and middle school students, to close this fall. Read more.
This issue has a reminder to take 15-20 minutes to share data from your afterschool program through the Afterschool Alliance's 2012 Uncertain Times survey.
The National Girls Collaborative Project awarded its 2012 Outstanding Individual Commitment to Collaboration Award to Afterschool Alliance STEM Policy Director Anita Krishnamurthi at a luncheon last month. Read more about Anita's award here.

Sadly, the afterschool movement lost a fast friend last month with the passing of Larry Decker, one of the early leaders in the community education movement. Read the tribute to Decker online.
In this issue, as in every issue, there are funding and award notices, news from programs around the country, quotes in support of afterschool programs, resources and conference announcements from around the country.
If you would like to receive the Advocate directly or know of colleagues and allies who would also like to get it, please fill out the online form. Read the entire issue online.
JUN
2
2010
By Susan Rohwer
For the latest news and resources on afterschool locally and nationally.
In the latest issue--Vol. 11 Issue 6 (05/27/2010):
Mayors Speak Out on 21st CCLC: From Maui to Los Angeles to Louisville to Little Rock and beyond, more than 40 mayors from across the country sent a letter to the U.S. Senate on May 11 pressing for increased support for before-school, afterschool and summer learning programs.
Get the Afterschool Advocate in your inbox subscribe now.