Afterschool Snack Archives
AUG
16
2017
By Luci Manning
Tennis Program Helps Students to AIM High (Gainesville Sun, Florida)
"Katie Munroe credits her involvement with the Aces in Motion education program with motivating her to realize her dreams of going to college," according to the Gainesville Sun. The AIM afterschool program teaches students basic life skills and students receive homework help alongside tennis lessons and activities with members of the University of Florida tennis team. Munroe began participating in the afterschool program while she was in seventh grade. "I can honestly say AIM has helped me grow into the person I am today because it taught me to believe in myself, to have patience and to work hard to achieve success," 18-year-old Katie Munroe told the Gainesville Sun.
The City's Youth Are in Crisis (Milwaukee Journal Sentinel, Wisconsin)
Boys & Girls Clubs of America president and CEO Jim Clark and Boys & Girls Clubs of Greater Milwaukee president and CEO Vincent Lyles write about the positive impact of afterschool programs in the Milwaukee Journal Sentinel: "…with the right opportunities and the right people in their corners, youths make positive choices and go on to lead successful, productive lives as adults…. The persistent problems of intergenerational poverty and crime won't be solved until we join together and commit to providing more opportunities for quality out-of-school programs that help America's inner city and rural youths achieve three crucial goals: academic success, good character and citizenship and healthy lifestyles."
Incoming No. Providence High Freshmen Graduate from Summer Boatbuilding Program (North Providence Breeze, Rhode Island)
Nearly 50 Providence-area students spent the last several weeks learning to design, build, and repair boats as part of the Youth Summer Boatbuilding Program. The program's hands-on approach taught students science, engineering, and math fundamentals in a fun, challenging way while preparing them for possible future careers. "The boats are merely a metaphor; if they can build a boat and put their minds to something and see what they can accomplish, they start believing in themselves," Henry Marciano of City Sail told the North Providence Breeze. "That's the whole purpose of this program."
Cabell County Students Share Views on Afterschool Programs with Congress (Huntington Herald-Dispatch, West Virginia)
This week the Huntington Herald-Dispatch reported that two Cabell County students shared their views on the value of afterschool programming with their elected representatives in Washington as part of the Afterschool Alliance's Afterschool for All Challenge in June. Brothers Brennan and Aiden Shope met with U.S. Sens. Shelley Moore Capito and Joe Manchin, as well as U.S. Reps. Evan Jenkins and Alex Mooney, to stress the positive impact their afterschool programs have had on their lives and to urge the members of Congress to support funding for out-of-school-time programs.
AUG
10
2017
By Julie Keller
Last month, Voices for Healthy Kids brought together advocates of Early Childhood Education (ECE) to dive into the science, messaging, and best practice campaign approaches for advancing healthy eating, physical activity, and decreased screen time in ECE.
Here are a few snapshots of what was discussed and how out-of-school time (OST) advocates can take the next steps for advancing Healthy Eating and Physical Activity (HEPA) state-level policy:
Leveraging the Child and Adult Care Feeding Program (CACFP)
The US Department of Agriculture has updated the CACFP to ensure children and adults have access to healthy, balanced meals throughout the day. These revised meal patterns include a greater variety of vegetables and fruit, more whole grains, and less added sugar and saturated fat. The CACFP may be able to reimburse participating organizations up to $1,400 annually per child!
Next steps: Contact your state agency to check your organization's eligibility for participation. If you are already participating, use this flyer to help promote and educate non-participating childcare centers about the benefits of CACFP.
AUG
9
2017
By Luci Manning
With Help of a BMX Pro, at-Risk Youth Pedal Their Way to a Better Future (Fresno Bee, California)
A biking afterschool program at Sequoia Middle School is steering students away from dangerous decisions and toward a fun, positive learning environment. BMX Jam, started by former BMX racing professional Tony Hoffman, helps students who are struggling at school and at home by giving them a place to develop friendships, improve their grades and build self-esteem. "In the program, you talk to each other, you help each other and you become kind of like a family," participant Danny Orozco told the Fresno Bee.
Learning to Inhale: At This Camp, Breathing Is Fundamental (WAMU, District of Columbia)
Youths at a unique summer camp in Patuxent, Maryland are not just taking hikes and sleeping in cabins – they're learning how to control their asthma. According to camp co-director Bernadette Campbell, the week-long program is meant to help students learn coping techniques that could make all the difference in case of a sudden asthma attack. "They know how to save their lives, they have a sense of empowerment and they know they can do it," Campbell told WAMU.
Sponsors Visit STEM Programs Aimed at Fighting Summer Learning Loss (New Britain Herald, Connecticut)
Representatives from several companies and organizations that sponsor summer learning programs in New Britain got a chance to see how their money was being used through two site visits and information sessions last week. The funders visited the district's two Summer Enrichment Experience (SEE) locations to witness how students in elementary and middle school benefit from the STEM-based program that fights summer learning loss. "We have seen the success with SEE," New Britain High School superintendent Nancy Sarra told the New Britain Herald. "…We know that if we keep them in the summer… we can change their trajectory for learning and staying engaged in school and graduating on time."
Swimming Skills Aren't Just for Dreamers (Pittsburgh Post-Gazette, Pennsylvania)
Pittsburgh students from all socioeconomic backgrounds are building healthy habits through Summer Dreamers, a swimming-focused summer learning program. "We're teaching the kids a skill, a lifetime skill," Obama Academy swim coach Mark Rauterkus told the Pittsburgh Post-Gazette. "And we're also spending a lot of time in fitness, so they're getting stronger more endurance. They're learning about exercising, kinetic movement, and their teamwork and sportsmanship." The program combines swimming and water polo lessons and other traditional camp activities with academic classes, helping to mitigate summer learning loss, build students' self-confidence and keep them fit.
AUG
3
2017
If you've got soccer players in your afterschool program, we've got a perfect opportunity to fund the field. Target Corp. is now accepting applications for youth soccer grants, with preference for programs serving in-need communities. The grants can be used to support player registration fees, player and field equipment, and professional development for volunteer coaches, with preference given to programs serving in-need communities. Grants will be awarded in November 2017.
Grant name: Target Youth Soccer Grant
Description: Annual $1,000 grant
Eligibility: 501(c)(3) organizations, accredited schools, public agencies*
Deadline: August 30, 2017 by 12 p.m. (noon) CST
How to apply: Click here to take a short eligibility quiz. After the quiz, register for an online grant application account and complete a full grant application on Target's website.
AUG
2
2017
By Luci Manning
If You Think This Camp's Unusual, You're Dead Right (Riverdale Press, New York)
A cemetery may not seem like an obvious location to host a summer camp, but for some 20 students from the Bronx, it has been the perfect place to spend time outside while learning about the history of their community. The summer program hosted by the Woodlawn Cemetery teaches students about the art and architecture in the graveyard, and introduces them to some of the people buried there, including famous figures like Miles Davis and salsa singer Celia Cruz. "If you don't get young people to be stewards of a historic site, who's going to care for it?" Woodlawn director of historical services Susan Olsen told the Riverdale Press.
Hundreds of Maryland Students Get to Know Careers That Could Follow High School (Washington Post)
More than 400 Montgomery County teenagers spent the past three weeks shadowing employees at health care centers, police departments, research labs, construction companies and more through a new program that gives students a glimpse into possible future careers. At Summer RISE (Real Interesting Summer Experience), students worked an average of 20 hours a week and earned a $300 stipend while learning about what paths they could take after high school or college. "Not only is this great for the kids to give them something to do, but also to show them that opportunities exist and they don't have to live somewhere else to get an interesting job," program director Will Jawando told the Washington Post.
STEMMING the Tide, Broadening Possibilities (Jackson Clarion-Ledger, Mississippi)
A Jackson summer camp is working to close the gender and racial gaps in STEM fields by empowering dozens of young black girls to explore engineering and other technical fields. The Summer Engineering Experience for Kids (SEEK Jackson) is an all-female STEM camp for third- through fifth-graders that engages students in hands-on, team-based engineering activities under the guidance of mentors. The program builds girls' confidence and increases their comprehension of basic engineering and math concepts that will help them later in life. "A lot of boys become engineers but SEEK proves that girls can accomplish just as much," participant Karis McGowan told the Jackson Clarion-Ledger.
From Skyhook to STEM: Kareem Abdul Jabbar Brings the Science (NPR)
NBA Hall of Famer Kareem Abdul Jabbar is trying to narrow the opportunity gap for Los Angeles youths through his Skyhook Foundation and Camp Skyhook. The nonprofit offers public school students access to a free STEM-focused summer camp in the Angeles National Forest, where they're able to interact with nature up close by taking water temperatures, studying soil and forest samples and learning about local wildlife. "We try to give them an idea that they are all worthy of going on and doing great things in chemistry and biology and physics and math and all those things…. They're curious about it, so we try to get them to keep making inquiries and sniffing up that tree," Abdul Jabbar told NPR.
MAY
31
2017
By Luci Manning
Squash Gives Kids a Way to Win Big on Court, in Life (Plain Dealer, Ohio)
Students from low-income neighborhoods throughout Cleveland are being recruited to play a somewhat unusual sport – squash. Some 45 students participate in Urban Squash Cleveland. "This is really about youth development," Urban Community School Associate Director Tom Gill told the Plain Dealer, "and we are committed to the whole child approach and to the physical, social, emotional, spiritual and academic development of a child, and you can't do all of that in a classroom during the school day." Urban Squash Cleveland is one of 23 sites youth development organizations that combine homework help, community service and entrepreneurship opportunities, and squash lessons.
Where Girls Become 'Mighty' (Metro Philadelphia, Pennsylvania)
Mighty Writers, a popular and successful afterschool writing program in Philadelphia, has added a new class to its roster focused on empowering young girls. The Girl Power writing series introduces girls ages seven to 17 to the writing of women like Audre Lorde, Maya Angelou, Margaret Atwood, and Malala Yousafzai, inspiring them to find their inner 'girl power' through poetry and creative writing exercises. "If we express ourselves in writing, we can get somewhere in life and be just as equal as men," 14-year-old Nyelah Johnson told Metro.
Latinitas Marks 15 Years of Media, Tech Training for Girls and Teenagers (Austin American-Statesman, Texas)
Next month, Latinitas will celebrate 15 successful years of providing digital media and technology training to thousands of girls and teens across Texas. The nonprofit offers workshops, camps, afterschool programs, an online magazine and a soon-to-come virtual reality design program to introduce young Latinas to media and tech, sectors in which they are not currently well-represented. "I believe discussing the representations of Latinas in media at such a young age required me to constantly self-reflect," Latinitas alumna Krista Nesbitt told the Austin American-Statesman. "I felt compelled to think about what I wanted to represent and stand for. Above all, Latinitas inspired me to be fearless and passionate."
Nonprofit Helps Instill Cooking Skills (Riverton Ranger, Wyoming)
The Arapaho Odyssey Cooking and Gardening afterschool program is teaching elementary schoolers how to cook healthy, satisfying meals. The program uses a mobile 'kitchen for every classroom' provided by the nonprofit Charlie Cart Project to give students a hands-on opportunity to learn about nutrition, collaboration, food education and more. Students cook up dishes like herb and cheese frittatas, strawberry shortcakes and banana oatmeal cookies, often using ingredients from the school's garden. "Cooking is a life lesson," special education paraprofessional Hope Peralta told the Riverton Ranger. "We're trying to teach a healthier way rather than eating out of a box."
MAY
26
2017
By Jodi Grant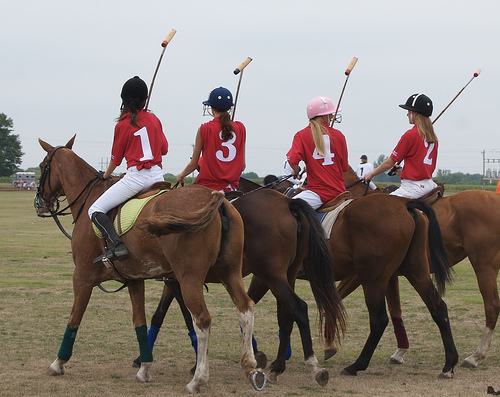 Photo by Pete Markham
Despite a wealth of research showing the importance of afterschool and widespread popularity with parents, students, teachers and community leaders, programs have never been more threatened. This week the president decided to double down on his call to eliminate afterschool funding in his 2018 budget proposal, leaving 1.6 million kids' with no where to go after school. It's a serious matter with implications for Americans across the country. The cut has caught the attention of major national media, local media across the country, and late night comedians and Saturday Night Live.
The Afterschool Alliance isn't exempt from the heightened publicity. On Monday, we had our first mention in The Onion, which wrote a satirical piece on the Secretary of Education's new plan to replace 21st Century Community Learning Centers with afterschool polo programs across the country.
I was flattered to be mentioned, but as in all great satire, the piece contained a lot of truth. If the Secretary of Education did call me, I'd be thrilled to tell her about pretty amazing afterschool programs. I haven't heard of afterschool polo yet, but given the creativity and ingenuity local communities across the nation have developed, I would not be surprised. Afterschool programs keep kids safe, boost student success, and help working families – and quite often, they also blow your mind.