APR
24
2017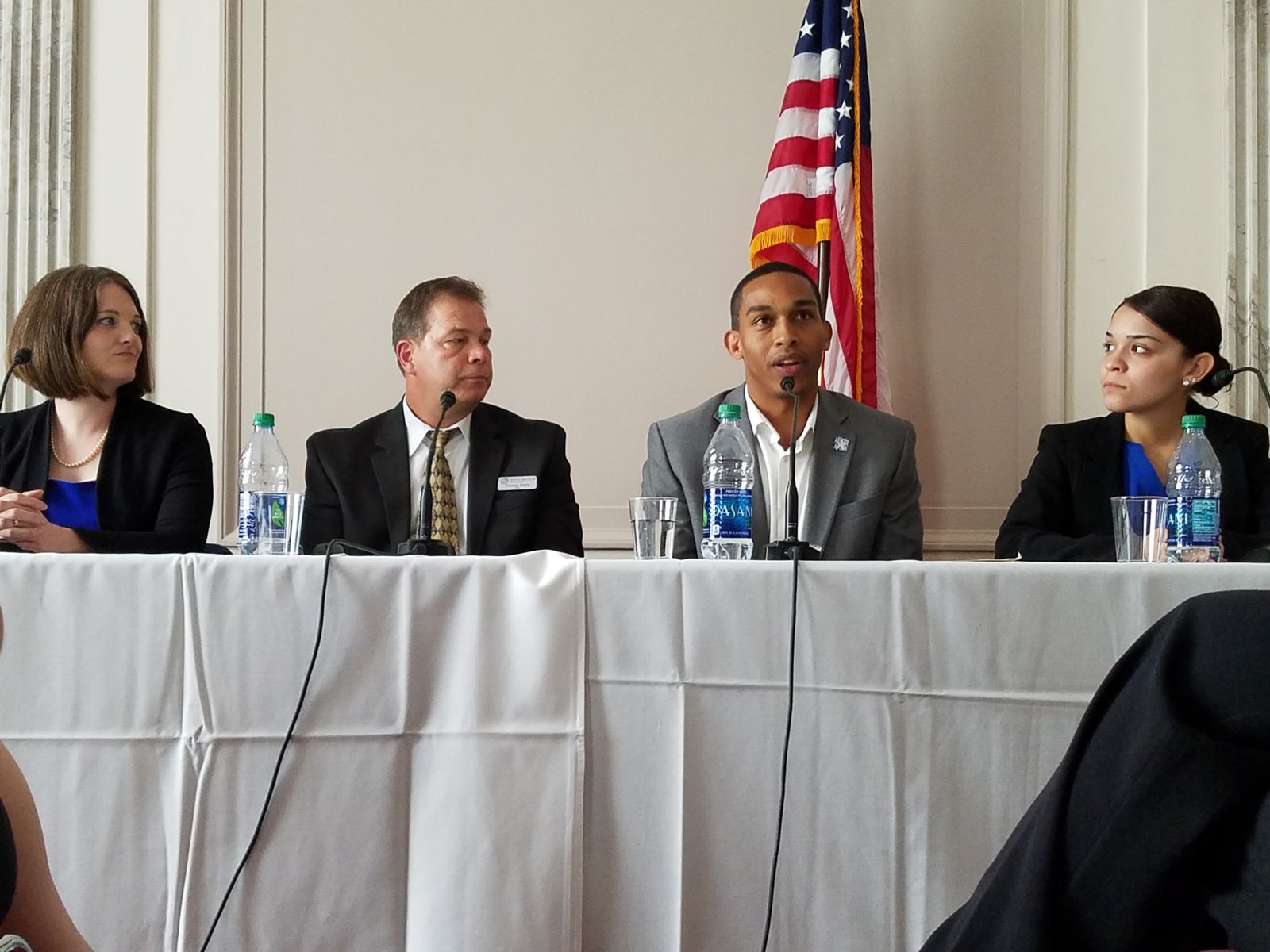 Photo by Alex Knapp.
More than 70 attendees including dozens of staff representing senators and representatives from across the U.S. packed a briefing room in the Russell Senate Office Building last Friday, April 21, to hear from a panel of Community Learning Center providers. Local afterschool and summer learning programs leverage the federal 21st Century Community Learning Centers initiative to provide quality learning experiences to young people when school is out. Representing Community Learning Center programs from urban, suburban, and rural locations across the country, the speakers spoke to the evidence that their programs achieve a wide range of meaningful outcomes for the 1.6 million children that participate in Community Learning Centers each year.
The briefing was organized by the Afterschool Alliance and the Senate Afterschool Caucus, chaired by Senators Murkowski (R-Alaska) and Franken (D-Minn.), along with a host of afterschool stakeholders: After-School All-Stars, American Camps Association, Boys and Girls Clubs of America, Save the Children, Communities in Schools, Every Hour Counts, National AfterSchool Association, National League of Cities, National Summer Learning Association and the YMCA of the USA.
Education policy staff for Senators Murkowski and Franken kicked off the event by welcoming fellow staff members and introducing panel moderator Jennifer Peck, president and CEO of the Partnership for Children and Youth based in northern California. Peck set the stage for the event by citing key research and evidence demonstrating the positive impact of Community Learning Centers on student academic outcomes as well as on other indicators of student success. She then introduced the panelists who spoke about their programs, citing research and relating personal stories that demonstrate the profound life-changing effects of quality afterschool and summer learning programs.
Jackie Green, principal of Cache Primary School in Cache, Oklahoma, described the effect that their Community Learning Center grant has had on the students and families in her rural community. She explained how partnerships with businesses, non-profits, local government, a local wildlife preserve, and other partners maximize the funds and supports available and provide a range of opportunities for Cache students, from STEM to physical activity and nutrition education.
Next to speak was Jenny Wright Collins, executive director of the University YMCA/Beacons Network in Minneapolis, Minnesota. The Beacons Network programs help students develop life skills and access mentoring opportunities that can help them succeed in school and beyond. Collins pointed to findings from state-level evaluations of Community Learning Center which indicate that regular participation in Minnesota Community Learning Center reading and math scores, particularly for students in high-need communities. Program evaluations found that Beacons' high school Community Learning Center students attend an average of two weeks more of school than their peers over the course of a year. Increased attendance is key indicator of high school graduation.
Ms. Wright Collins emphasized that no one can do this work alone -- it requires coming together with shared goals for young people's success.
Stoney Hays, chief executive officer of the Boys & Girls Club of the Ozarks in southwestern Missouri told his own story about growing up and the impact of his local Boys & Girls Club on his life's trajectory. Hays also explained the cost-effectiveness of Community Learning Centers in his community as a result of leveraging partners.
Sean Prospect, executive director of the After-School All-Stars of South Florida, provided a description of the program's vision, outcomes, and close partnership with the school district. The All-Stars program in South Florida is housed at Florida International University, which keeps overhead costs to a bare minimum. Providing opportunities to students that otherwise would not have them is central to the program's mission: for instance, thanks to dedicated focus, English language learners in the program perform on par with the general population in reading and perform above average in math. The Community Learning Center-funded program also engages parents by offering resources and workshops designed for their needs and their schedules.
"If you are going to make a difference in a child's life," Prospect said, "you're going to have to get to know the family."
Closing out the panel was Ashley Castillo, a student who attended After-School All-Stars in Orlando, Florida, from 6th to 8th grade. Ashley is graduating from high school in May with a plan to pursue a nursing degree and said she will be the first in her family to graduate from college. Her emotional story described the obstacles that her afterschool program helped her overcome as a child with a challenging home life. Ashley described herself as a student who might have easily slipped through the cracks in school, being neither a special academic superstar, nor a behavorial concent. But within her afterschool program, Ashley received academic support and enrichment activities, including team athletics. It was at her afterschool program that she formed the interpersonal relationships which helped her gain self-confidence and achieve in school and stay on track.
The briefing for Congressional staff members was held as Congress has just a week left to pass a final spending bill for the current 2017 fiscal year. Funding for Community Learning Centers could receive a cut in the upcoming appropriations bill due to spending caps restricting federal funding. Congress is also in process of determining funding for fiscal year 2018, which begins October 1, 2017. President Trump has proposed to eliminate 21st Century Community Learning Centers in order to shift funding to other priorities; in response to his proposal, a bipartisan outpouring of support in Congress has emerged thanks to thousands of individuals and organizations calling for continued full funding for Community Learning Centers.
Learn more about the funding and impact of Community Learning Centers from the Afterschool Alliance.