AUG
31
2012
By Luci Manning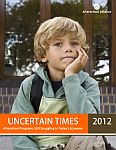 The most recent issue of the Afterschool Advocate features findings from the Afterschool Alliance's Uncertain Times survey. The survey of nearly 5,000 afterschool program sites serving more than half a million children found that many afterschool programs face shrinking resources as they struggle to meet the needs of children and families in their communities. Programs that principally serve predominantly African-American and Latino children and high-poverty communities have been especially hard hit. This issue's Outreach section has messages and data from Uncertain Times: Afterschool Programs Still Struggling in Today's Economy. Advocates should consider using and sharing this data to provide context and perspective when talking to policy makers, media, funders or potential funders about how local afterschool programs are faring.
This issue of the Afterschool Advocate also goes behind the scenes of the advocacy work in Los Angeles that helped secure afterschool funding for the city's largest free afterschool program.
The Afterschool Alliance released a new MetLife Foundation issue brief highlighting the many ways afterschool programs can support school improvement efforts within struggling middle schools. "Afterschool: An Ally in Promoting Middle School Improvement" highlights the afterschool programs across the country that are working with community partners, complementing the learning that takes place during the school day and bringing new teachers and mentors to the school improvement table to help better engage middle school students.
Lights On Afterschool is right around the corner! This issue features social media tips to enhance your outreach.
This issue's In Their Own Words article features PBS NewsHour Correspondent John Merrow's report on a summer learning program in Providence, R.I. He says, "The obvious goal of the Summer Scholars is to curb summer learning loss. But this way of teaching might change the way Providence schools approach teaching and learning all year long." Be sure to read the rest of the article online.
Don't forget about the funding and award notices, news and conference announcements from groups and programs around the country.
Read the full issue online. And if you don't already receive the Afterschool Advocate, sign up now!