OCT
21
2015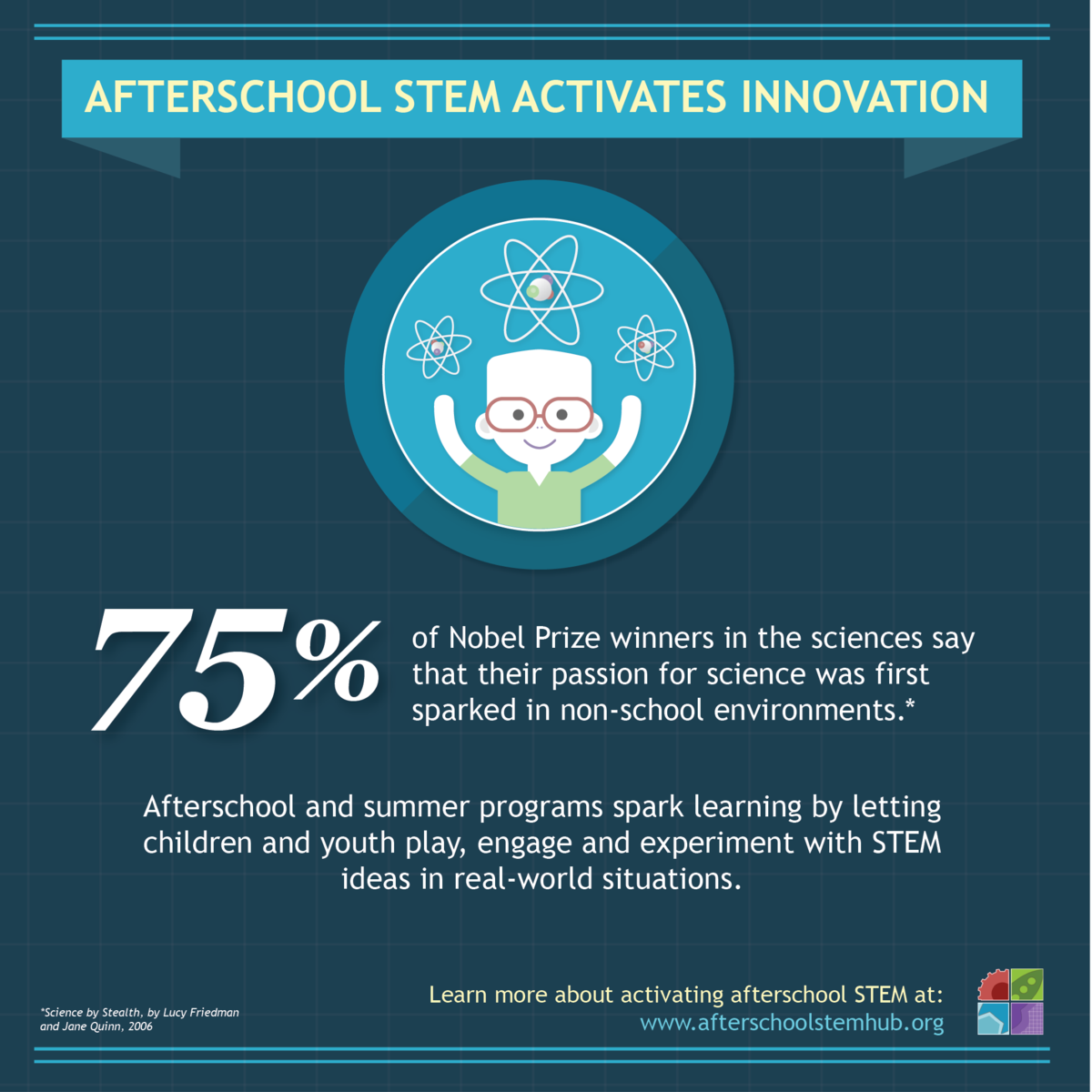 Do you think afterschool programs are a great place to engage kids in learning about science, technology, engineering, and math (STEM)? Do you have trouble sometimes convincing others to share your enthusiasm for it? If so, check out our new website: the Afterschool STEM Hub! Not only do we think it's gorgeous, it has LOTS of tools you might find useful to tell a compelling story and inspire enthusiasm for STEM in afterschool.
The site offers compelling talking points you can download, Powerpoint slides you can present, and infographics you can print, share, post, pin, and tweet. It even features an animation you can use to show why afterschool programs are such crucial partners in STEM education. All of these resources are rooted in research and developed with guidance from the Frameworks Institute, an organization with great expertise in communications and messaging. So you can be assured: we have tested the words, values and metaphors we suggest you use to make a compelling case for afterschool STEM programs.
The afterschool STEM Hub is a collaboration among afterschool leaders and stakeholders to provide coordinated messaging that impacts advocacy and policy, and that helps ensure the important place of afterschool programs in the STEM learning ecosystem. Led by the Afterschool Alliance, the STEM Hub is funded by the Noyce Foundation and includes the following organizations: 4-H, Association of Science-Technology Centers, Boys and Girls Clubs of America, Cornell lab of Ornithology, Every Hour Counts, Exploratorium, Girls Inc., National Afterschool Association, National Girls Collaborative Project, Program in Education, Afterschool & Resiliency (PEAR), Statewide Afterschool Networks (represented by Oregon After School for Kids and Indiana Afterschool Network), Techbridge, The After-School Corporation, University of Virginia, and the YMCA of the USA.
Though the site has just been released, we will continue to update it with new resources through the coming months—so remember to look out for any announcements posted on Afterschool Alliance publications. For now, feel free to click your way to www.afterschoolstemhub.org, grab the resources that work best for you and start speaking STEM-ish today!