MAR
12
2015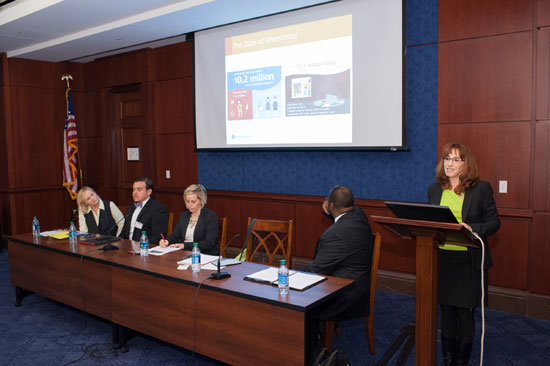 New data, an update on the out-of-school time Healthy Eating and Physical Activity (HEPA) standards, compelling afterschool program profiles and a nutritious lunch were all highlighted in a briefing for Congressional staff on March 10 on Capitol Hill. The event served as the official release of the new America After 3PM report on afterschool programs' efforts to keep students healthy and active, entitled "Kids on the Move: Afterschool Programs Promoting Healthy Eating and Physical Activity."
Sen. Barbara Boxer (D-CA) kicked off the briefing with a passionate reminder about why afterschool programs are so critical to the success of young people, providing a brief history of how the federal government has helped build capacity for local afterschool programs and has spawned public private partnerships that have supported millions of young people over the past 20 years.
Moderated by Afterschool Alliance Board Treasurer Barry Ford, the panel provided an in-depth look at the wellness activities occurring in afterschool programs.
Jodi Grant, executive director of the Afterschool Alliance, led the audience through key findings from the new America After 3PM report, including parents' expectations of afterschool programs when it comes to health and wellness and how satisfied parents are with the food and physical activity provided in their child's afterschool program.
Jennifer Hoffman, health partnerships and policy specialist at the YMCA of the USA, discussed the national voluntary HEPA standards developed and supported by the Healthy Out of School Time (HOST) Coalition. The audience was also treated to lunch that met the HEPA standards, including water and fresh fruit.
Robert Hill, HEPA program director at the YMCA of South Florida in Ft. Lauderdale, Florida, and Kim Chappelow-Lee, children's services manager with Johnson County Park & Recreation District in Merriam, Kansas, talked about the experiences in their local programs and existing opportunities to improve afterschool programs' nutritional and physical activity offerings to help our nation's students get healthy, stay healthy and lead healthier lives.
Afterschool and summer learning programs continue to make advances when it comes to providing students with nutritious foods, keeping students physically fit and promoting health. With programs serving more than 10 million children and youth across America, and with more than 19 million more that would be enrolled in a program if one were available to them, such programs have great potential to help prevent obesity and instill lifelong healthy habits.
The complete report can be accessed on the America After 3PM website, and the voluntary HEPA standards can be found on the HOST website.