JAN
18
2017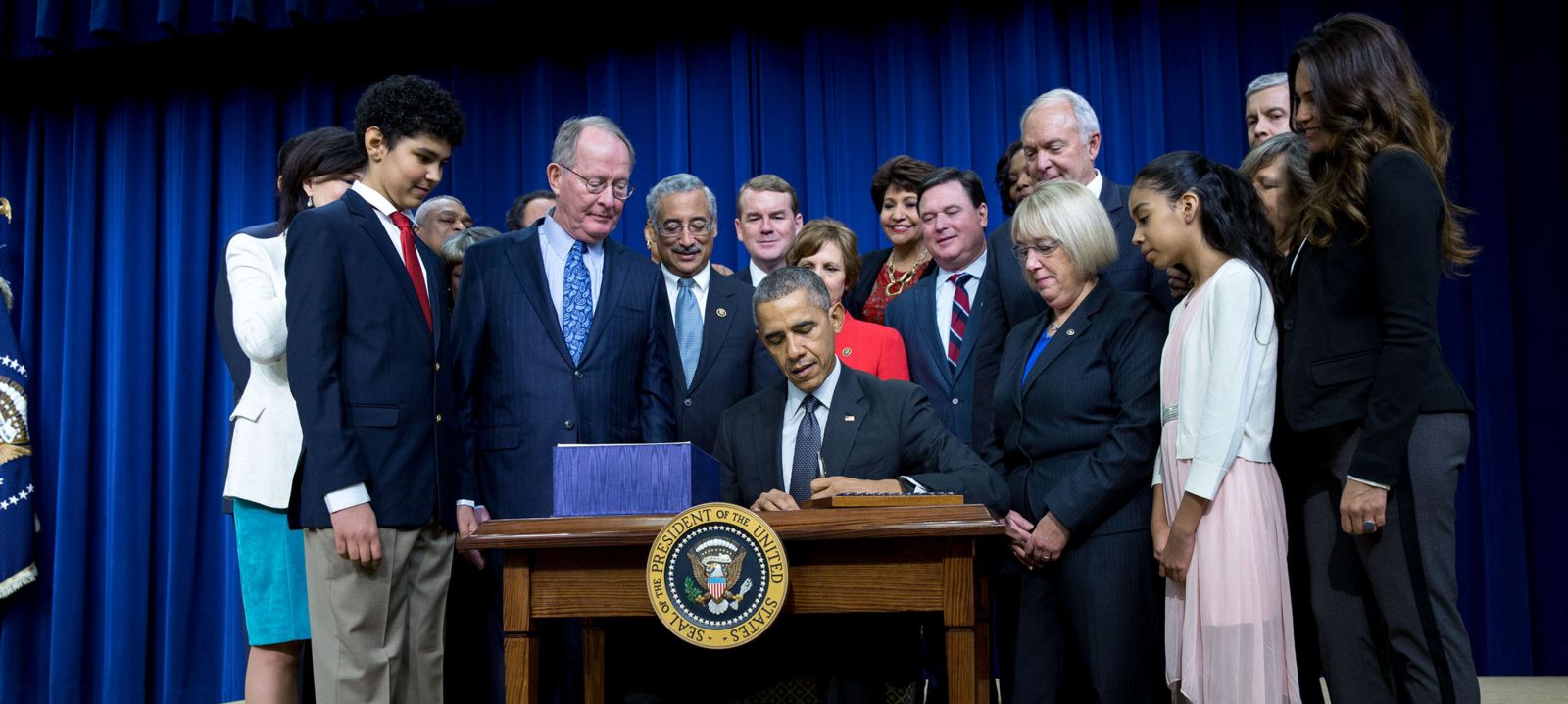 President Obama signs the Every Student Succeeds Act into law.
In the New Year, states are busy getting ready for the new federal education law, the Every Student Succeeds Act (ESSA), to go into full effect with the start of the new 2017-18 school year.
In these final months of preparation, states are finishing first and second rounds of stakeholder engagement, releasing first and second drafts of their state ESSA plans, and finalizing plans and submitting to the federal Department of Education for review. Arizona already has submitted a plan—far ahead of the required April and September deadlines for plan submission.
At this stage, things are moving quickly—luckily, it's easy to keep up with what your state is doing with our new interactive map tool! This new resource puts links to state webpages and ESSA plans at your fingertips.
What are states working to accomplish?
The new law is an opportunity to re-envision education within the state. Unlike the previous federal education law, No Child Left Behind (NCLB), ESSA provides more flexibility to states to decide what they want to track and measure beyond the familiar requirement of student proficiency on statewide English language arts (ELA) and math tests.
Guided by stakeholder engagement, states are determining the outcomes they want to see for their students and creating a system of reporting, interventions and support to ensure that districts and schools help students make progress toward those goals.
For example, perhaps states want students to be:
Ready for college and career
Eager to come to school
Building communication and leadership skills
Accessing engaging, hands-on learning opportunities that allow choice and voice
Engaging with parents and communities
All across the country, states are working to determine which other measures, known as "indicators," lead to students' long term success and achievement and thus should be tracked. These wide-ranging discussions include factors like individual student attendance and absenteeism, teacher satisfaction and attendance, and whole school climate surveys. The Afterschool Alliance produced a quick fact sheet on some of the most prominent indicators in state discussions.
What does this mean for afterschool?
Importantly, the indicator discussion also includes extracurricular and afterschool or expanded learning opportunities that provide children with safe, motivating spaces to inspire creativity and foster the interpersonal and leadership skills that are in demand within college and workforce settings. Afterschool programs also help districts meet goals in school-day attendance, academic achievement, and improved behavior.
Currently, at least four states (Kentucky, Oregon, Illinois and Tennessee) are considering student participation in extracurricular and afterschool activities as a measure to track and report. Visit Oregon's Draft Plan (pg. 8) to see how they plan to use extended learning opportunities as a component of their indicators of student success.
The new ESSA law provides the potential to know how many students in each district and school have access to and are engaged in high-quality afterschool programs. This would offer a powerful opportunity to learn where there are gaps and needs to be met—and to continue our work to ensure that all children and youth have access to affordable, high quality afterschool and summer programs.
The opportunity becomes the new reality when we make our voices heard.
Learn more about how to support your state's ESSA plan with afterschool and summer programs in the Afterschool Alliance ESSA Playbook.