JUN
3
2016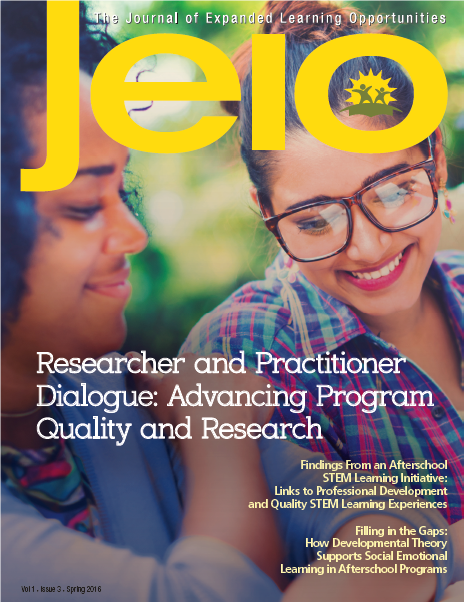 The third edition of the Journal of Expanded Learning Opportunities (JELO) has arrived! This spring issue features a conversation about quality programming in afterschool, an article on the role that social emotional learning can play to close the achievement and learning gaps, and an article focusing on the links between professional development and quality STEM learning experiences.
The JELO is an incredibly important resource for the afterschool field; it not only adds to the body of research on afterschool programs, but it makes the connection between research and practice for afterschool program providers and increases public awareness of the expansive work taking place in afterschool programs. In this issue, readers can:
Review a researcher and practitioner dialogue on quality in afterschool with Carol McElvain, managing technical assistance consultant for the American Institutes for Research and Michael Funk, afterschool division director for the California Department of Education. This piece provides a valuable look at the topic of program quality from both a researcher's and a practitioner's perspective—asking each about the value of quality standards, the costs associated with running a quality program, recommendations on how to run a quality program, and more.
Learn more about the relationship between professional development, staff beliefs, the quality of STEM learning activities and the impact on student outcomes. This research-based article digs into the impact that professional development in afterschool programs has not only on program staff, but on students in the program as well.
Better understand how afterschool programs' focus on social emotional learning can help support its students' school day success.
There's too much information in this issue for one blog post to do it justice! Stay tuned for future blog posts dedicated to the link between professional development and STEM learning experiences and promising practices connected to social emotional development.