NOV
3
2016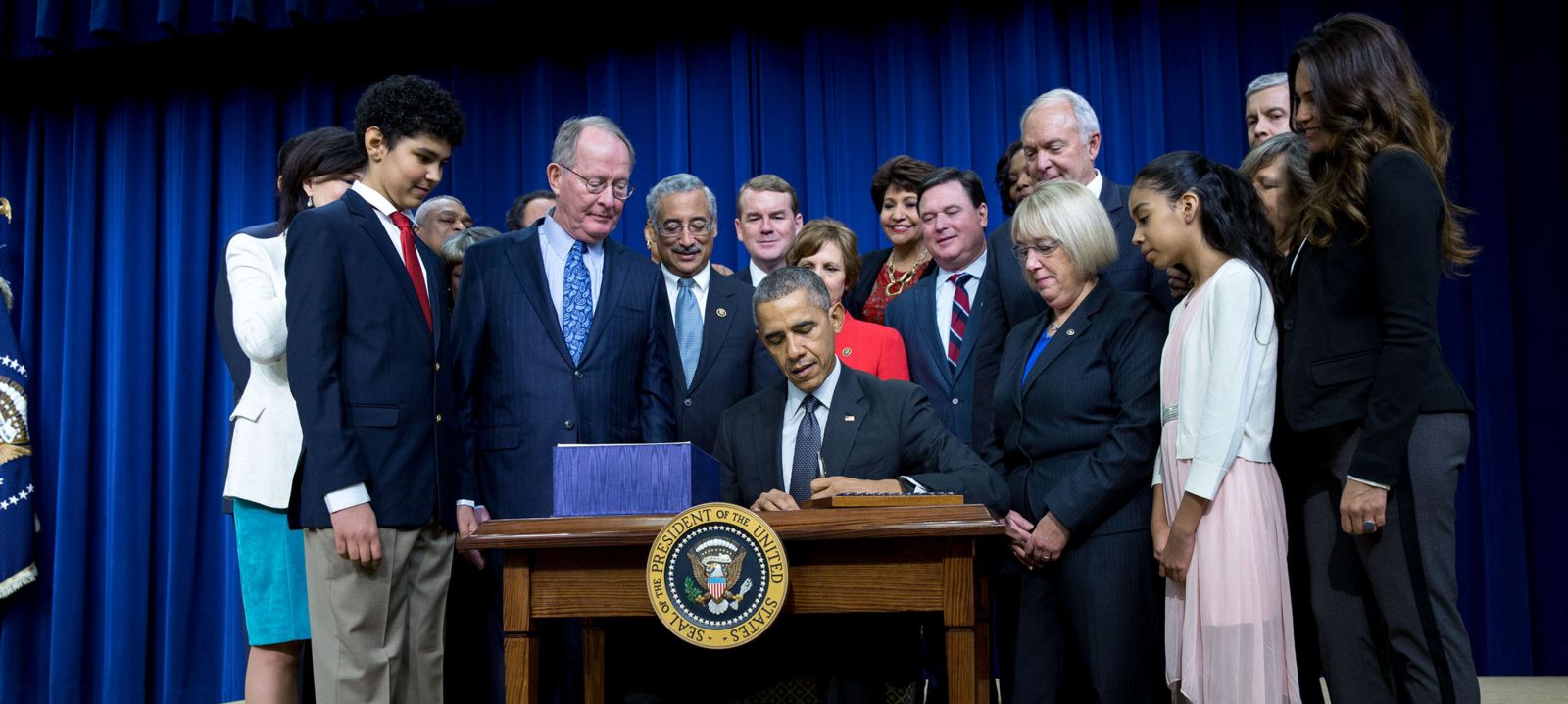 President Obama signs the Every Student Succeeds Act into law.
The Every Student Succeeds Act (ESSA), the new education law of the land, established a number of new, flexible funding streams that states and districts can employ to support afterschool programs. One of these is the new Student Support and Academic Enrichment Grants program (SSAE), in the law's Title IV Part A.
Late last month, the US Department of Education released non-regulatory guidance on the SSAE grant program to help states, districts and schools provide students with a more well-rounded education. ESSA authorized $1.65 billion annually for this program (though Congress is debating the final funding level), which will provide funding to every state and district to support well-rounded learning opportunities with a strong emphasis on STEM (science, technology, engineering and math) education, as well as learning technologies and programs that keep students safe and healthy. The SSAE grants program is intended to be distributed by formula to districts, according to the following stipulations:
Ninety-five percent of the funds will flow to school districts, to be spent largely at their discretion, with the remaining 5 percent reserved for state-level activities.
Every district will receive at least $10,000 through the program, and those receiving more than $30,000 in federal funds under the program (all but the smallest school districts will likely cross this threshold) must devote 20 percent to "well-rounded" learning activities, which include a large variety of STEM activities.
There are a nubmer of activities specifically authorized under ESSA and detailed in the new Department of Education guidance for the SSAE grants program that are helpful for afterschool STEM.
Opportunities for afterschool STEM in the SSAE grant program
"Facilitating collaboration among school, afterschool program, and informal program personnel to improve the integration of programming and instruction in the identified [STEM] subjects"

[Sec. 4107 (a)(3)(C)(v)]

"Providing hands-on learning and exposure to science, technology, engineering, and mathematics and supporting the use of field-based or service learning to enhance the students' understanding of the STEM subjects"

[Sec. 4107 (a)(3)(C)(iii)]

"Supporting the participation of low-income students in nonprofit competitions related to STEM subjects (such as robotics, science research, invention, mathematics, computer science, and technology competitions)"

[Sec. 4107 (a)(3)(C)(ii)]

"Activities and programs to support student access to, and success in, a variety of well-rounded education experiences"

[Sec. 4107 (a)(3)(J)]
The guidance issued last month also provides specific program examples that will help school districts and local communities better navigate these opportunities included in the law.
How the SSAE grant program supports well-rounded students
Additionally, afterschool programs could partner with schools and districts around implementing programs that encourage healthy, active lifestyles (nutritional and physical education) as well as social emotional learning (SEL) [ESEA section 4107(a)(3)(J)]. A district may use SSAE grant funds for activities in both of these areas, including interventions that build students' resilience, self-control, empathy, persistence, and other social and behavioral skills. According to the Department's guidance, extensive research and educators' own experiences show that school-based SEL programs play an important role in fostering healthy relationships and increasing academic and career success. Afterschool programs with a record of successfully helping kids grow in these areas could be valuable partners to schools seeking to incorporate SEL or student health programs in their school environment.
While the bulk of the money (95 percent) goes to districts, states will require applications from the districts for this funding and can thus influence how the districts spend their funds. States can offer matching grants to districts to advance particular issues, such as afterschool STEM. Districts can also collaborate and apply as a consortium in order to receive a larger pot of money. It's also very important to recognize that districts don't have to distribute the money equally to all schools in the district, and can concentrate on schools that have the highest need. Districts that receive an allocation of $30,000 or more are required to conduct a comprehensive needs assessment at least every three years.
Here's how you can make your voice heard in the implementation process
There are many opportunities for afterschool providers and advocates to work with state and district education leaders to help shape ESSA implementation plans, and those surrounding the SSAE grant program.
What the law says: Every district must submit a proposal to their state education authority describing how they intend to use SSAE grant funds, and districts may partner with any non-profit organizations with a "demonstrated record of success" on any proposed activities.
What you can do: Ask your state education authority to offer guidance on how districts can apply for Title IV Part A funding that includes specific examples of ways to use these federal funds that would promote afterschool and informal STEM learning.
---
What the law says: Every district receiving more than $30,000 in federal funding through the program is required to develop its application in consultation with community-based organizations, instructional support personnel, and a wide variety of other education partners.
What you can do: Offer your assistance to district and state leaders as a partner in developing their applications for Title IV Part A funding.You can also offer to bring other community-based organizations to the table.
---
What the law says: While STEM activities do not receive an explicit preference under the law, every district receiving more than $30,000 in federal funding is also required to conduct a needs assessment that shows how their proposed activities are aligned with the workforce needs of their community.
What you can do: Afterschool programs can highlight their activities that address STEM education-related needs. Afterschool providers could also potentially distinguish themselves by demonstrating how they integrate learning across STEM and other subjects, such as school health, arts, and the environment.
---
There are even more steps you could take to advoate for afterschool in regards to the SSAE grant program. Call upon state and district leaders to prioritize STEM, afterschool, and informal learning activities in applications for Title IV Part A funds. Urge your state to utilize the portion of funds from the Title IV Part A program that they receive for state-wide activities to prioritize afterschool and informal STEM education activities, like matching district funds with state funds for certain types of activities after school.
You can dig deeper into the SSAE grant program by reading the full language of the Every Student Succeeds Act and the non-regulatory guidance released by the Department of Education.