Recent Afterschool Snacks
MAY
25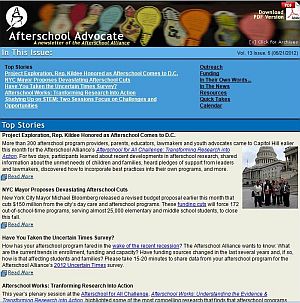 The most recent issue of the Afterschool Advocate has a wealth of information for afterschool providers and advocates who weren't able to make the trip to Washington, D.C. for the Afterschool for All Challenge earlier this month. The issue's lead story reports on: this year's award winners; remarks by actor, afterschool champion and emcee Kevin Sorbo at the "Breakfast of Champions;" messages from members of Congress who attended the Breakfast; and a report on the youth advocates who performed and shared their experiences in afterschool programs. The issue also has highlights from the plenary session on research, two sessions on STEM and the workshop on physical activity in afterschool. This issue's Outreach section offers messages and tips to help advocates keep the momentum going as well as encouragement and advice from supporters in Congress.
The Afterschool Advocate is following the budget cuts affecting many of New York City's afterschool programs. New York City Mayor Michael Bloomberg released a revised budget proposal earlier this month that would cut $150 million from the city's day care and afterschool programs. These funding cuts will force 172 out-of-school-time programs, serving almost 25,000 elementary and middle school students, to close this fall. Read more.
This issue has a reminder to take 15-20 minutes to share data from your afterschool program through the Afterschool Alliance's 2012 Uncertain Times survey.
The National Girls Collaborative Project awarded its 2012 Outstanding Individual Commitment to Collaboration Award to Afterschool Alliance STEM Policy Director Anita Krishnamurthi at a luncheon last month. Read more about Anita's award here.

Sadly, the afterschool movement lost a fast friend last month with the passing of Larry Decker, one of the early leaders in the community education movement. Read the tribute to Decker online.
In this issue, as in every issue, there are funding and award notices, news from programs around the country, quotes in support of afterschool programs, resources and conference announcements from around the country.
If you would like to receive the Advocate directly or know of colleagues and allies who would also like to get it, please fill out the online form. Read the entire issue online.