Recent Afterschool Snacks
DEC
9
2016
The Afterschool Alliance is pleased to present this post as part of the Afterschool & Law Enforcement blog series. For more information on the ways afterschool programs are partnering with local police, check out our previous blogs on building relationships and trust, the motivations for partnerships, the law enforcement caucus' briefing on youth mentoring, and on new tools for working with school resource officers.
Last month, local police officers joined the Child Center of New York at Basie Beacon IS 72 for a youth-driven Lights On Afterschool celebration in Queens, N.Y. After identifying conflict with police as a major issue in their community, the program's youth council developed the theme of the evening, "Improvement Starts with 'I:'" a call for everyone in the community to play a role in improving relations with local police.
"We like to speak to the students as part of the Beacon program and get their ideas on current events," said Barry Barclift, Program Coordinator of the Basie Beacon program, explaining the value of youth-led programming.
To bring youth and law enforcement officers together, Beacon hosted a basketball game with youth and officers from the 113th Precinct. Students who weren't interested in playing basketball got involved in the event as members of the dance and step groups that performed at half-time. One student in the program even emceed the game, amusing parent and community spectators.
Lights On event leads to future partnerships
"The event allowed students to see the officers in a different light. When you see them in uniform, you see them one way, but if you see them out of uniform or participating in a basketball game, you look at them differently," explained Barclift. After Lights On Afterschool, the students asked to have monthly events with the officers. These events will continue to be planned with input from the youth council.
Barclift said that the 113th Precinct officers are very supportive and excited to continue working with the Beacon program: "They are going to come and assist anywhere that we need them, so that our students see that [the officers] are invested in the community, even though they don't live here."
While the youth council will continue to plan events, they will also give the officers an opportunity to offer future partnership ideas to guide their work with the program going forward.
Barclift advises programs who are looking to adopt a similar partnership model to follow a youth-led approach. He wants Beacon's law enforcement programming to be a collaboration between the youth council and police officers moving forward, an approach that allows the students to have ownership over the interaction and work hard to create a product they are proud of, while allowing officers to connect with students through an activity that excites them.
AUG
2
2016
By Erin Murphy
The Afterschool Alliance is pleased to present the third installment of the Afterschool & Law Enforcement blog series. Through interviews with police officers and public service officials, this post focuses on how afterschool programs and law enforcement partnerships help build relationships and trust between officers and members of the community. For more information on this topic, check out our previous blogs on motivations for partnerships and on the law enforcement caucus' briefing on youth mentoring.
Partnerships between law enforcement and afterschool are playing an important role in building relationships and trust between police officers and their communities. For example, at the OK Program in Santa Barbara, CA, most students' interactions with officers prior to their involvement in the program were through late night police calls in response to family or neighborhood disturbances. This trend allowed distrust to grow between youth and officers in their community—until the OK Program provided a way for beneficial relationships to develop.
The Corona Police Department in California had a similar experience, so the department began to look for a way to reach out to young people and give them more positive interactions with law enforcement. Partnering with afterschool programs was a natural way to do this. These partnerships allow officers to interact with youth in their community on a regular basis and support the work providers are already doing to keep kids safe and supported.
In the fledgling stages of these partnerships, many officers were met with reluctance and distrust. Most children and families in the Santa Ana Police Athletic and Activity League were intimidated by interacting with uniformed law enforcement officers, and Sergeant Ron Edwards of San Diego described the first time students met officers at their program as being similar to a high school dance, "except instead of girls and boys on either side of the room, it was youth and law enforcement." Yet through these partnerships, officers and youth were able to break down barriers and develop strong bonds.
Here are some stories highlighting how officers worked with programs to build relationships and trust:
The Massena, NY Police Department recently launched a program called "True Blue", where uniformed police officers spend a minimum of 30 minutes each day interacting with youth, such as playing street hockey or basketball. They use daily interaction, because the more time youth and officers spend together the stronger their relationships become.
Chief Fowler of the Syracuse, NY Police Department has partnered with and led afterschool programs for over 20 years. In his co-ed basketball program for teens, student teams were coached by officers. The students taught officers about basketball, and officers worked with students on team building and sportsmanship.
In the Youth Advisory Group, a program started by the San Diego Sheriff's Department, all meetings are focused on team-building between sheriff deputies and youth. They eat, talk, and complete activities together in each session. They also bring the group together to talk about law enforcement and experiment with role playing, allowing both youth and law enforcement to better understand where the other is coming from.
JUL
7
2016
By Erin Murphy
The Afterschool Alliance is pleased to present the second installment of the new Afterschool & Law Enforcement blog series. Through interviews with police officers and public service officials, this post focuses on the motivations that lead afterschool programs and law enforcement agencies to work together.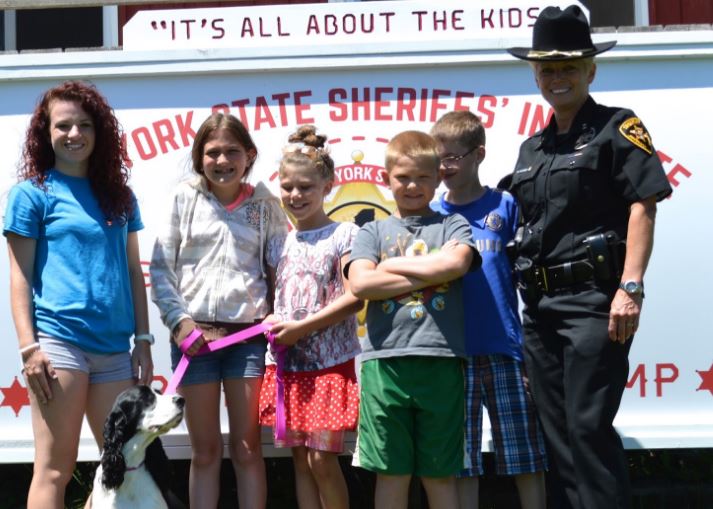 The New York State Sheriff Association's Sheriffs' Camp summer program
Across the nation, law enforcement and afterschool programs are partnering up to keep children safe and support working families. Juvenile interaction with law enforcement and victimization peak between 3 and 6 p.m., the hours after school before parents get home from work. Finding care for children during this time can be challenging for families, especially for working single parents.
Officer Kenney Aguilar of the Santa Ana Police Department described how many law enforcement departments recognize afterschool programs as the perfect partner in keeping communities safe. "Afterschool programs provide a safe haven for children to focus on academics," he said. "These programs also keep kids off of the streets and away from the gangs that plague the neighborhoods."
Rene Fiechter, Assistant District Attorney of Nassau County (NY), noted the role of afterschool in a community initiative to help single moms. "Affordable afterschool became a large necessity to achieve the goals of that initiative," he said.
Additionally, working with afterschool programs provides an opportunity for law enforcement departments to build relationships, trust and understanding with community youth. Besides giving kids a safe place to learn in the summer, The Sheriffs' Institute in New York hopes to "encourage kids to see law enforcement as a friend and not an enemy," said Chris O'Brien, executive director of the institute.
Darren Grimshaw, a major at the Burlington (IA) Police Department, has similarly seen his department's partnership with an afterschool program transform the relationship of law enforcement and the local community. Participants in the program frequently say hello to officers and share their positive experiences with friends and family.
These partnerships between afterschool and law enforcement vary dramatically depending on the needs of the community and the capacity of the police department. Some departments provide funding for afterschool programs, while others run their own afterschool programs and camps.
JUN
29
2016
By Erin Murphy
The Afterschool Alliance is excited to announce a new blog series focusing on law enforcement and afterschool partnerships. As juvenile justice reform gains more attention from the afterschool field, the Afterschool & Law Enforcement series highlights how the out-of-school time field is partnering with police to keep kids out of jail and strengthen communities. Throughout the rest of the year, we will be sharing themed blogs that highlight many aspects of these partnerships, such as motivations for partnering, building relationships, highlights from city-systems, outcomes, and recommendations for getting started. Additionally, we will share stories from some of our favorite partnerships as part of the Afterschool Spotlight series.
In this first blog of the series, we will go deep on one component of many afterschool programs: mentoring. While common in many programs, mentoring seems to be especially prevalent in programs that focus on fostering stronger police and youth relations. Last week, the U.S. Senate law enforcement caucus recognized the importance of mentoring by hosting a congressional briefing on youth mentoring. The goal was to discuss the role law enforcement can play in mentoring youth and share examples of law enforcement initiatives that have led to successful youth mentoring programs in their communities.
Three individuals with on-the-ground experience in developing these programs shared their knowledge and insight:
Chief Jim Bueermann, president, Police Foundation. While working at the Redlands Police Department, Chief Bueermann developed a mentoring program that supported high schoolers in exploring law enforcement careers and becoming officers.
Donald Northcross, founder, OK Program. Northcross developed the OK Program in 1990 while working as a Deputy Sheriff at the Sacramento County Sheriff's Department. This is a mentoring and leadership program where law enforcement officers partner with African-American men to support African-American boys.
Orrin White, assistant director of community engagement, United Way of Delaware. Inspired by challenges African-American youth faced throughout Delaware, White initiated We are the Why. This program allowed youth to work with officers to learn about law enforcement, discuss issues in their communities, and develop ways to improve law enforcement-community relations.
These speakers shared their knowledge and experiences related to program development and gaining community support and the amazing outcomes these programs provide students, officers, and their community. They also highlighted outcomes of their partnerships and provided recommendations for building and maintaining strong partnerships.
"These programs helped destroy prejudices youth held against cops and cops held against youth."
Outcomes
The most significant outcome of these programs was the development of relationships between participating youth and law enforcement. These programs helped destroy prejudices youth held against cops and cops held against youth. Northcross shared how relationships transformed through the OK Program. "At the beginning there is tension in the room when officers enter, but by the end youth are high-fiving and hugging officers."
Both youth and officers gained new insight on how to interact in the community to reduce misunderstanding and distrust. White emphasized this, stating, "It's important that officers are able to see how they are perceived by the community and learn from this."
In established programs, youth participants are graduating high school and giving back to their communities directly—with many youth even becoming officers themselves.