AUG
25
2016
By Robert Abare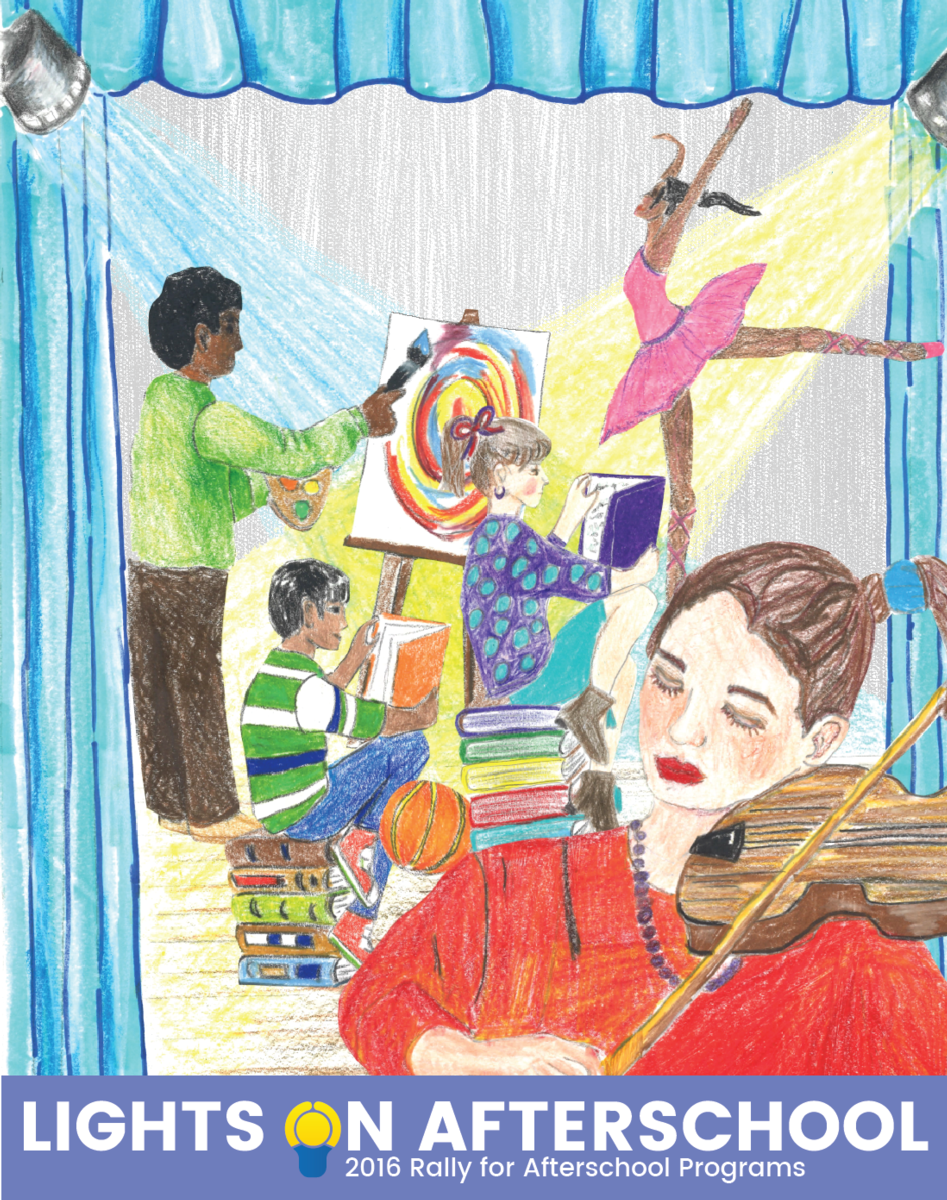 After reviewing hundreds of submissions from afterschool artists from across the country (and the world!), the Afterschool Alliance is thrilled to announce the winner of the 2016 Lights On Afterschool poster contest: Baldwin County High School's 21st Century Community Learning Centers (21st CCLC) program in Bay Minette, Alabama!
The winning artwork will be printed on 50,000 posters and sent to all registered Lights On Afterschool events to help spread the word about the celebration. Register your event today to receive ten free posters!
About the artists
The winning poster was designed by program participants Maia Austin (17), Gabby Williams (17), and Marquez Drinkard (16). The artists were particularly inspired by the many arts activities offered by their afterschool program, including dance teams, visual art projects and cooking classes. The finished product was truly a team effort, as the poster is comprised of many separate drawings that were cut out and then pasted together.
"We talked about our favorite aspects of our program, and then we decided what we wanted the poster to look like, and who would draw each part." explained Marquez. "As you can see, we wanted it to be very colorful as well."
Marquez, who is still figuring out his plans for after high school, is considering a career in nursing, along with fellow artist Maia Austin. Gabby Williams, on the other hand, plans to serve in the United States Air Force.
About the program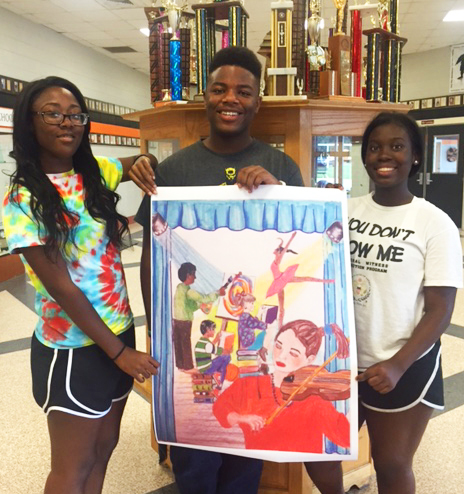 Gabby expressed her gratitude for the opportunities offered by Baldwin County High School's 21st CCLC program. "I love the program because it's something productive I can do after school," she said. "I really like the cooking classes, and being with my friends at the same time."
She added, "My parents think the program is great, because it keeps me busy when I could be doing things that kids aren't supposed to do."
The Baldwin County High School 21st CCLC program serves approximately 40 students 4 days per week, and offers a range of activities that include tutoring, arts enrichment, archery, college and career exploration, and robotics.
Michele Hall, director of the program, explained how the program has provided a valuable service for her community's kids after school. "As a teacher at the high school, I saw that we had a large number of students who were not involved after school and didn't have opportunities, partly due to our rural location," she explained. "Now, the program is helping these kids grow academically and socially."
About the contest
This year, the Lights On Afterschool poster contest received over 400 submissions from 21 states—and from a U.S. military base in Japan! The poster was selected in a vote by Afterschool Alliance staff in Washington, D.C.
The winning artists' program will receive a case of syrups, courtesy of Torani, for a shaved ice or soda party. Visit the redesigned Lights On Afterschool website to search for event ideas, learn strategies to engage the media and download graphics and artwork to make your event shine.
And don't forget to register your event to get 10 copies of the 2016 Lights On Afterschool in your program's mailbox!