AUG
17
2016
By Jen Rinehart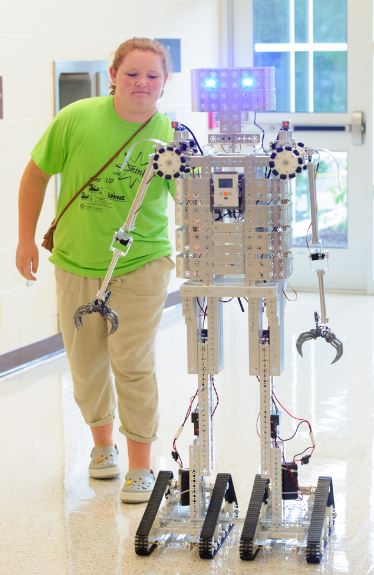 Amanda Colecio, 13, shows off a robot that she helped build through the SHINE program. (AMY MILLER/TIMES NEWS Copyright, Zubek-Miller Photography.)
Every August, the Afterschool Alliance encourages afterschool providers to think about inviting Members of Congress, who are back in their home districts for much of the month, to come visit programs. The Afterschool Alliance offers tools to help plan a site visit, case studies of past site visits, and Q & A blogs with providers who have successfully hosted visits to make it easy to host a policy maker at a program.
Last week, I joined Congressman Lou Barletta (R-PA-11) along with his chief of staff, a staff member from Senator Casey's office, numerous state legislators and legislative staff and local superintendents for a visit to the SHINE Afterschool Program in Jim Thorpe, PA. The SHINE Afterschool Program, funded in part by a grant from 21st Century Community Learning Centers, started in three centers that served 90 students across two counties. This year, it will serve 1,200 students from 16 centers in Carbon, Schuylkill and Luzerne counties.
Creativity and flexibility are key to a successful site visit
SHINE is no stranger to organizing site visits, but they faced a unique challenge that other providers might also face in mid-late August: no students. SHINE offers summer programming, but it had ended by last week. In August, SHINE's model shifts to focus on home visits as they gear up for a new school year. So, SHINE did what they always do; they innovated. They invited a group of guests to Carbon Career & Technical Institute and arranged for staff, students and parents to give the invited guests a sample of what SHINE has to offer to students and families.
During the visit, we heard about the philosophy and quality principles behind SHINE, we experienced a home visit with one of the SHINE home visit teachers, we observed students engaging in activities similar to the opportunities they have during the school year, and we heard from a grandmother who is raising her grandchildren and values what SHINE has offered her grandkids over the years.
Policy makers praise the benefits of afterschool
Reflecting on his first visit to SHINE in 2011, Rep. Barletta said, "This program is exactly what we need to change the direction and lives of our children… Changing the direction and lives of our children is the best thing we can do for America." Rep. Barletta views SHINE as not only a model program for Pennsylvania, but for our country. State Senator Yudichak talked about meeting children and parents who talked about how much SHINE empowered them and how impressed he was by the evidence based, data-driven program that has a success record spanning more than a decade. In his words, "SHINE is improving lives in the classroom, after school and in the community."
After seeing students using computer design software to design and build cars, program robots and test out engineering skills by building bridges, it became clear why Barletta and Yudichak are such champions. In the end, it was a grandmother who stole the show, by revealing her heartfelt appreciation for SHINE and the help and safety it provides her grandchildren despite lots of challenges.
Congratulations to Rachel Strucko, Director of SHINE and the Pennsylvania Afterschool Network, PSAYDN, for getting state and federal policy makers and local media to see what SHINE is all about, and why state and federal investments in afterschool are so important.