MAY
24
2017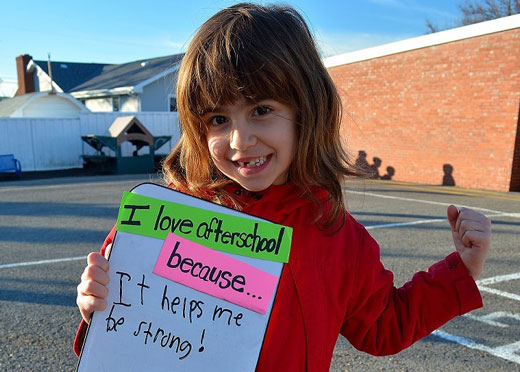 Photo courtesy of Monongalia County Schools Extended Day in Morgantown.
While some areas have started to recover from the Great Recession, some of the hardest-hit states continue to struggle with sluggish wage growth and limited employment opportunities. One of those states is West Virginia, where 1 in 4 children are growing up in poverty and well-paying union jobs, especially in the coal industry, are becoming rare.
Last month we had the opportunity to hear from parents in West Virginia. Tommy G. is a single father of three hit by the downturn of the coal industry. In a nearby county, Chastity and Brennan took on longer hours and a second job after their incomes were cut. And in Fairmont, a family of eight juggles the many of demands of work and kids. What do these parents have in common? They rely on afterschool programs—and say losing afterschool would result in financial hardship and put their ability to work in jeopardy.
West Virginia's strong demand for quality, affordable afterschool options is made clear by America After 3PM, which found that the rate of participation in West Virginia's afterschool programs more than tripled between 2004 and 2014. Hardworking parents, many of whom make ends meet with two or more jobs, find support for their affordable childcare needs in the form of aftercare, free and reduced-price food, homework and academic assistance, and more.
Tommy G., a single father of three from Wharton, was an engineer and the owner/operator of his own mine until the mining industry experienced a downturn. Since then, Tommy has been the manager of a waste treatment center in Nicholas County, making less than half of what he did in the mining industry. Tommy's daughter participates in the GOAL program, where she gets homework help and a snack before heading off to athletic practice. Having GOAL in place helps Tommy keep his job, even with a substantial commute that keeps him away from his children for many hours each day.
Two-parent households face their own challenges. Chastity L. and her husband, Brennen B., worked for Boone County Schools as a cook and a mechanic, respectively. When their salaries were each cut by $4,000, Chastity began working late hours as a cook at the local hospital while Brennen worked two jobs to try and make up the difference. Their only child, Hayley, participates in an afterschool program that offers homework help, tutoring, and activities like cooking and literacy games. If it weren't for Hayley's afterschool program, she would be home alone for much of the evening.
The resources and support networks found in afterschool programs are helping these families stay afloat, but the benefits aren't just for individual households. In addition to providing children with additional educational and enrichment opportunities, afterschool allows parents to work full-time without worrying about childcare, and feed back into a local economy that needs their buying power.
Richard B., a father in Fairmont, praises his local afterschool program's educational support and opportunities for inclusive, diverse socialization, but especially points to the significant economic benefits of afterschool.
"As a family of eight with two parents employed full-time, this program is essential to our ability to continue our careers without worrying about our children," he writes. "My wife is a nurse and I am a physical therapist's assistant and our schedules are very demanding. The Boys and Girls Club allows us to balance work, sports, afterschool programs, and the general demands of daily living more efficiently.
"The absence of programs such as BGC would place strain upon our daily lives, which would result in one of us working part time out of necessity. This would result in reduced income, thus less tax revenue for our government. The lost income would be far greater than the monthly program fee we pay. Additionally, the loss of income would have a greater impact on our ability to support local and national retailers that create both jobs and tax revenue. Cutting funding for these programs may seem attractive on paper, but it has a wide-reaching negative impact on communities."
When afterschool is able to work in financially-strained communities, hardworking families at every economic level benefit. Elana M., a parent in West Virginia, makes an impassioned case for the diverse range of afterschool beneficiaries.
"Afterschool programs are for the community, the child that grows up to be a successful professional, and the families you see in the park, church, or out shopping," Elana says. "These types of programs help our community and make our lives and our children grow. Afterschool programs help less-fortunate families to be able to provide for their children. They help families in situations where they need to take care of a sick relative or work long hours to put food on the table. They help families that may have everything together but want their children to be exposed to structure, socialization, community involvement, and learning; who want their children to learn how to play new games, participate in activities, and build stronger relationships with others in the community."
West Virginia isn't the only place where working families rely on afterschool programs. Nearly two million families across the country rely on the programs our president wants to cut. Call Congress on June 7 to let them know parents can't afford to lose afterschool. RSVP here.