MAY
25
2017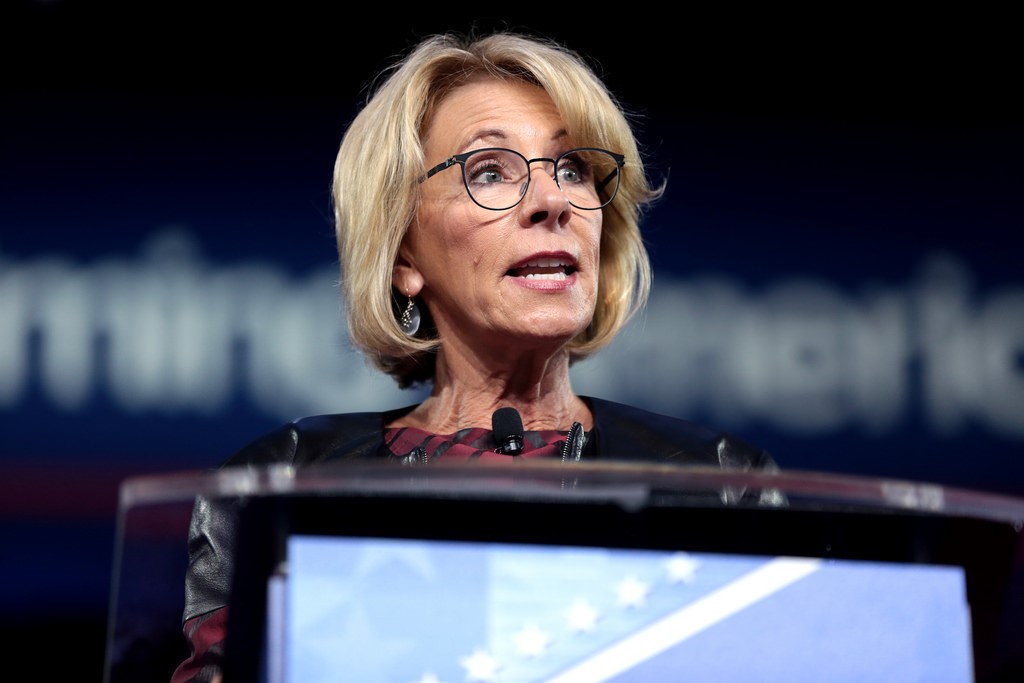 Photo by Gage Skidmore
Yesterday, Education Secretary Betsy DeVos testified before the House Appropriations Subcommittee on Labor, Health and Human Services, Education, and Related Agencies on the Trump administration's newly released FY2018 full education budget proposal. While the hearing mainly focused on school choice, vouchers, and state flexibility, several members of Congress spoke out against the proposed elimination of the 21st Century Community Learning Centers (21st CCLC) afterschool initiative.
Subcommittee Chairman Tom Cole (R-Okla.) opened the hearing, followed by opening statements by Ranking Member Rosa DeLauro (D-Conn.) and Appropriations Committee Chairman Rodney Frelinghuysen (R-N.J.).
Rep. DeLauro ran through a list of programs that are on the chopping block, including the 21st Century Community Learning Centers, which "help keep two million kids safe after school." Observing that "education is the great equalizer in our country," DeLauro highlighted the necessity of quality education resources for the most vulnerable.
"We have an achievement gap in this country—and it is worse in high-poverty areas, both urban and rural. Yet these are the very areas we would starve with this budget," DeLauro said.
Ranking Member Nita Lowey (D-N.Y.) noted that afterschool programs are one of her favorite education initiatives because even if you "can't get behind" educational enrichment activities, these programs can guarantee working parents that their children are safe after the school day ends. She also pointed out the stark contrast between the president's proposed FY2018 and the bipartisan omnibus package just passed earlier in May.
Secretary DeVos testified in support of the budget, followed by an extended question and answer period. Reps. DeLauro, Lowey and Barbara Lee (D-Calif.) all spoke out in support of the Community Learning Centers federal afterschool and summer learning program.
"[This] morally bankrupt budget steals health care from children and food assistance from hungry families in order to pad the pockets of billionaires and defense contractors," Lee said. "If their budget is enacted, afterschool programs will close. Seniors will be forced to forgo medical care. Parents will have to choose between paying the rent and putting food on the table."
While Secretary DeVos did not directly address the proposed cut to afterschool, she did speak to the need for creativity in education, stating, " I want to unleash a new era of creativity and ingenuity in the education space. My hope is that—working in concert with each of you—we can make education in America the envy of the rest of the world."
The afterschool field has long been a home to innovation and creativity and we look forward to continuing to make that case to the Secretary.
The subcommittee is expected to consider the FY2018 Labor, Health and Human Services, and Education spending bill later this summer. While the president's budget proposal eliminates afterschool funding, the subcommittee will ultimately determine the funding level for Community Learning Centers and all other education and human services programs. Earlier this spring, more than 80 members of Congress from all across party lines submitted a letter to the subcommittee calling for full funding for 21st Century Community Learning Centers.
Friends of afterschool programs can reach out to members of Congress now, sending a clear message: Americans support afterschool and summer learning programs! Add your voice and take action now, and join us on June 7 for a national call-in day to send a clear message of support for afterschool funding for 2018 and for years to come.