FEB
22
2016
By Erin Murphy
This week, Feb. 21-27, we are celebrating Engineers Week! The goal is to celebrate how engineers make a difference in our world, increase public dialogue about the need for engineers, and bring engineering to life for kids, educators and parents. As a part of this goal, we wish to recognize the work being done by the afterschool field year-around to help bring engineering to hungry minds everywhere.
If you want to help spread the word about engineering in afterschool, or if you have additional resources to share with the field, send us a tweet @afterschool4all with #EWeek2016!
BUILD YOUR ENGINEERING KNOWLEDGE
Click2Science just hosted a webinar last week in honor of Engineers Week, titled Engaging in Engineering. Check out the strategies shared in the webinar on how to best use the "engineering design process" to help youth and staff in out-of-school time programs engage in engineering activities. You can also check out all of their Learning Modules on how to provide STEM learning opportunities.
Tips for Modeling Science and Engineering Processes, also from Click2Science, can help you improve your engineering and STEM activities and encourage the use of the engineering design process. It includes 20 skills to help plan STEM experiences, interact with youth during STEM, and build STEM skills in youth.
Computing and Engineering in Afterschool is an issue brief we published discussing the growing need for an engineering and computing workforce, the current state of K-12 computing and engineering education, and how afterschool programs can help encourage youth to pursue and persist in further engineering and computing opportunities.
CONNECT WITH EDUCATORS
LinkEngineering is an online community of in-school and out-of-school time educators interested in providing meaningful engineering experiences to PreK-12 students. The goal of this site is to allow educators to connect with each other and to engineering education experts to learn about engineering, the engineering design process, and successful methods of implementing engineering education. Explore the website and check out resources such as Using Failure to Introduce the Engineering Design Process or Family Engineering: An Activity and Event Planning Guide.
ACTIVITIES & CURRICULA
Engineering Adventures (grades 3-5) and Engineering is Everywhere (middle school) are free engineering curricula developed especially for out-of-school time programs by the Museum of Science, Boston. For more information, check out this guest blog that discusses the how the curriculum was developed. Also, if you are interested in evaluating changes in student attitudes towards engineering, EiE has a validated assessment tool to be used along with the Engineering Adventures curriculum.
Design it!, which was developed by the National Partnerships for After School Science (NPASS2), is a curriculum that out-of-school time programs can purchase for providing engineering. NPASS2 also has a professional development model where science centers train afterschool program providers how to deliver engineering design activities.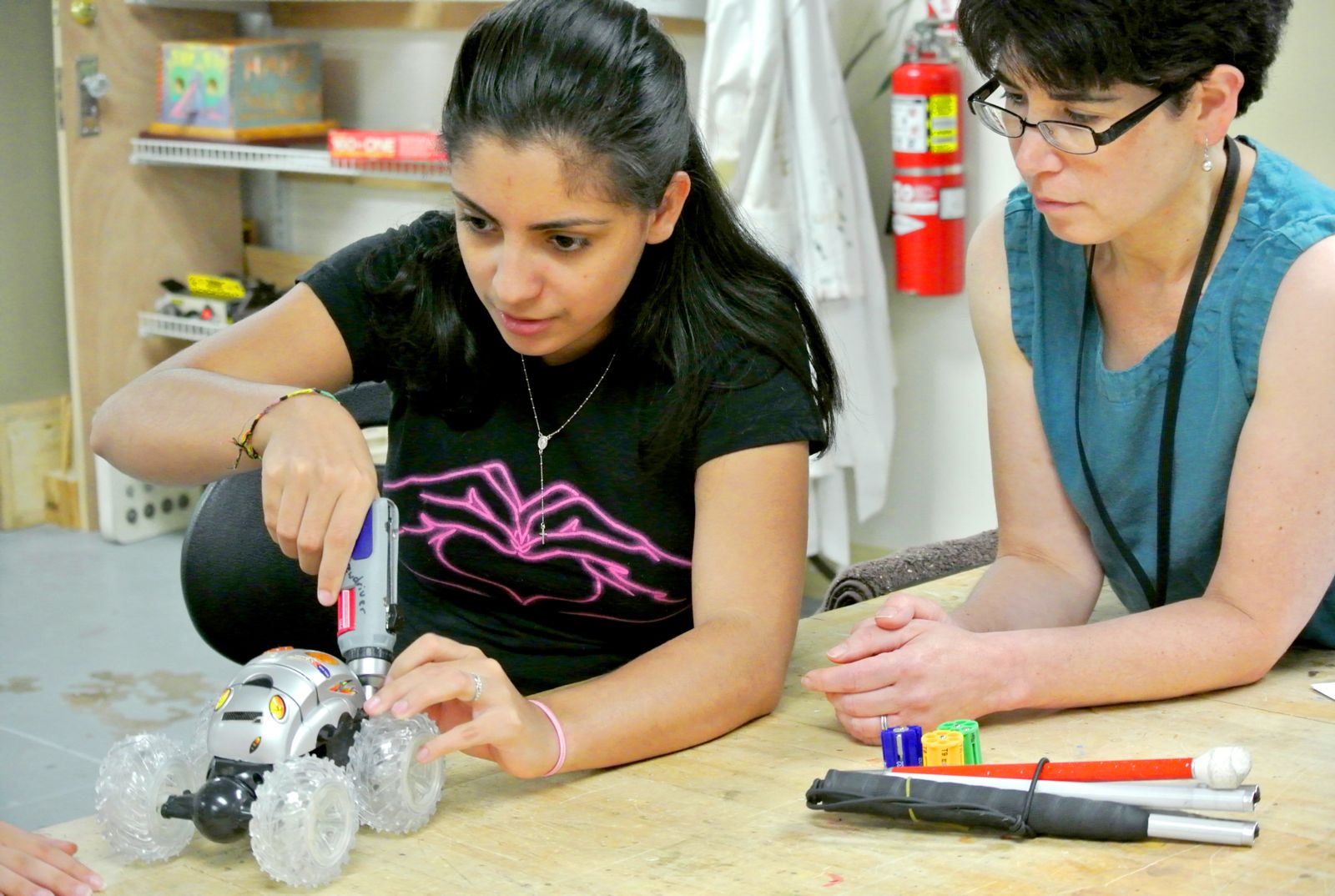 Techbridge is an afterschool program with a curriculum aimed at promoting inquiry and highlighting real-world STEM applications so kids can see how STEM careers make the world a better place. Even through Techbridge is a girl-serving program, the curriculum can be used with girls and boys. Activities include designing cars powered by various energy sources, constructing one room of a house using green building practices and creating working prototypes of electronic toys.
Design Squad, a popular PBS Kids show, provides a curriculum tailored to teach 9 to 12 year-olds about engineering design. It includes activities, lesson plans, and animations across multiple topics, and a full guide developed explicitly for afterschool. The focus areas, such as electricity, force, simple machines, and transportation, include activities that allow students to build their own robots, circuits, games and more.
LEARN WHAT PROGRAMS ARE DOING
Here's a few afterschool programs we've highlighted in our STEM program profiles, which allow afterschool programs that offer impactful STEM programming to provide their advice for success.
The EVOLUTIONS After School Program, housed in the Yale Peabody Museum of Natural History in New Haven, CT, stands out for its strong partnership with the science museum. They have aligned their programming with the mission of understanding of Earth's history through geological, biological and anthropological research, and communicating the results of this research to the widest possible audience. To help achieve this goal, they have developed a program called the Engineering Exploration Program, which allows high schools juniors the chance to regularly meet with an undergraduate mentor and faculty advisor from Yale to develop and implement an engineering project of their own.
The SHINE After School Program, in Jim Thorpe, PA, provides comprehensive programming tailored to rural communities by linking schools and homes in education. SHINE places an emphasis on the importance of STEM skills for student's future success, and has developed a strong STEM program to meet these needs. As part of this programming, they focus on engineering and the engineering design process. This includes educating students on what engineering is, organizing field trips to engineering firms, and providing hands-on engineering activities such as designing a solar-powered car. Angie Brayford, a Lead Teacher from SHINE, partnered with us at ITEEA in 2014 to present on how to provide quality engineering education in afterschool, in a lecture titled Engineering in Afterschool: Imagine the Possibilities.
Techbridge, in Oakland, CA, provides programming with the mission of gender equity. To do this, it offers multi-faceted programs to empower girls to pursue their dreams in fields historically lacking in female representation: science, technology and engineering. Techbridge programming includes hands-on engineering projects, field trips to engineering and technology companies, and role model visits by volunteers in STEM fields. (@techbridgegirls)
ENGINEER THIS SUMMER
CPEP, or the Connecticut Pre-Engineering Program, has been providing engineering programs to increase the number of underrepresented students in STEM professions since 1986. By providing strong summer programming, CPEP offers student the unique opportunity to become completely immersed in engineering and STEM instruction through full day programming. These programs provide students the opportunity to play enrichment games, do hands-on activities using their STEM skills, and work in groups to complete STEM and engineering projects, such as building a Rube Goldberg machine. The strength of this program has been nationally recognized on many occasions, including as the 2013 National Summer Learning Award winner.
The Afterschool Alliance is excited about everything the afterschool field is doing to promote engineering education. Please share how your program is including engineering with #EWeek2016!