FEB
17
2016
By Erin Murphy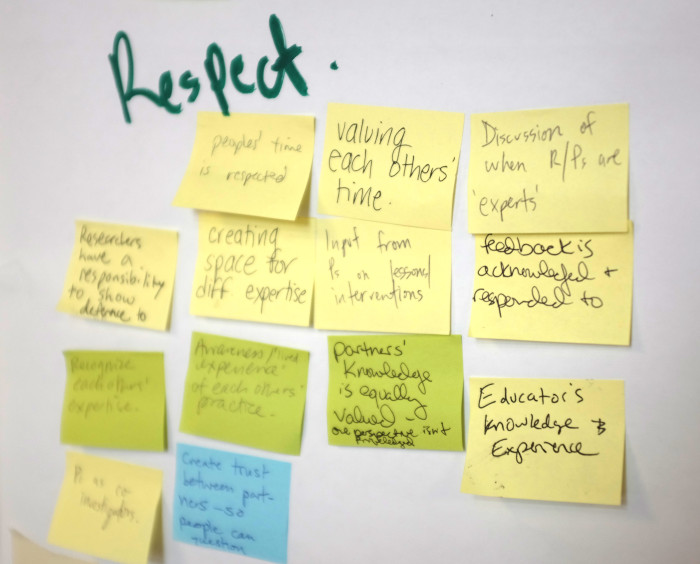 This is a summary of a blog "How to Build Equitable Research-Practice Relationships", posted by the Research + Practice Collaboratory.
Strong partnerships are necessary for the success of all afterschool programs and the overall advancement of the field, but they are particularly critical for programs offering STEM. It can be challenging, however, to align the goals, ideals and practices of different organizations to ensure partnerships benefit all those involved.
When Jean Ryoo, a researcher at the Exploratorium, a science center and research institution in San Francisco, CA, and Emily McLeod, the Curriculum Director at Techbridge, an afterschool program in the Bay Area, began their partnership, they wanted to ensure a positive and equitable relationship for all involved. They knew that too often, researchers' knowledge and expertise are valued over those of educators.
Jean and Emily's partnership is a part of the California Tinkering Afterschool Network (CTAN), a project of the Research + Practice Collaboratory. CTAN brings together afterschool directors, facilitators, and researchers focused on designing, implementing, and studying equity-oriented teaching and learning in STEM-rich afterschool tinkering programs.
At the beginning of their work together, the group decided to share and discuss one another's educational values, as researchers and educators often have different ideas about teaching and learning. The outcome of this discussion left them with a "map" of shared values. Jean, Emily, and the rest of the CTAN team found this activity to be so useful that they developed it into a formal resource, termed "value mapping." Although this activity was originally designed for partnerships between researchers and practitioners, it is useful for all types of partnerships.
What is value mapping?
Value mapping is when partners write down their thoughts, values and ideas on paper and discuss them together. One person takes notes outlining the discussion on a large poster, creating a "map" of how partners align and differ. This activity helps to create strong, beneficial partnerships and is incredibly useful for building equity and trust, pointing out important topics to the group, outlining how partners' interests and goals best align, and ultimately deciding what partners should pursue together.
There are so many potential partners for afterschool STEM—science centers and museums, universities and colleges, local business, and more—all with different values, cultures, and experiences. These differences can make it difficult to ensure equity and trust, but both are necessary for healthy partnerships. This makes value mapping useful to stakeholders in afterschool, not just those pursing partnerships between researchers and practitioners.
If you are looking to build new partnerships or strengthen existing ones, download the guide to value mapping, and for more on creating equitable partnerships, check out "building equity," another resource created by members of CTAN.