STEM Impact Award 2013
Science Club celebrates!
Mike Kennedy, Director and Rebecca Daugherty, Assistant Director along with alumni and current students.
Winner #1: Science Club (Partnerships)
Congratulations to
Science Club
, a partnership between Northwestern University and the Boys & Girls Club of Chicago, for winning the 2013 Afterschool STEM Impact Award for strong partnerships!
Winner #2: Project GUTS (Computing)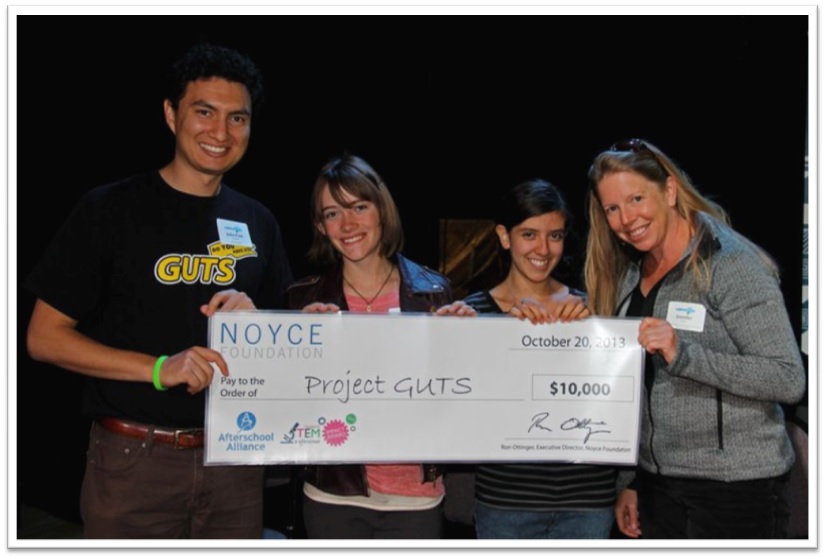 Project GUTS shows off their award!
Congratulations to
Project GUTS
in Santa Fe, NM for winning the second 2013 Afterschool STEM Impact Award! Project GUTS is a rigorous computing afterschool program and stood out in a competitive category of applicants with a strong engineering and/or computing component. Read more about the program in their
STEM Storybook profile
and the
press release
announcing the award.
In addition to the cash award of $10,000, we will promote both Science Club and Project GUTS nationally through a variety of opportunities—they will be featured in a special series of Afterschool Alliance issue briefs, invited to participate in webinars, co-present at national and state conferences, and generally highlighted as model programs.
About the awards: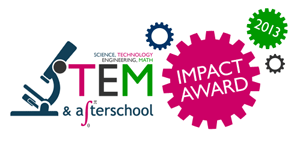 This past Spring, the Afterschool Alliance and the Noyce Foundation invited applications for two $10,000 Afterschool STEM Impact Awards. As afterschool STEM programming grows around the nation, we wanted to recognize programs that are clearly demonstrating their impact on participants. Such programs highlight the power of afterschool programs as key partners in STEM education reform and also serve as best-practice models. We recieved almost 200 applications across the two award categories and it was a tough decision to choose one cash prize winner from among so many excellent programs! See what we asked the programs in our application questions.
Applications were invited for one of two award categories:

OR