Population Served
Since 2013, we have served over 5,000 youth from 53 Baltimore-area zip codes, including 1,518 youth in 2017. Of these youth, 69% are minorities, 76% are from low-income families, and 41% are female. Another 1,570 community members participated in our special events.
Over 1,300 educators benefited from our in-person workshops and online resources in 2017. We held 45 workshops with 418 attendees, with an estimated indirect impact on 31,590 youth. Another 894 educators have accounts on DHF Blueprint, our online educator resource.
Program Features and Curriculum
The Digital Harbor Foundation provides a comprehensive pathway for youth to gain the skills they need in order to thrive in the modern workforce, particularly in high-growth tech fields. This pathway offers two Academy Tracks in web development and digital fabrication, allowing youth to easily specialize their skill sets. Although youth are certainly not locked into these Tracks, they provide a clear framework for progression to help youth achieve their educational and employment goals at DHF and prime them for success in higher education and careers once they graduate high school.
Each Academy Track has 3 primary components (1) Introduction to fundamental technologies and problem-solving skills (2) Deeper exploration of topics included in each pathway (3) Advanced application of skills.
Introduction to Fundamental Technologies and Problem-Solving Skills
Youth complete 2 introductory courses designed to familiarize them with the skills and technologies offered at DHF and to help them begin specializing in each pathway.
Maker Foundations: Maker Foundations is DHF's flagship entry-level course in technology, creativity, and making. In 14 weeks, youth are introduced to the technologies included in both the digital fabrication and the web development pathways through a series of hands-on modules in subjects like 3D printing, computer programming, electronics, and graphic design.
Core Courses: Once youth finish Maker Foundations, they will complete a Core Course in the pathway that most interests them. Core courses provide more detailed dives into the skills and technologies included in each pathway and will prepare youth for more advanced courses.
Deeper Exploration of Topics (Member Courses)
DHF offers a series of "Member Courses," which provide deeper dives into specific skills or technologies included in each pathway. These courses could include video game development, advanced 3D printing, web development, and 2D fabrication using laser cutters and CNC mills.
Advanced Application of Skills
Youth are invited to apply the skills they have developed in our Introductory and Member Courses in advanced study and employment opportunities.
College Credit: DHF youth can earn credit for Digital Fabrication 101 from the Community College of Baltimore County by completing an 8-month, DHF-designed and executed course.
Youth Employment: DHF's youth employment program runs year-round, including throughout the entire summer. 30 youth employees worked at DHF during 2017 and pursued a variety of employment opportunities, including: working in a 3D Print Shop, Web Shop, and as Program Assistants helping to facilitate programs.
Outcomes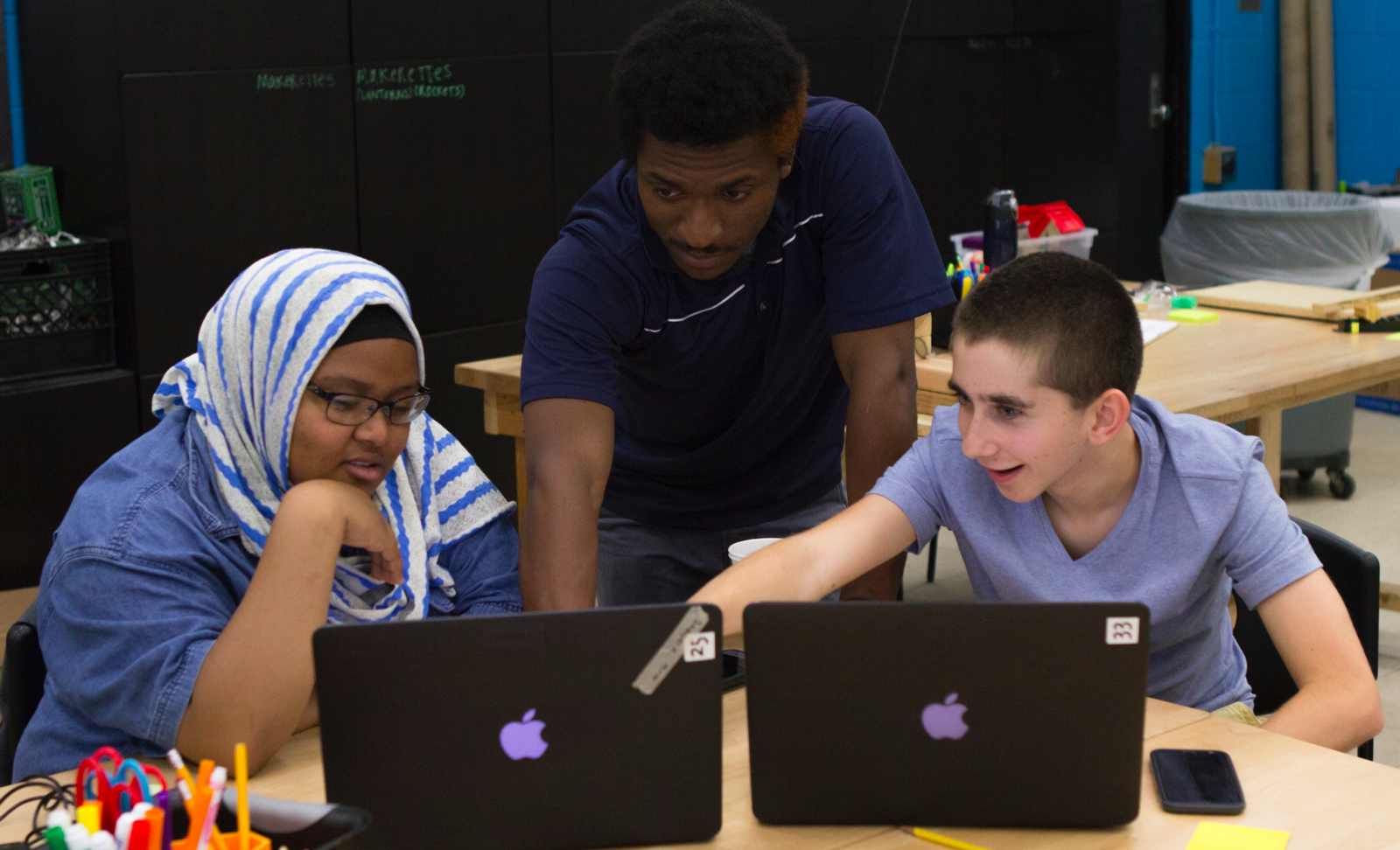 Working alongside researchers at University of Maryland, Baltimore County, we have found that our programs successfully increase youth exposure, interest, and confidence in technology, improve their soft skills, encourage participation of underrepresented demographics, and get youth excited about learning. Our recent youth outcomes include:
Youth exposure to new technology tools, software, and equipment by increased 59% overall across all DHF summer camps in Summer 2018 with 94% of youth participants completing a capstone project, which demonstrated application of their newly acquired tech skills.
After completing one 14-week semester, youth's divergent thinking--a key aspect of creativity--increased by 29% on average, with 66% of youth's scores increasing by 54%. The scores of African American youth improved at the same or better than other groups, with an average increase of 55%
87% of middle-high youth in 2017 said that had a good experience at DHF, with more than half of those (48% overall) saying they had a very good experience.
Partners
The Digital Harbor Foundation works with a broad coalition of foundations, technologists, researchers, and educators. These include the Harry and Jeanette Weinberg Foundation, the National Science Foundation, Schmidt Futures, the National Recreation and Parks Association (NRPA), the National League of Cities (NLC), the Association of Science-Technology Centers (ASTC), the University of Maryland, Baltimore County (UMBC), the Community College of Baltimore County, Northrop Grumman, Maker Media, the Susan Crown Exchange, and the Maryland State Department of Education.
Media Recognition
In the last year, DHF has been featured by Politico Magazine in their "What Works" series, the Baltimore Sun and highlighted by Governor Larry Hogan. Our youth and staff have presented at or written for The Afterschool Alliance, The American Physical Therapy Association, The American Society for Engineering Education, Disney Channel, Make Magazine, The Mozilla Foundation, The 2018 Nation of Makers Conference, and the White House. In March 2016, US Secretary of Education John King cited DHF as a model for career and technical education across the country.