Recent Afterschool Snacks
NOV
14
2017
The next generation of the American workforce is growing up right now and afterschool programs are vital partners in helping young people discover new passions and work towards their dreams. As in so many other subjects, the variety and versatility of afterschool programming offers opportunities for different kids at different ages and stages of development to benefit, whether the focus is on social and emotional learning, teamwork and communications skills, or concrete experience at paid internships.
In the Minneapolis Beacons afterschool programs, elementary school students learn and play collaboratively in groups, practicing active listening, considering and respecting different perspectives, and reaching consensus in a group setting. On the other side of the spectrum, high schoolers in Sunrise of Philadelphia's afterschool program create five-year road maps for themselves, participate in mock interviews, and have the opportunity to work in a variety of paid internships.
Programs are helping students discover potential career pathways, connecting students to real-world workplace experience, and guiding students to build the foundational skills that will benefit students in school and when they enter the workforce. Afterschool Alliance's new issue brief, Building Workforce Skills in Afterschool, examines the ladder of supports that afterschool programs provide students to help them thrive beyond school, as they grow into adults into their future careers.
SEP
27
2017
By Luci Manning
Georgia Students Learn Pre-Engineering as They Revamp Shipping Containers for Haiti (Youth Today, Georgia)
Marietta High School students in the school's civil engineering club and afterschool design class are designing a community center out of shipping containers to help communities in Haiti. The designs will include features like solar panels, a rainwater harvesting system and a waste recycling system. Teacher Leon Grant and local architects will work with students to build the structures, while also teaching basic engineering principles. "I want a creative environment where young people can utilize [the math and science] they learn," Grant told Youth Today. While the designs will be sent along to Haiti, the structure will remain at the school as an innovation laboratory for future students.
Green Bay's Boys & Girls Club to Open College and Career Center (WFRV, Wisconsin)
Last Friday, the Boys & Girls Club of Greater Green Bay opened their new College and Career Center for Teens to give young people a safe space to learn and explore future job opportunities. "Teens get a bad reputation, but they are up against some horrific odds. So, we knew a space needed to be made just for them where they can feel heard, motivated, encouraged, and like someone believes in them," Club Director of Communications Stephanie Nespoli told WFRV. The center will offer internship and job placement services; provide free tutoring, job training, workforce etiquette lessons and academic mentoring; and give students the chance to listen to guest speakers, go on college visits and shadow adults in various industries.
Death of A'yanna Allen Sparks Local Girls to Create a Program to Help Youths Learn Life Skills (Salisbury Post, North Carolina)
A new afterschool program started by three nine-year-old girls aims to solve violence and improve life skills for children in the Salisbury community. A Bridge 4 Kids was started by three elementary school students in response to the death of their seven-year-old cousin, A'yanna Allen. "We are trying to get kids out of the streets. We don't want them to be a follower but be a leader," co-founder Invy Robinson told the Salisbury Post. The program includes three stages with unique goals and programming geared towards different age groups. "We want them to be able to get a job instead of fight," co-founder India Robinson said.
Kids Learn to Grow Together (Great Falls Tribune, Montana)
An afterschool and summer gardening program is hoping to increase access to fresh foods for Westside Community residents and promote healthy eating habits among youths. Students in the Sunburst Unlimited gardening program maintain a community garden, learn about gardening techniques like composting and bring home the produce they've grown to share with their families. "Watching them brush off the dirt, take a bite and then to see their eyes light up – they like vegetables," Sunburst Unlimited Director Mike Dalton told the Great Falls Tribune. "That's what makes my heart smile. To see their joy exploring out in the garden every day."
JUN
19
2017
By Thomas Azzarella, director of the Alaska Afterschool Network. This blog was originally published on the Alaska Afterschool Blog on June 6.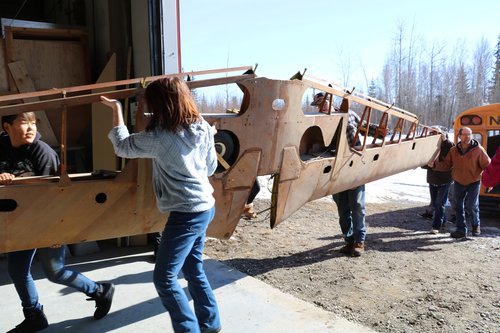 Photo courtesy of Eric Filradi
Nearly two-thirds of Alaska's cities, towns, and villages are accessible only by plane or boat, which makes having a strong aviation workforce critical to having a strong state economy. Qualified and experienced employees in the aviation industry are in high demand throughout the state, especially in rural communities.
The 21st Century Community Learning Center (CCLC) in Nenana is addressing this demand by preparing youth living in rural Alaska for this crucial industry.
Nenana is a small rural town of approximately 400 residents. Nenana City School District is comprised of one K-12 grade school that serves nearly 200 students. Approximately 100 of these students are enrolled in the school's boarding facility, the Student Living Center, for grades 9-12. These students come from villages and towns all over the state, many of which attend school in Nenana because of the limited educational offerings in their home village.
Nenana's Community Learning Centers program expands the school's educational offerings after school by providing tutoring, career-tech programs, and opportunities for building self-confidence and leadership skills. Among these offerings is the school's Aviation Mechanics program, which is preparing high school students for high-paying jobs in Alaska's aviation industry.