MAY
17
2016
By Robert Abare
The Afterschool Alliance is pleased to present this Afterschool Spotlight, part of a series featuring the stories of children, parents and providers of summer and afterschool programs. Click here to view the previous installment. Have a story to share? Email Robert Abare at rabare@afterschoolalliance.org.
For Levi Myers, a 16-year-old 10th grader at Greenbrier East High School in Lewisburg, WV, life revolves around music. He's started bands with his friends—playing everything from punk to reggae—and he has a dream of becoming a professional music critic one day.
Levi didn't initially think that his high school's afterschool program, SPARC (which stands for Spartans Collective), could help him further explore his love for music. "When I first heard about the program, I thought it would be sitting around and staring at books," he said.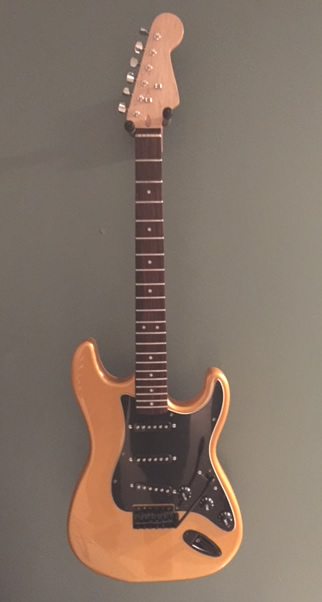 One of the guitars designed by students in the Innovation Zone afterschool program.
Instead, through SPARC's classes in guitar building, Levi found his initial assumption was far from accurate. "The guitar classes were really fun," he said. "They also taught me about the inside mechanics of guitars, soldering, circuitry and how to get stuff done on time."
The SPARC program is part of a larger afterschool program of Greenbrier County Public Schools, funded by the West Virginia Department of Education's Innovation Zone program. The afterschool program, which operates at two middle school and one high school, has two focuses: academic achievement and entrepreneurship. The Innovation Zone afterschool program is in the process of seeking additional support from the federal government's 21st Century Community Learning Centers initiative.
The Innovation Zone program supports students' academic achievement through tutoring, ACT and SAT preparation, and credit recovery for struggling students. Last year, 37 students successfully graduated thanks to the credit recovery and failure prevention aspects of the program.
Vicky Cline, Director of Technology and Testing for Greenbrier County Schools and a leader of the program, explained that the programs' entrepreneurial focus allows students to discover practical ways to apply the lessons they learn in school. "The goal is for students to gain business and interpersonal skills that they can use later in life," she said. "We want our participants to realize that they can become major contributors to West Virginia's economy, and that they can help our community become more self-sufficient."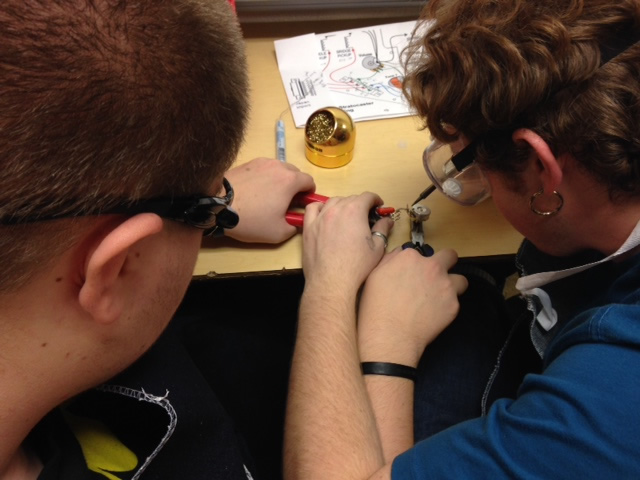 Levi Myers (R) helps another student solder a switch that will become a component of a new guitar.
The entrepreneurial side of the program guides students to produce products that can be sold for a profit, which then helps support the program's costs. By using two greenhouses already installed at the middle school sites, the students have sold potted plants, soaps, and are planning to sell dried herbs. After its first year, the guitar building program at Greenbrier East High School has produced four electric guitars. Two of the guitars will be auctioned for a profit, and one has already been purchased by the high school's music department.
"Building guitars offers the opportunity to learn a lot of skills you wouldn't realize," said Daryl Clemons, the Technology Coordinator for Greenbrier County Schools. Inspired by his own previous experiences building guitars from scratch, Daryl helped conceive the guitar building program and currently supervises it.
"The kids who participate gain a lot of lessons in critical thinking and problem solving," said Daryl. "When you are putting the pieces of the guitar together, it's like a puzzle. The students run into obstacles that they have to solve." He added, "They also learn about potentiometers, capacitors, how a circuit is built, and why a certain guitar sounds like it does."
Daryl also explained how the entrepreneurial aspect of the program helps put students' lessons into a broader perspective. "Because we were planning on selling the guitars, we had to find a cost-effective supplier," said Daryl. "The kids also had to determine how much money to spend on each model."
"If nothing else, I think these kids will take home with them the basic concepts of how to market a product, and how to offer a service for a specific demand," said Daryl.
For Levi Myers, the guitar building lessons through the Innovation Zone program played a major part in his continuing academic improvement. "Before I started the program, my grades were not the best," he said. Now, Levi's math skills have seen an uptick, and he has taken on a leadership role by helping newcomers to the program learn the basics of guitar circuitry and wire soldering.
"This program has shown me that I can accomplish what I put my mind to," he said.