JUL
7
2016
By Erin Murphy
The Afterschool Alliance is pleased to present the second installment of the new Afterschool & Law Enforcement blog series. Through interviews with police officers and public service officials, this post focuses on the motivations that lead afterschool programs and law enforcement agencies to work together.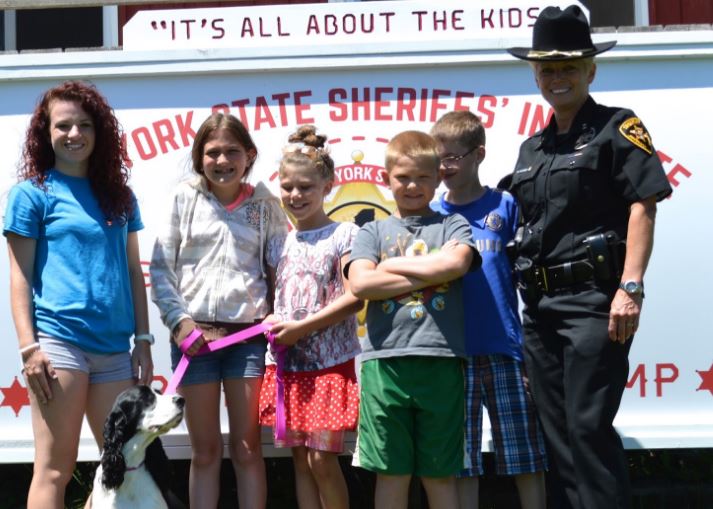 The New York State Sheriff Association's Sheriffs' Camp summer program
Across the nation, law enforcement and afterschool programs are partnering up to keep children safe and support working families. Juvenile interaction with law enforcement and victimization peak between 3 and 6 p.m., the hours after school before parents get home from work. Finding care for children during this time can be challenging for families, especially for working single parents.
Officer Kenney Aguilar of the Santa Ana Police Department described how many law enforcement departments recognize afterschool programs as the perfect partner in keeping communities safe. "Afterschool programs provide a safe haven for children to focus on academics," he said. "These programs also keep kids off of the streets and away from the gangs that plague the neighborhoods."
Rene Fiechter, Assistant District Attorney of Nassau County (NY), noted the role of afterschool in a community initiative to help single moms. "Affordable afterschool became a large necessity to achieve the goals of that initiative," he said.
Additionally, working with afterschool programs provides an opportunity for law enforcement departments to build relationships, trust and understanding with community youth. Besides giving kids a safe place to learn in the summer, The Sheriffs' Institute in New York hopes to "encourage kids to see law enforcement as a friend and not an enemy," said Chris O'Brien, executive director of the institute.
Darren Grimshaw, a major at the Burlington (IA) Police Department, has similarly seen his department's partnership with an afterschool program transform the relationship of law enforcement and the local community. Participants in the program frequently say hello to officers and share their positive experiences with friends and family.
These partnerships between afterschool and law enforcement vary dramatically depending on the needs of the community and the capacity of the police department. Some departments provide funding for afterschool programs, while others run their own afterschool programs and camps.
Some highlights of what police departments are doing in their communities:
Chris O'Brien, Executive Director of the New York State Sheriffs' Institute, has worked with the Sheriffs' Camp since its inception in 1977. This summer camp runs for six weeks each summer with 140 new students participating each week. Officers provide programming on topics ranging from bullying to internet safety.
Chief Frank Fowler of the Syracuse (NY) Police Department is a persistent advocate of afterschool. Currently, the department is involved in two Police Community Centers—one operated by a community-based organization and the other by the Syracuse Police Department itself. Additionally, community relations officers visit three Boys and Girls Club sites three times each week. In the summer, the department operates two sessions of camp for middle schoolers, and works with the Department of Parks and Recreation to open four local gyms three nights per week for basketball. This year, Fowler initiated "Hoops with Heroes", a basketball program for teens, where students taught officers about basketball and officers taught participants about the values of teamwork and sportsmanship.
The Santa Ana (CA) Police Department started a Police Athletic and Activity League (PAAL) in 2007. This program extends beyond athletics to focus on academics as well. The program provides students with snacks, homework help, creative writing and reading time, and enrichment activities—such as educational games, athletics, outdoor activities and more.
Stay tuned to the Afterschool Snack to find more stories like these that demonstrate the community benefits that result from afterschool and law enforcement working hand-in-hand.