Recent Afterschool Snacks
APR
28
2016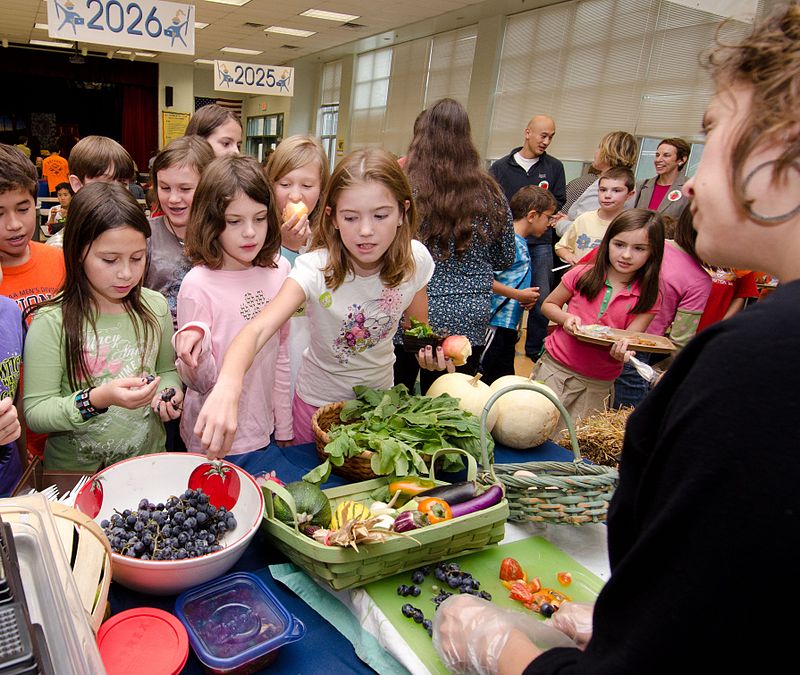 USDA photo by Lance Cheung
On April 22nd, the U.S. Department of Agriculture Undersecretary Kevin Concannon announced strengthened nutrition standards for food and beverages served to children in afterschool programs and day care settings at the annual conference of the National Child and Adult Care Food Program (CACFP) Sponsors Association.
School age children in participating afterschool programs, as well as young children in child care settings and adults in senior care, will now receive meals with more whole grains, a greater variety of vegetables and fruits, and less added sugars and solid fats. The science-based standards introduced in this final rule will elevate the nutritional quality of meals and snacks provided under the Child and Adult Care Feeding Program (CACFP) to better align with the Dietary Guidelines for Americans and to be consistent with the meals children receive as part of the National School Lunch Program (NSLP) and School Breakfast Program (SBP). The At-Risk Afterschool Meals program, which provides meals to more than one million children each afternoon, falls under the CACFP guidelines.
In addition to afterschool programs, CACFP provides aid to child and adult care institutions and family or group day care homes for the provision of nutritious foods that contribute to the growth and development of children and the health and wellness of older adults and chronically impaired disabled persons. Through the CACFP, over 4 million children and nearly 120,000 adults receive nutritious meals and snacks each day as part of the care they receive.
This is the first major revision of the CACFP meal patterns since the program's inception in 1968, and will require meals and snacks provided through the CACFP to better reflect the Dietary Guidelines for Americans and the nutritional issues facing young children and adults today. These changes are a meaningful first step in improving CACFP participants' access to nutritious foods. The updated meal patterns also better align with the National Afterschool Association Healthy Eating and Physical Activity standards, which foster health and well-being practices in afterschool programs nationwide through science-based standards for healthy eating, physical activity and screen time.
The new standards were carefully designed to make significant, achievable and cost-neutral improvements to the nutritional quality of the meals and snacks served through CACFP. USDA focused on incremental changes that balance the science behind the nutritional needs of the diverse CACFP participants and the practical abilities of participating afterschool program providers, child care centers and day care homes to implement these changes. By setting an implementation date of October 1, 2017, the final rule provides ample lead time for centers and day care homes to learn and understand the new meal pattern standards before they are required to be in full compliance.
USDA will provide in-person and online trainings and is developing new resources and training materials, such as menu planning tools, new and updated recipes, and tip sheets, to ensure successful implementation of the new nutrition standards. Additionally, the Afterschool Alliance plans to hold webinars for afterschool program providers participating in the CACFP At-Risk Afterschool Meals program who will be impacted by the new meal pattern requirements.
Additionally, the Food Research and Action Center (FRAC) will host a webinar "New Healthier CACFP Meal Standards: What you need to know" on May 9, 2016 at 1:00 PM - 2:30 PM EDT. Click here to register.