JUN
8
2016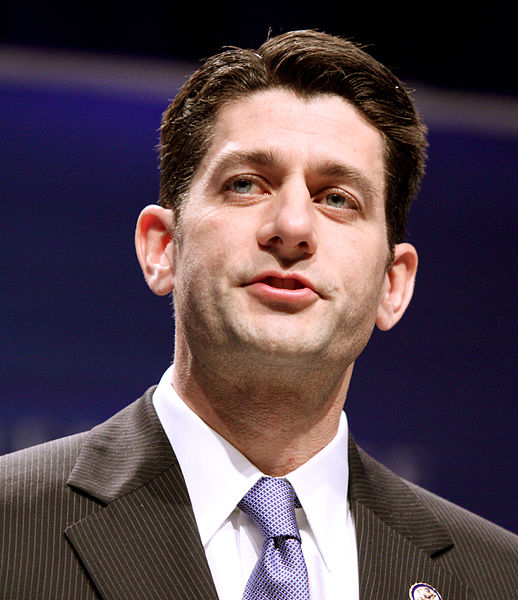 Speaker of the House Paul Ryan. Photo by Gage Skidmore.
Yesterday, June 7th, House Speaker Paul Ryan presented A Better Way: Our Vision for a Confident America, a new policy paper on poverty representing the recommendations on issues in welfare, workforce and education by the House Republican Task Force on Poverty, Opportunity and Upward Mobility.
A webpage outlining the plan breaks the message on poverty alleviation into 5 main ideas:
Reward Work
Tailor Benefits to People's Needs
Improve Skills and Schools
Plan and Save for the Future
Demand Results
The overarching philosophy of "A Better Way"
The plan emphasizes streamlining programs, noting that "today, 13 federal agencies run more than 80 programs that provide food, housing, health care, job training, education, energy assistance and cash to low-income Americans." The plan asks for focus to be shifted to the individual rather than compartmentalized among bureaucratic offices, such that the foundation of aid becomes an individual's goals, and the measure of success becomes an individual's rise from poverty.
The plan suggests that, with the individual at the center, states, localities and communities become best positioned to determine, direct and coordinate supports for recipients of government services. In streamlining, government must pay attention to redundancies, waste, fraud and abuse, and coordinating data and services while maintaining individual privacy. Resources should be dedicated to evidence-based programs with histories of getting results.
No detailed funding plan is outlined; however, recommendations include support for funding measures such as increased use of vouchers for schooling and housing, social-impact financing, which encourages private investments toward solving public concerns and then reimbursing those investors who achieve successful outcomes for their expenses, plus a return. The plan also recommends tiered financing, which funds a preliminary testing of ideas, followed by a rigorous testing before scaling up what works, and increasing private access to credit through reducing regulations on community banks and credit unions.
Areas of interest to the afterschool field
Early Childhood
In regard to Early Childhood, the plan notes "virtually every program has a separate set of rules and reporting requirements that are difficult to navigate and impossible to align with community based services." From our perch in the afterschool space, we can attest to the difficulties in navigating requirements, for example those between school year and summer meals. However, we also know that community-based services are active and crucial partners in this work. The plan expresses concern that research in early childhood centers, such as Head Start, does not show gain sustained beyond third grade. Sustaining child care supports for low-income families through programs such as afterschool, could be a buffer against this loss.
---
Juvenile Justice
A Better Way presents the juvenile justice system as an opportunity to provide youth with "positive opportunities to turn their lives around, rather than negative experiences that will lead to further involvement with the justice system." Youth require different services and supports than adults, and are more vulnerable, the plan notes, recommending programs administered by local communities to help children and their families make choices that enable them to reach their highest potential. Voucher programs for school choice, which provide greater funding for at risk youth, are among the recommendations in this section. Although not mentioned, one might consider community schools as a model for the types of services and supports that could be provided to these youth and families, which can head off issues prior to involvement in the justice system.
---
Nutrition and Meals
Children cannot learn when they are hungry, say the authors. The plan suggests a nutrition policy that meets the needs of all students while not increasing costs for schools. The plan also suggests more flexibility from requirements that summer meals be served at sites where children receive additional services (known as congregate feeding sites) and it suggests better streamlining for low-income children. As afterschool program providers, we believe site-based feeding should be encouraged wherever possible to provide children enrichments in addition to food that keeps their minds and bodies strong over the summer months. Additionally, streamlining between programs can be excellent policy, if it includes more children in summer meals programs. However, some proposals for streamlining would heighten the current standard for entry and leave many students now eligible to receive food out. Learn more on this previous post from the Afterschool Snack.
---
Career and Technical Education
The plan praises Career and Technical Education (also called vocational education) as a means to give young people "the job skills necessary to become independent and productive citizens" while focusing on the need for the federal government to give more flexibility to states so they can respond to changing economic needs, reward success, and encourage reform.
---
What "A Better Way" may mean for us in the field of afterschool
As can be expected, the plan balances competing priorities that are never far from the center of policy considerations: more accountability and less bureaucracy, reducing fraud and speeding responsiveness, sufficient services to meet needs and no increases in spending, streamlining services and emphasizing choice.
It will be up to citizens, programs, and communities to voice their opinions and tell their stories, so their representatives have a clear understanding of their constituents' needs and how to best lift people out of poverty.