FEB
29
2016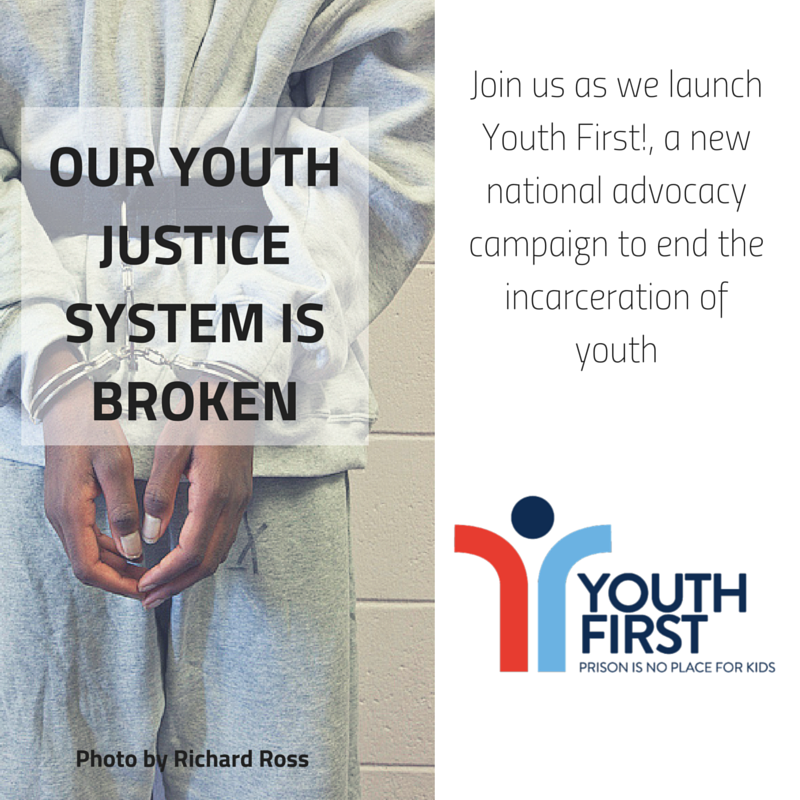 The afterschool community is well-aware of how easily young adults can make both good and poor choices. We are aware of the data showing juvenile crime behavior peaks between the hours of 3PM and 7PM, which remains a major reason to provide positive activities for our community's youth. We also know that youth involved in afterschool programs are less likely to engage in risky behaviors, another inspiration behind creating safe, engaging spaces in the afterschool hours.
However, youth continue to take risks, and both the short term and long term effects of those risks depend a good deal on state and local policies that define the crime and punishment. These policies can change a youth's trajectory for life. For example, in some states, actions as simple as skipping school can land a youth in a residential incarceration facility.
Youth First, a newly coordinated national advocacy campaign, has set the goal of ending the incarceration of youth and redirecting investments towards community based programs. The campaign has one basic premise: the current system of youth incarceration is ineffective.
Youth First has major concerns with the current system of imprisonment: Youth prisons incarcerate youth disproportionately based on race and ethnicity, increase the probability of another offense and of future incarceration, often lock up youth for reasons as simple as skipping school, hurt families, fail to adequately educate children in their care, and can cost taxpayers an average of $88,000 per year to incarcerate just one youth—and that's despite all these negative effects.
Reducing youth prisons and imprisonment would free up some of the money spent on incarceration for community based programs that have shown to positively affect youth development. Some states and cities have already begun the process of reducing youth imprisonment, and the national effort aggregates these under broad five year goals that include: closing youth prisons in 1/3 of states and a 50% reduction in confinements in 1/3 of states. There is reason to be optimistic that these goals will be reached. Trends over the last 10 years have shown states are working to drop their commitment rates of youth to residential facilities.
A webinar presented with the launch of the Youth First initiative highlighted some state advances that aim to keep youth out of prisons and in their communities with the supports they need to remain arrest free and sustain positive growth.
West Virginia passed legislation (SB 393) in 2015 with unanimous bipartisan support to redirect resources away from incarceration and toward evidence-based community programs that improve youth outcomes. The law built off a state task force report on juvenile justice that found a 200% increase in youth being sent to prison for so called "status offenses" (non-high risk activities such as skipping school) over a ten year period. Moreover, the state was paying costs of up to $100,000 per year for the incarceration. The new legislation, according to the Pew Charitable Trusts, is expected to save the state $20 million over the next five years—freeing up funds for reallocation.
Kansas is considering legislation (SB 367) to shift funding into evidence based rehabilitative community programs and away from youth incarceration. The popular initiative passed the state senate with a 38- to-2 vote in its favor in late February, and now is moving over to the House. The legislation is supported by the work of Kansans United for Youth Justice.
New Jersey, a state with an incarceration rate for African American youth 26 times higher than the rates for White youth, is also making strides. Working with a juvenile justice reform coalition the state passed S2003, limiting solitary confinement in juvenile facilities among other modifications.
For more information on Youth First State Campaigns, visit their website. Become aware of these policies for youth in your state, and take part in the discussion of how community based systems—including positive, supportive environments like afterschool programs—can be part of the solution.
If you need some more inspiration, we offer the Staten Island Youth Justice Center or Washington DC's After School Kids Program. And if you have a program you are proud of, please let us know!