DEC
6
2016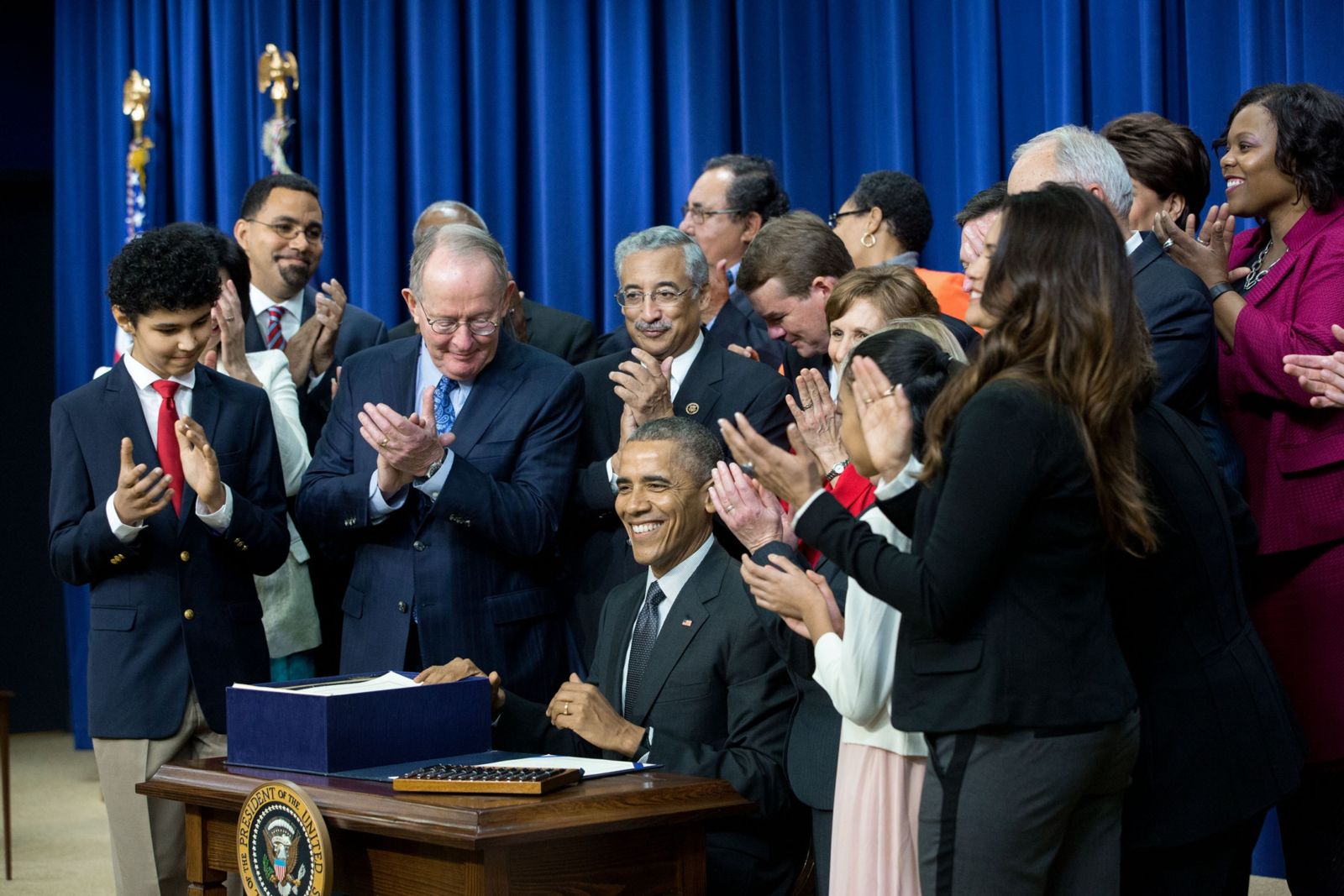 President Obama signing the Every Student Succeeds Act into law.
On November 29th, the Department of Education issued final regulations on accountability, school support, data reporting, and consolidated state plan provisions under the Every Student Succeeds Act (ESSA). The regulations strengthen the voices of afterschool advocates who recognize the importance of being included in state plans by reinforcing the importance of stakeholder involvement, awareness of equitable resources, and state and local flexibility in decision making.
The new regulations responded to more than 20,000 comments on the draft regulations (including a submission by the Afterschool Alliance), in some cases clarifying the law, in other cases explaining the decision to not take action, and occasionally suggesting that more information would come in the form of non-regulatory guidance. We've identified the following five areas in the regulations where afterschool may play a major role.
1. Accountability
What the law says: The regulations emphasize "working closely with stakeholders to choose evidence based interventions that are tailored to local needs." The new law also requires states to choose one or more indicators of school quality or student success (like student engagement or chronic absenteeism, for example), which will factor into the overall school score that is reported to parents under the accountability system. The regulations require that these indicators, also known as 5th indicators, have a research base tying them to student learning and achievement, such as improved GPAs, credit accumulation, graduation rates, college enrollment or career success.
Where afterschool fits in: Afterschool programs are a proven way to support students in academics, engagement and behavior. Afterschool advocates should ensure that state and local superintendents and school boards are aware of the research on afterschool's role in boosting academic achievement and student success. The afterschool field is a well-positioned partner in supporting students and the school system under this section of the law.
2. School support
What the law says: This section of the regulations emphasizes "the critical role of stakeholders…to join the school in developing a plan that fits its unique needs." The regulation requires states (by school year 2018/19) to identify the overall lowest performing 5 percent of all Title I schools on state's accountability system, as well as any high schools (including non-title I) with less than 2/3rds of students graduating, and schools identified for targeted improvements which failed to improve over time for comprehensive school support. Districts must then conduct a school-level needs assessment at the identified schools that considers "a school's unmet needs including with respect to students, school leadership and instruction staff, quality of the instructional program, family and community involvement, school climate and distribution of resources" to inform school improvement plans.
The school improvement plans must include evidence-based strategies for helping struggling schools. The regulations give the states flexibility to establish these interventions and suggests that states might assemble lists of these interventions.
Where afterschool fits it: Afterschool programs will be strong partners in school support as they have been in the past. States that choose to list evidence-based interventions for school improvement would do well to list afterschool and summer programs front and center. Afterschool advocates could also recommend that availability and access to afterschool programs be included in the section on resource inequities, as we know these programs can be essential to closing the opportunity gaps that exist between high- and low-income families.
3. Data reporting
What the law says: The regulations require that parents (and other stakeholders) be consulted in the development and design of school report cards. Under the law, both states and school districts are required to issue annual report cards, which are meant to be a clear mechanism for showing school performance to parents and the public.
Where afterschool fits in: Our America After 3PM data shows that 19.4 million children would enroll in an afterschool program if one were available to them. This demand suggests that school districts should collect and publicize information of the availability and accessibility of these programs on their report cards. While not required, reporting on access to afterschool opportunities can and should be included based on parent, student, and community and stakeholder interest.
4. Consolidated State Plans
What the law says: The Department of Education believes some states may want to consolidate their title-by-title plans to eliminate duplication and streamline requirements. The Department of Education has issued a consolidated plan template for states to use.
Where afterschool fits in: The regulations require these plans be created through "broad, robust, and transparent consultation with a diverse, representative group of stakeholders," which can and should include the afterschool field.
5. Title IV Part A
What the law says: ESSA's Title IV Part A is meant to ensure a well-rounded and supportive education for all students. States are expected to explain how funds from Title IV Part A support students from preschool to 12th grade, considering both student academic and non-academic needs. States must also address how underrepresented students will be given access to a well-rounded education and rigorous coursework.
Where afterschool fits in: Afterschool and summer programs assist students and parents with transition years in the Pre-K to 12 continuum, supporting on time promotion, connecting students to career interests and pathways and building the engagement that buffers a student from dropping out. Underrepresented students benefit as well, especially through afterschool programs focused on science, technology, engineering and math (subjects known as STEM) which have a history of helping low-income, minority and underrepresented groups gain access to hands-on learning and rigorous coursework.
More to come:
The Department of Education plans to offer additional guidance (including on the school quality and student success indicators) in the coming weeks and is planning a series of webinars in January on the topic. To give states more time, due dates for state plans have been extended to April 3, 2017 or September 18, 2017. Continue to check the Department of Education's ESSA webpage for updates and view your state's ESSA page to be involved in the critical decision-making process currently underway.