Snacks by Shaun Gray
OCT
9
By Shaun Gray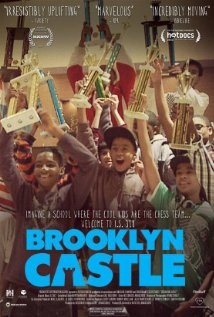 Lights On Afterschool is two weeks away, and we are hearing about a lot of awesome celebrations taking place around the country. From a youth air fair & open house at Tomorrow's Aeronautical Museum in California to a "Luminarias for Literacy" walk over the Rio Grande River hosted by Rio Grande Educational Collaborative in New Mexico, this year's Lights On Afterschool is gearing up to be the best ever.
Another unique celebration for Lights On Afterschool are movie screenings and discussion panels surrounding the new afterschool inspired documentary, Brooklyn Castle, about an inner-city public school in Brooklyn and its afterschool chess team. The school is home to the most winning junior high school chess team in the country, but while working to excel at the chess board, the students and teachers face cutbacks that threaten the very afterschool program that is credited with their school's "culture of success." The team has been featured in the New York Times and Wall Street Journal; yet budget cuts still loom at IS 318's chess program and at afterschool sites around the country.
These movie screenings and discussion panels are currently being held in California, D.C., and New York City during the week before and week of Lights On Afterschool. Watch the trailer for Brooklyn Castle below to learn why this film was honored as the Audience Award Winner at the 2012 South by Southwest Film Festival as well as winning Best New Director at the Brooklyn Film Festival. Brooklyn Castle is set to release in theaters nationwide on October 19.
SEP
7
By Shaun Gray
Want to provide a chance for your afterschool group to learn about important current issues while utilizing technology and thinking creatively?
If so, you'll want to take advantage of the video contest Population Connection is hosting for high school students. Students are challenged to create a 30-45 second video Public Service Announcement (PSA) that illustrates the connection between world population at seven billion and one of the following three topics: food security, the global status of women and girls, or wildlife habitat. Students can work by themselves or in a group, and there are cash prizes of up to $1,000 for the winners in each of the three topics. Participating teachers are also eligible to receive free curriculum resources.
As a former afterschool coordinator, I realize the importance of the afterschool space. This contest would be a great fit, as it is not only a fun way of learning about relevant issues, but it is a perfect outlet for students to showcase their creativity and maybe even find a talent that they did not know they possessed. The contest is open to any and all high school students, and we would love to see as many students participate as possible! Videos can be submitted throughout the school year, up until our deadline of February 21, 2013. Full contest details including guidelines, frequently asked questions, and even research resources covering each topic can be found at
www.Worldof7Billion.org
.
SEP
4
By Shaun Gray
At long last, the 2012 Lights On Afterschool poster is here! This amazing artwork was drawn by 14-year-old Felix Sanchez of Communities In Schools-ACE in Pasadena, Texas (that's two years in a row of Texas winners!). Stay tuned for more about this budding afterschool artist.
When you register for Lights On Afterschool, we'll send you 10 free posters with Felix's design. So what are you waiting for? Register now!
MAY
23
By Shaun Gray
Youth are always encouraged to speak up out about what's important to them. That's why during this year's Afterschool for All Challenge in Washington, D.C. we asked young adults to share their afterschool experiences with Members of Congress by sharing personal stories of how afterschool has helped to make some of their dreams a reality. "I Am a Youth Advocate for Afterschool," a handout created by Afterschool Alliance staff members Trevor Sparks and Shaun Gray, turned out to be an incredible tool for delivering the message to Congressional members of how effective afterschool programs are in rural and low-income communities. During the Afterschool for All Challenge, while the adults were away, the children played—and learned what happens on Capitol Hill and how social media sites such as Twitter can be an effective tool when advocating for afterschool.
"Dear #Congress, #AfterschoolWorks to inspire learning and create unity in students" tweets 16-year-old
Samantha
from Texas.
A spunky 12-year-old named Cabrilla from Duluth, MN, writes a message to Congress on her handout: "To my Congressmen and women I say to RAISE FUNDING because afterschool RULES and lots of kids DEPEND [sic] on afterschool programs..."
Twenty-four afterschool participants wrote handwritten letters, tweets and stories about how their afterschool program has helped to instill new skills or learn better eating habits and the benefits of physical fitness.
Vanessa
, an ambitious 16-year-old and aspiring chef, wouldn't have had exposure to the kitchen or learn new culinary skills without participating in the Advanced Culinary Program at After School Matters in Chicago, IL. Others touched on how passionate they have become about community service and helping their peers. A shy 14-year-old named
Aracely
sends her personal note: "…I have trouble with science and algebra 1" and LIU 21
st
CCLC Program "helps me out with that." Still others testified that due to their afterschool program they've become more globally competent through their international afterschool club.
Armed with stories and experiences of youth from afterschool programs far and near, the afterschool advocates stormed Congressional offices on May 9 with their voices in support of afterschool and their handouts to leave behind with Members after their meetings. Their handouts will have a lasting effect on Congressional members, staff and with the youth themselves, who learned that they are advocates every day that they speak in support of their program.
Patricia tweets "#Congress. Help keep kids safe. Support afterschool programs across the nation." I hope Congress is reading.
FEB
8
By Shaun Gray
Last week during a Congressional Briefing sponsored by Senator Tom Harkin, the Prevention Institute released a new paper titled "Addressing the Intersection: Preventing Violence and Promoting Healthy Eating and Active Living." Until now, little research has been conducted on the impact of community violence on healthy eating and activity. Community members don't walk to the grocery store if it means the risk of getting robbed on the way. They'd rather run to the corner store in order to purchase what food is available. Youth fail to play outside because of the gang members that hang out at their local park, so youth are encouraged to stay indoors where it's safe. Businesses don't want to open their shops in a community if they know the crime rate is high, so they take the grocery store to a community where they know their shoppers will be safe.
The Prevention Institute is working to address the need for violence prevention in communities so that adults as well as youth have access to neighborhood grocery stores and parks to play in, without the fear of being harmed. Violence is preventable – creating safe places for youth to go after school, such as a quality afterschool program, has been proven to decrease juvenile crime that tends to take place between the hours of 3-6 pm. Virginia Lee, Program Manager at the Prevention Institute, has watched communities take action nationwide: from Philadelphia where they've increased access to healthier foods by providing a farmers market for community members; to South Los Angeles where they've created a Mural Arts Program for youth to cover graffiti. Paul Lopez, Councilmember in Denver, CO District 3 says, "we are not going to arrest our way out of this situation" and strongly believes that in order to prevent violence, the Mayor and Police departments need to work hand in hand with the local health department to create programs that will yield a reduction in youth crime. His district has created community victory gardens, with the support of the public school system, to provide healthy meals to neighborhoods that ordinarily wouldn't have access to grocery stores.
DEC
13
By Shaun Gray
In our world today it's hard to believe that families have to worry about food insecurity.
What's also hard to believe is that 17 million American children - 9.6 million children under 6 years old - have to worry about where their next meal will come from. The Sesame Street Workshop is partnering with United Healthcare and the Merck Company Foundation to do something about it. Launched this week, Food for Thought: Eating Well on a Budget, is designed to help families with children ages 2 to 8 that have uncertain or limited access to affordable and healthy food.
With help from Elmo and his Super Food friends like broccoli and cheese, Sesame Street Workshop is rolling out tools and resources to help families pick healthy meals while on a budget. The Capitol Area Food Bank opened its doors for the launching of the Sesame Street resource packet and invited the community into its facilities to hear how families living on a tight food budget can make healthy food choices. Celebrity chef Art Smith and Elmo were on hand to demonstrate how to prepare "snack happy granola" and a zesty fruit bowl. Dozens of smiling 5 and 6 year olds entered the building just as the adults were wrapping up their speeches concerning food insecurity.
Gary Knell, President of Sesame Street Workshop, Russell Petrella, President and CEO of United Healthcare and Richard Clark, Chairman and CEO of The Merck Company Foundation jointly promised to begin distribution of 100,000 resource packets and DVDs this week. Afterschool program providers will find that the packet and DVD are helpful in their work with young people as well as a resource that can be shared with the families they serve.