Recent Afterschool Snacks
DEC
23
2016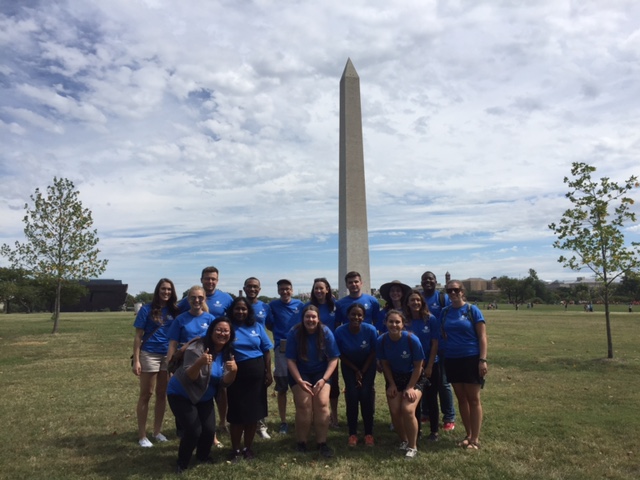 Members of the VISTA team gathered on the National Mall in September.
For the last five years, the Afterschool Alliance has been a proud sponsor organization for nationwide AmeriCorps VISTA projects. VISTA, which stands for "Volunteers in Service to America," is a 50-year-old service program with the central mission of alleviating poverty through capacity building for nonprofit organizations. VISTA members are considered full-time federal volunteers during their one-year term of service.
Our VISTA program—and the scope of our VISTAs' work to support the afterschool field—has grown significantly over the past five years. Most recently, we've added VISTAs dedicated to supporting the STEM Ecosystem Initiative, as well as VISTAs focusing on mentoring opportunities for young men of color. Read on to learn more about our VISTAs' work and a few highlights from 2016.
Our VISTAs' major highlights from 2016
Oklahoma STEM Ecosystem VISTAs Sabrina Bevins and Aleia McNaney have taken on leadership roles in the planning of a Women in STEM book club and event series surrounding the release of the film Hidden Figures, culminating with a screening of the film. Sabrina has signed on a number of female STEM professionals to mentor young girls in Tulsa over the course of the program.
Thanks to Sabrina's successful partner outreach, Cox Media has agreed to run four radio campaigns in promotion of the program, and a local theater company has donated a screening room that seats more than 400. Aleia has been spearheading communications efforts for the Hidden Figures program, including designing promotional materials for a book drive held Tuesday, November 29 in support of the book club.
New Jersey Meals VISTA Jaimie Held has been making strides in expanding afterschool and summer meals for kids and families in Newark, N.J. Jaimie created partnerships with local food banks to host afterschool and summer meals open house events in 2017. She also scheduled an afterschool and summer meals open house in January 2017 at Newark's Bolden Student Center to recruit new afterschool and summer meal sites.
Utah STEM VISTA Kathryn Rockefeller highlighted her leadership opportunities at the Utah Afterschool Network's 12th Annual Jump Start conference, presenting four times in sessions related to STEM activities and resources. More than 630 statewide participants attended the conference that Kathryn had helped to plan since beginning her VISTA service in July 2016.
Tennessee My Brother's Keeper/Young Men of Color Mentoring VISTA Veronica Nelson has collaborated with the Knox County Community Action Committee (CAC) and their AmeriCorps program to plan a service event for Martin Luther King, Jr. Day. Five projects have been planned for the day of service, which will take place the morning of Saturday, January 14. About 80 volunteers are expected to participate.
VISTA members are encouraged to engage their communities in national days of service—to commemorate the 15th anniversary of 9/11, our VISTAs participated in the AARP Meal Pack Challenge.
About our VISTAs
Afterschool Alliance VISTAs apply to serve in one of the two programs we sponsor.
Statewide Afterschool Network VISTA: The Statewide Afterschool Networks can host a VISTA focusing on one of four topics.
Meals VISTAs develop systems to promote and support the provision of afterschool meals and snacks, connect summer learning programs to summer meal programs, and increase afterschool and summer meal program participation among low-income children and families.
STEM VISTAs work on projects to increase access to high-quality afterschool programs that focus on STEM (science, technology, engineering and math) and establish community support systems that link established afterschool programs with potential partners and STEM resources.
Sustainability VISTAs establish community outreach and engagement strategies that communicate the benefits of afterschool programs and persuade community leaders, local government, youth-serving organizations and other potential partners to provide in-kind, financial and/or volunteer support to sustain and expand afterschool programs.
My Brother's Keeper—Young Men of Color Mentoring VISTAs establish strong links between community partners and afterschool or summer learning programs to increase access to high-quality educational, enrichment and mentoring opportunities for young men of color.
STEM Ecosystem VISTA: The STEM Ecosystem Initiative looks to increase the capacity, accessibility and quality of STEM learning opportunities around the country through cross-collaboration for schools, afterschool programs, and other STEM stakeholders. Our 11 Ecosystem VISTAs work to enhance communication within and between STEM Ecosystems, increase the accessibility and quality of resources for Ecosystem partners, STEM educators and community members and promote the capacity and sustainability of Ecosystem-supported programming.